Relationship between Protein Oxidation Biomarkers and Uterine Health in Dairy Cows during the Postpartum Period
1
Department of Comparative Biomedicine and Food Science, University of Padova, Legnaro, 35020 Padova, Italy
2
Via Argine Sinistro 23 Creola di Saccolongo, 35030 Padova, Italy
3
Department of Molecular Medicine, University of Padova, 35121 Padova, Italy
4
Proteomics Center, University of Padova and Azienda Ospedaliera di Padova, 35129 Padova, Italy
5
Istituto Zooprofilattico Sperimentale delle Venezie—Italian Health Authority and Research Organization for Animal Health and Food Safety, Legnaro, 35020 Padova, Italy
6
DSM Nutritional Products, 4303 Kaiseraugst, Switzerland
*
Author to whom correspondence should be addressed.
Received: 20 December 2018 / Revised: 4 January 2019 / Accepted: 7 January 2019 / Published: 14 January 2019
Abstract
High neutrophil (PMN, Polymorphonuclear neutrophil) counts in the endometrium of cows affected by endometritis, suggests the involvement of oxidative stress (OS) among the causes of impaired fertility. Protein oxidation, in particular, advanced oxidation protein products (AOPP), are OS biomarkers linked to PMN activity. To test this hypothesis, the relationship between protein oxidation and uterus health was studied in thirty-eight dairy cows during the puerperium. The animals were found to be cycling, without any signs of disease and pharmacological treatments. PMN count was performed either through a cytobrush or a uterine horn lavage (UHL). Cows were classified into four groups, based on the uterine ultrasonographic characteristics and the PMN percentage in the uterine horns with a higher percentage of high neutrophil horn (HNH). They were classified as: Healthy (H); Subclinical Endometritis (SCE); Grade 1 Endometritis (EM1); and Grade 2 Endometritis (EM2). AOPP and carbonyls were measured in plasma and UHL. UHL samples underwent Western blot analysis to visualize the carbonyl and dityrosine formation. Plasma AOPP were higher (
p
< 0.05) in EM2. AOPP and carbonyl group concentrations were higher in the HNH samples (
p
< 0.05). Protein concentration in the UHL was higher in the EM2 (
p
< 0.05). Carbonyl and dityrosine formation was more intense in EM1 and EM2. Protein oxidation observed in the EM2 suggests the presence of an inflammatory status in the uterus which, if not adequately hindered, could result in low fertility.
View Full-Text
►

▼

Figures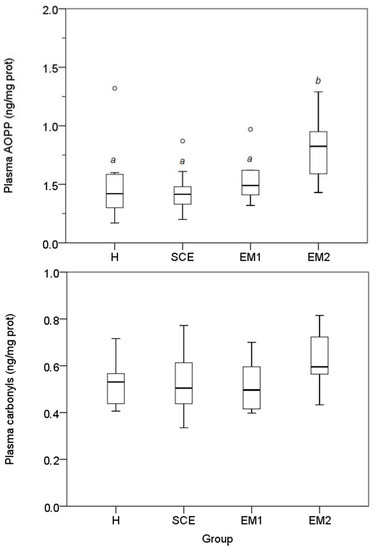 Figure 1
This is an open access article distributed under the
Creative Commons Attribution License
which permits unrestricted use, distribution, and reproduction in any medium, provided the original work is properly cited (CC BY 4.0).

Share & Cite This Article
MDPI and ACS Style
Gabai, G.; De Luca, E.; Miotto, G.; Zin, G.; Stefani, A.; Da Dalt, L.; Barberio, A.; Celi, P. Relationship between Protein Oxidation Biomarkers and Uterine Health in Dairy Cows during the Postpartum Period. Antioxidants 2019, 8, 21.
Note that from the first issue of 2016, MDPI journals use article numbers instead of page numbers. See further details here.
Related Articles
Comments
[Return to top]