The Extract of
D. dasycarpus

Ameliorates Oxazolone-Induced Skin Damage in Mice by Anti-Inflammatory and Antioxidant Mechanisms

1

Department of Applied Cosmetology and Master Program of Cosmetic Sciences, Hungkuang University, Taichung 43302, Taiwan

2

Department of Medical Laboratory Science and Biotechnology, College of Medicine, China Medical University, No. 91 Hsueh-Shih Road, Taichung 40402, Taiwan

3

Niuer International Skincare Science Research Institute, 9F, No. 266, Ruiguang Rd., Neihu Dist., Taipei 11491, Taiwan

*

Author to whom correspondence should be addressed.

Received: 1 June 2018 / Revised: 12 June 2018 / Accepted: 12 June 2018 / Published: 15 June 2018
Abstract
Dictamni dasycarpus
is a type of Chinese medicine made from the root bark of
D. dasycarpus
. It has been reported to show a wide spectrum of biological and pharmacological effects, for example, it has been used widely for the treatment of rheumatism, nettle rash, itching, jaundice, chronic hepatitis and skin diseases. In the current study,
D. dasycarpus
extract was investigated for its antioxidant and anti-inflammatory effects, as well as its capability to alleviate oxazolone-induced skin damage in mice. The possible anti-inflammatory mechanism of
D. dasycarpus
extract against oxidative challenge was elucidated by measuring the levels of reactive oxygen species (ROS) production, interleukin-6, Tumor necrosis factor-α, NLRP3 (NACHT, LRR and PYD domains-containing protein 3 (NALP3)) inflammasome and interleukin-1β in HaCaT cells.
D. dasycarpus
extract did not affect cell viability in basal conditions. The extract significantly reduced oxazolone-induced epidermal swelling compared to untreated animal in the hairless albino mice (ICR mice) model. At the molecular level, Western blot assays indicated that the
D. dasycarpus
extract attenuated oxazolone-induced activation of apoptosis-associated speck-like protein containing CARD (ASC), procaspase-1, NF-κB and mitogen-activated protein kinase (MAPKs) such as c-Jun N-terminal protein kinase (JNK) and p38. This study demonstrates that
D. dasycarpus
extract could protect skin cells against oxidative and inflammatory insult by modulating the intracellular levels of ROS, TNF-α, interleukin-1, interleukin-6, NLR family pyrin domain containing 3 (NLRP3) inflammasome generation, antioxidant enzyme activity and cell signaling pathways.
D. dasycarpus
extract also attenuated the expression of NF-κB in HaCaT keratinocytes and thereby effectively downregulated inflammatory responses in the skin. Furthermore,
D. dasycarpus
extract alleviated oxazolone-induced damage in mice. Our results suggest the potential application of
D. dasycarpus
extract in preventing inflammatory processes in dermatitis.
View Full-Text
►

▼

Figures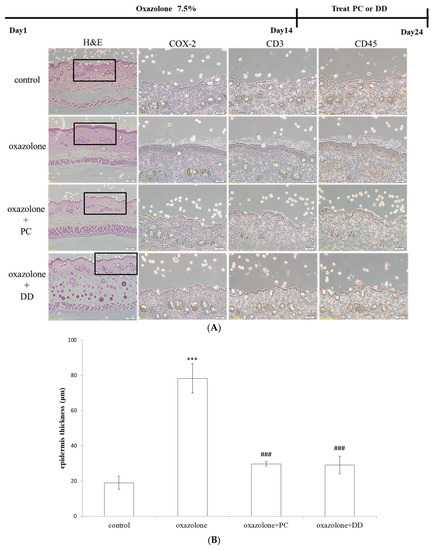 Figure 1
This is an open access article distributed under the
Creative Commons Attribution License
which permits unrestricted use, distribution, and reproduction in any medium, provided the original work is properly cited (CC BY 4.0).

Share & Cite This Article
MDPI and ACS Style
Chang, T.-M.; Yang, T.-Y.; Niu, Y.-L.; Huang, H.-C. The Extract of D. dasycarpus Ameliorates Oxazolone-Induced Skin Damage in Mice by Anti-Inflammatory and Antioxidant Mechanisms. Antioxidants 2018, 7, 77.
Note that from the first issue of 2016, MDPI journals use article numbers instead of page numbers. See further details here.
Related Articles
Comments
[Return to top]