3D Bioprinting Human Induced Pluripotent Stem Cell-Derived Neural Tissues Using a Novel Lab-on-a-Printer Technology
1
Department of Mechanical Engineering, University of Victoria, BC V8P 5C2, Canada
2
School of Engineering and Sciences, Monterrey Institute of Technology and Higher Education, Mexico City 14380, Mexico
3
Biomedical Engineering Program, University of Victoria, BC V8P 5C2, Canada
4
Center of Mathematics, Computing and Cognition, Federal University of ABC, São Paulo 09606-045, Brazil
5
Division of Medical Sciences, University of Victoria, BC V8P 5C2, Canada
*
Author to whom correspondence should be addressed.
Received: 29 October 2018 / Revised: 16 November 2018 / Accepted: 23 November 2018 / Published: 28 November 2018
Abstract
Most neurological diseases and disorders lack true cures, including spinal cord injury (SCI). Accordingly, current treatments only alleviate the symptoms of these neurological diseases and disorders. Engineered neural tissues derived from human induced pluripotent stem cells (hiPSCs) can serve as powerful tools to identify drug targets for treating such diseases and disorders. In this work, we demonstrate how hiPSC-derived neural progenitor cells (NPCs) can be bioprinted into defined structures using Aspect Biosystems' novel RX1 bioprinter in combination with our unique fibrin-based bioink in rapid fashion as it takes under 5 min to print four tissues. This printing process preserves high levels of cell viability (>81%) and their differentiation capacity in comparison to less sophisticated bioprinting methods. These bioprinted neural tissues expressed the neuronal marker, βT-III (45 ± 20.9%), after 15 days of culture and markers associated with spinal cord (SC) motor neurons (MNs), such as Olig2 (68.8 ± 6.9%), and HB9 (99.6 ± 0.4%) as indicated by flow cytometry. The bioprinted neural tissues expressed the mature MN marker, ChaT, after 30 days of culture as indicated by immunocytochemistry. In conclusion, we have presented a novel method for high throughput production of mature hiPSC-derived neural tissues with defined structures that resemble those found in the SC.
View Full-Text
►

▼

Figures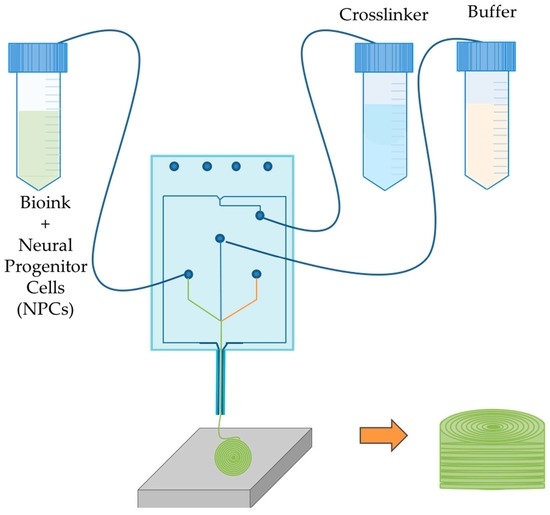 Graphical abstract
This is an open access article distributed under the
Creative Commons Attribution License
which permits unrestricted use, distribution, and reproduction in any medium, provided the original work is properly cited (CC BY 4.0).

Share & Cite This Article
MDPI and ACS Style
De la Vega, L.; A. Rosas Gómez, D.; Abelseth, E.; Abelseth, L.; Allisson da Silva, V.; Willerth, S.M. 3D Bioprinting Human Induced Pluripotent Stem Cell-Derived Neural Tissues Using a Novel Lab-on-a-Printer Technology. Appl. Sci. 2018, 8, 2414.
Note that from the first issue of 2016, MDPI journals use article numbers instead of page numbers. See further details here.
Related Articles
Comments
[Return to top]