Interpretation US Elastography in Chronic Hepatitis B with or without Anti-HBV Therapy
1
Department of Gastroenterology and Hepatology, Chang Gung Memorial Hospital, Taipei 105, Taiwan
2
Department of Medical imaging and Intervention, Chang Gung Memorial Hospital, Taoyuan 333, Taiwan
3
Department of Medical imaging and Radiological Sciences, College of Medicine, Institute for Radiological Research, Chang Gung University, Taoyuan 333, Taiwan
4
Division of Molecular and Genomic Medicine, National Health Research Institute, Taipei 115, Taiwan
5
Department of General Surgery, Chang Gung Memorial Hospital, Taoyuan 333, Taiwan
6
Department of Liver and Transplantation Surgery, Chang Gung Memorial Hospital, Taoyuan 333, Taiwan
*
Author to whom correspondence should be addressed.
Received: 15 September 2017 / Revised: 29 October 2017 / Accepted: 30 October 2017 / Published: 13 November 2017
Abstract
Inflammation has significant impacts on liver fibrosis measurement by ultrasound elastography. The interpretation requires further optimization in patients with or without anti-viral therapy. We prospectively enrolled a consecutive series of patients with chronic hepatitis B who received liver histology analysis and acoustic radiation force impulse (ARFI). 146 patients who underwent liver biopsy (50.9%) or tumor resection (49.1%) were enrolled. 34 patients (23.3%) had been receiving anti-hepatitis B therapy of various duration. The areas under the receiver-operating characteristic (AUROC) for the diagnosis of Metavir F4 by mean ARFI was 0.820 in the non-treatment group and 0.796 in the treatment group. The ARFI tended to be not lower (100%) than the corresponding Metavir grading in patients with treatment within 12 months, equal (75%) from 13 to 31 months, and lower (71.4%) after 32 months. We conclude that ARFI is a reliable tool for measurement of liver fibrosis in chronic hepatitis B patients with ALT (alanine aminotransferase) <5x the upper limit of normal. For those patients under anti-HBV therapy, the optimal timing for ARFI analysis will be over 1–2.5 years of nucleos(t)ide analogue therapy. The ARFI measurement after 2.5 years tends to be lower than the corresponding histology grading.
View Full-Text
►

▼

Figures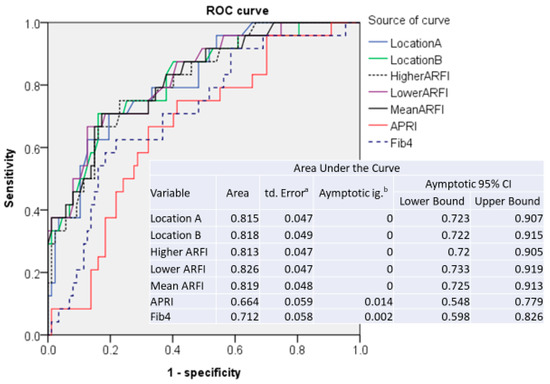 Figure 1
This is an open access article distributed under the
Creative Commons Attribution License
which permits unrestricted use, distribution, and reproduction in any medium, provided the original work is properly cited (CC BY 4.0).

Share & Cite This Article
MDPI and ACS Style
Lee, C.-H.; Wan, Y.-L.; Hsu, T.-H.; Huang, S.-F.; Yu, M.-C.; Lee, W.-C.; Tsui, P.-H.; Chen, Y.-C.; Lin, C.-Y.; Tai, D.-I. Interpretation US Elastography in Chronic Hepatitis B with or without Anti-HBV Therapy. Appl. Sci. 2017, 7, 1164.
Note that from the first issue of 2016, MDPI journals use article numbers instead of page numbers. See further details here.
Related Articles
Comments
[Return to top]