On the Predictability of 30-Day Global Mesoscale Simulations of African Easterly Waves during Summer 2006: A View with the Generalized Lorenz Model
Department of Mathematics and Statistics, San Diego State University, 5500 Campanile Drive, San Diego, CA 92182, USA
Received: 23 April 2019 / Revised: 4 June 2019 / Accepted: 11 June 2019 / Published: 26 June 2019
Abstract
Recent advances in computational and global modeling technology have provided the potential to improve weather predictions at extended-range scales. In earlier studies by the author and his coauthors, realistic 30-day simulations of multiple African easterly waves (AEWs) and an averaged African easterly jet (AEJ) were obtained. The formation of hurricane Helene (2006) was also realistically simulated from Day 22 to Day 30. In this study, such extended predictability was further analyzed based on recent understandings of chaos and instability within Lorenz models and the generalized Lorenz model. The analysis suggested that a statement of the theoretical predictability of two weeks is not universal. New insight into chaotic and non-chaotic processes revealed by the generalized Lorenz model (GLM) indicated the potential for extending prediction lead times. Two major features within the GLM included: (1) three types of attractors (that also appeared in the original Lorenz model) and (2) two kinds of attractor coexistence. The features suggest a refined view on the nature of weather, as follows: The entirety of weather is a superset that consists of chaotic and non-chaotic processes. Better predictability can be obtained for stable, steady-state solutions and nonlinear periodic solutions that occur at small and large Rayleigh parameters, respectively. By comparison, chaotic solutions appear only at moderate Rayleigh parameters. Errors associated with dissipative small-scale processes do not necessarily contaminate the simulations of large scale processes. Based on the nonlinear periodic solutions (also known as limit cycle solutions), here, we propose a hypothetical mechanism for the recurrence (or periodicity) of successive AEWs. The insensitivity of limit cycles to initial conditions implies that AEW simulations with strong heating and balanced nonlinearity could be more predictable. Based on the hypothetical mechanism, the possibility of extending prediction lead times at extended range scales is discussed. Future work will include refining the model to better examine the validity of the mechanism to explain the recurrence of multiple AEWs.
View Full-Text
►

▼

Figures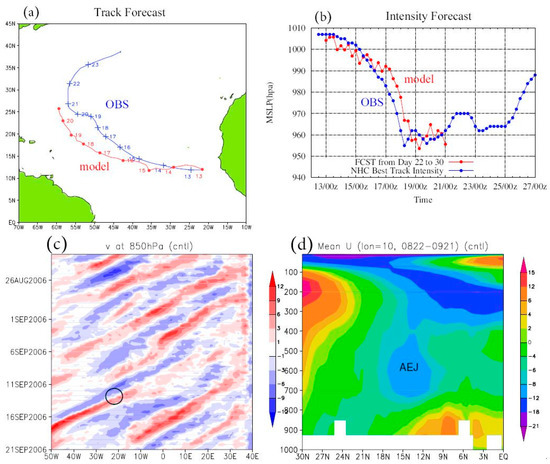 Figure 1
This is an open access article distributed under the
Creative Commons Attribution License
which permits unrestricted use, distribution, and reproduction in any medium, provided the original work is properly cited (CC BY 4.0).

Share & Cite This Article
MDPI and ACS Style
Shen, B.-W. On the Predictability of 30-Day Global Mesoscale Simulations of African Easterly Waves during Summer 2006: A View with the Generalized Lorenz Model. Geosciences 2019, 9, 281.
Note that from the first issue of 2016, MDPI journals use article numbers instead of page numbers. See further details here.
Related Articles
Comments
[Return to top]