Methane in Gas Shows from Boreholes in Epigenetic Permafrost of Siberian Arctic
1
Institute of Physicochemical and Biological Issues in Soil Science of the Russian Academy of Sciences, Pushchino, Moscow Oblast 142290, Russia
2
Department of Earth Sciences, Vrije University of Amsterdam, 1081 HV Amsterdam, The Netherlands
3
Department of Microbiology, University of Tennessee, Knoxville, TN 37996, USA
4
West-Siberian Filial, Trofimuk Institute of Petroleum Geology and Geophysics of Siberian Branch of Russian Academy of Sciences, Tyumen 625026, Russia
5
Geophysical Institute, University of Alaska Fairbanks, Fairbanks, AK 99775, USA
6
Industrial University of Tyumen, Tyumen 625000, Russia
7
Faculty of Biology, Lomonosov Moscow State University, Moscow 119991, Russia
8
Center of Forest Ecology and Productivity of the Russian Academy of Sciences, Moscow 117234, Russia
*
Author to whom correspondence should be addressed.
Received: 15 October 2018 / Revised: 22 January 2019 / Accepted: 24 January 2019 / Published: 29 January 2019
Abstract
The gas shows in the permafrost zone represent a hazard for exploration, form the surface features, and are improperly estimated in the global methane budget. They contain methane of either surficial or deep-Earth origin accumulated earlier in the form of gas or gas hydrates in lithological traps in permafrost. From these traps, it rises through conduits, which have tectonic origin or are associated with permafrost degradation. We report methane fluxes from 20-m to 30-m deep boreholes, which are the artificial conduits for gas from permafrost in Siberia. The dynamics of degassing the traps was studied using static chambers, and compared to the concentration of methane in permafrost as analyzed by the headspace method and gas chromatography. More than 53 g of CH
4
could be released to the atmosphere at rates exceeding 9 g of CH
4
m
−2
s
−1
from a trap in epigenetic permafrost disconnected from traditional geological sources over a period from a few hours to several days. The amount of methane released from a borehole exceeded the amount of the gas that was enclosed in large volumes of permafrost within a diameter up to 5 meters around the borehole. Such gas shows could be by mistake assumed as permanent gas seeps, which leads to the overestimation of the role of permafrost in global warming.
View Full-Text
►

▼

Figures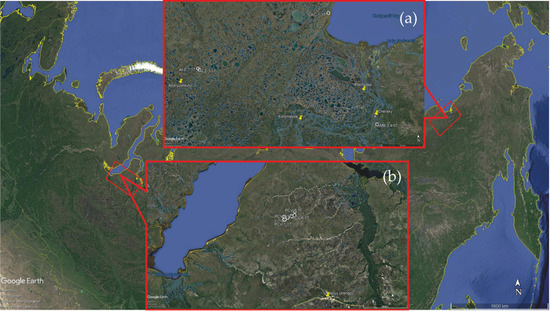 Figure 1
This is an open access article distributed under the
Creative Commons Attribution License
which permits unrestricted use, distribution, and reproduction in any medium, provided the original work is properly cited (CC BY 4.0).

Share & Cite This Article
MDPI and ACS Style
Kraev, G.; Rivkina, E.; Vishnivetskaya, T.; Belonosov, A.; van Huissteden, J.; Kholodov, A.; Smirnov, A.; Kudryavtsev, A.; Teshebaeva, K.; Zamolodchikov, D. Methane in Gas Shows from Boreholes in Epigenetic Permafrost of Siberian Arctic. Geosciences 2019, 9, 67.
Note that from the first issue of 2016, MDPI journals use article numbers instead of page numbers. See further details here.
Related Articles
Comments
[Return to top]