L-Tryptophan Enhances Intestinal Integrity in Diquat-Challenged Piglets Associated with Improvement of Redox Status and Mitochondrial Function
1
School of Life Science and Engineering, Southwest University of Science and Technology, Mianyang 621010, China
2
State Key Laboratory of Animal Nutrition, Institute of Animal Sciences, Chinese Academy of Agricultural Sciences, Beijing 100000, China
*
Author to whom correspondence should be addressed.
Received: 4 May 2019 / Revised: 20 May 2019 / Accepted: 21 May 2019 / Published: 22 May 2019
Simple Summary
In the present study, three groups of piglets were treated with diquat, a bipyridyl herbicide which can utilize molecular oxygen to generate superoxide anion radicals and is widely considered as an effective chemical agent for inducing oxidative stress. The three groups were fed a 0, 0.15%, and 0.30% tryptophan (Trp) supplemented diet, and one control group without diquat treatment was used to study the protective effects of supplemented Trp on growth performance and intestinal barrier function of piglets exposed to oxidative stress. The results showed that 0.15% Trp supplementation alleviated diquat-induced impaired growth performance, intestinal barrier injury, redox imbalance, and mitochondrial dysfunction. These findings from the current study suggest that piglets under the condition of stress might need more Trp to maintain intestinal integrity and optimal growth performance, but the proper dosage of Trp supplementation is needed to determine for different conditions or models.
Tryptophan (Trp) supplementation has been shown to improve growth performance and enhance intestinal integrity in piglets. However, the effects of dietary Trp supplementation on the intestinal barrier function in piglets exposed to oxidative stress remain unknown. This study was conducted to evaluate whether dietary Trp supplementation can attenuate intestinal injury, oxidative stress, and mitochondrial dysfunction of piglets caused by diquat injection. Thirty-two piglets at 25 days of age were randomly allocated to four groups: (1) the non-challenged control; (2) diquat-challenged control; (3) 0.15% Trp-supplemented diet + diquat; (4) 0.30% Trp supplemented diet + diquat. On day seven, the piglets were injected intraperitoneally with sterilized saline or diquat (10 mg/kg body weight). The experiment lasted 21 days. Dietary supplementation with 0.15% Trp improved growth performance of diquat-challenged piglets from day 7 to 21. Diquat induced an increased intestinal permeability, impaired antioxidant capacity, and mitochondrial dysfunction. Although dietary supplementation with 0.15% Trp ameliorated these negative effects induced by diquat challenge that showed decreasing permeability of 4 kDa fluorescein isothiocyanate dextran, increasing antioxidant indexes, and enhancing mitochondrial biogenesis. Results indicated that dietary supplementation with 0.15% Trp enhanced intestinal integrity, restored the redox status, and improved the mitochondrial function of piglets challenged with diquat.
View Full-Text
►

▼

Show Figures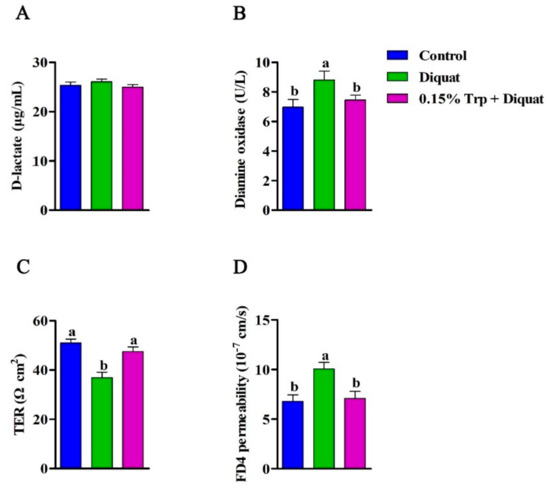 Figure 1
This is an open access article distributed under the
Creative Commons Attribution License
which permits unrestricted use, distribution, and reproduction in any medium, provided the original work is properly cited

MDPI and ACS Style
Liu, J.; Zhang, Y.; Li, Y.; Yan, H.; Zhang, H. L-Tryptophan Enhances Intestinal Integrity in Diquat-Challenged Piglets Associated with Improvement of Redox Status and Mitochondrial Function. Animals 2019, 9, 266.
Show more citation formats
Show less citations formats
Note that from the first issue of 2016, MDPI journals use article numbers instead of page numbers. See further details
here
.