Production Phase Affects the Bioaerosol Microbial Composition and Functional Potential in Swine Confinement Buildings
1
School of Life Science and Engineering, Southwest University of Science and Technology, Mianyang 621010, China
2
State Key Laboratory of Animal Nutrition, Institute of Animal Sciences, Chinese Academy of Agricultural Sciences, Beijing 100000, China
3
Key Labortatory of Jilin Province for Zoonosis Prevention and Control, Veterinary Research Institute, Chinese Academy of Agriculture Sciences, Changchun 130122, China
*
Author to whom correspondence should be addressed.
Received: 18 February 2019 / Revised: 9 March 2019 / Accepted: 10 March 2019 / Published: 12 March 2019
(This article belongs to the Section
Pig
)
Abstract
Bioaerosols from swine confinement buildings (SCBs) pose a challenge to public health,
and microorganisms within the SCBs bioaerosols originate from swine feces, of which the microbial
composition is associated with the production phase. The present study adopted the whole
metagenome shotgun sequencing approach, to assess the effects of the production phase on the
composition and functional potential of microbial populations in SCBs bioaerosols. Most annotated
proteins were assigned into domain bacteria, within which the predominant phylum was
Firmicutes
.
The taxonomical profiles of bioaerosols from different types of piggeries showed that buildings
housing weaning piglets (WP) exhibited higher abundances of
Bacteroidetes
and
Proteobacteria
than
buildings housing finishing pigs (FP), gestating sows (GS), farrowing sows (FS), and breeding boars
(BB). Regarding the functional potential, the WP bioaerosol had more genes involved in the protein
turnover and fewer genes involved in the carbohydrate metabolism than bioaerosols from other
types of SCBs. Furthermore, production phase influenced the antibiotic resistance genes (ARGs)
profile of the SCBs bioaerosols. Bioaerosol microbiome of BB, shared a high similarity with GS, and
WP bioaerosol microbiome was more similar to FP than other types of SCBs. Our study suggests
that the production phase plays a key role in the SCBs bioaerosol microbiome.
View Full-Text
►

▼

Figures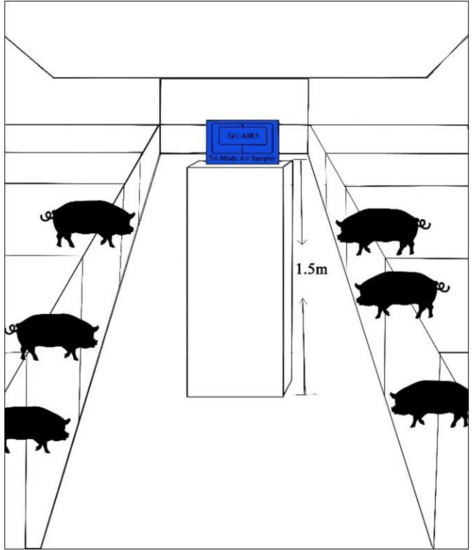 Figure 1
This is an open access article distributed under the
Creative Commons Attribution License
which permits unrestricted use, distribution, and reproduction in any medium, provided the original work is properly cited (CC BY 4.0).

Share & Cite This Article
MDPI and ACS Style
Yan, H.; Zhang, L.; Guo, Z.; Zhang, H.; Liu, J. Production Phase Affects the Bioaerosol Microbial Composition and Functional Potential in Swine Confinement Buildings. Animals 2019, 9, 90.
Note that from the first issue of 2016, MDPI journals use article numbers instead of page numbers. See further details here.
Related Articles
Comments
[Return to top]