Effect of Dietary Carbohydrate-to-Protein Ratio on Gut Microbiota in Atlantic Salmon (
Salmo salar

)

1

Laboratorio de Biotecnología de Alimentos, Unidad de Alimentos, Instituto de Nutrición y Tecnología de los Alimentos (INTA), Universidad de Chile, Santiago 7830490, Chile

2

Núcleo de Investigación en Producción Alimentaria, Facultad de Recursos Naturales, Departamento de Ciencias Agropecuarias y Acuícolas, Universidad Católica de Temuco, Temuco 4781312, Chile

*

Author to whom correspondence should be addressed.

Received: 1 February 2019 / Revised: 4 March 2019 / Accepted: 6 March 2019 / Published: 11 March 2019
Simple Summary
Carbohydrates, in the form of energy reserve polysaccharides, are major food components that supply low-cost energy in farm animal feed formulation. Most of these compounds are obtained from plant ingredients (i.e., cereal grains). As the aquaculture industry moves towards formulating marine-derived ingredients free diets, the inclusion of plant ingredients is expected to continuously increase, and thus the amount of carbohydrates in aquafeed formulation will increase as well. Carnivorous fish, including salmonids, show a slow blood glucose clearance rate and suboptimal growth performance when fed rich carbohydrate meals. The role of gut microbial communities on carbohydrate utilization has been poorly explored in salmonids. Hence, we conducted an experiment to evaluate the effect of feeding a high carbohydrate diet to Atlantic salmon (Salmo salar) on gut microbiota composition. Our results suggest increasing the level of digestible carbohydrate mostly affects low-abundance bacteria in favor of those capable of using carbohydrates as a major energy-yielding substrate. Further study for a better understanding of the role of gut microbiota in carbohydrate utilization in carnivorous fish is required.
Atlantic salmon (
Salmo salar
) is a carnivorous fish species whose productive performance tends to be suboptimal when fed low-cost carbohydrate rich meals. It is of interest to study the dynamics of gut microbiota communities in salmonids fed high carbohydrate diets since gut microbes are referred to as key players that influence the metabolism and physiology of the host. A study was conducted to determine the effect of feeding a high carbohydrate diet to Atlantic salmon in gut microbiota communities. A medium carbohydrate (15% wheat starch)/medium protein (MC/MP) diet or a high carbohydrate (30% wheat starch)/low protein (HC/LP) diet was fed to triplicate tanks (28 fish each) during four weeks. We conducted an in-depth characterization of the distal intestine digesta microbiota using high-throughput sequencing of the V4 region of the 16S rRNA gene.
Firmicutes
,
Actinobacteria
and
Proteobacteria
were the major phyla determined in either experimental group. Phylum
Planctomycetes
, class
Planctomycetia
, order
Planctomycetales
and genus
Lactococcus
were significantly more abundant in fish fed the HC/LP diet compared with fish fed the MC/MP diet. Our study suggests feeding a carbohydrate rich meal to salmon exerts a low impact on the structure of gut microbial communities, affecting mostly low-abundance bacteria capable of metabolizing anaerobically carbohydrates as a major energy-yielding substrate.
View Full-Text
►

▼

Show Figures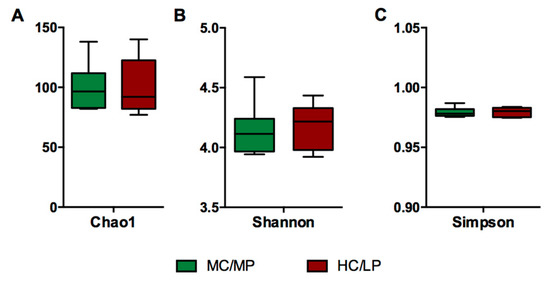 Figure 1
This is an open access article distributed under the
Creative Commons Attribution License
which permits unrestricted use, distribution, and reproduction in any medium, provided the original work is properly cited

MDPI and ACS Style
Villasante, A.; Ramírez, C.; Catalán, N.; Opazo, R.; Dantagnan, P.; Romero, J. Effect of Dietary Carbohydrate-to-Protein Ratio on Gut Microbiota in Atlantic Salmon (Salmo salar). Animals 2019, 9, 89.
Show more citation formats
Show less citations formats
Note that from the first issue of 2016, MDPI journals use article numbers instead of page numbers. See further details
here
.