Cytogenetic Analyses in Ewes with Congenital Abnormalities of the Genital Apparatus
Department of Veterinary Medicine and Animal Production, University of Naples Federico II, via Delpino 1, 80137 Naples, Italy
*
Author to whom correspondence should be addressed.
Received: 11 September 2019 / Revised: 4 October 2019 / Accepted: 7 October 2019 / Published: 10 October 2019
Simple Summary
The disorders of sex development (DSDs) are congenital conditions characterized by inconsistency among chromosomal, gonadal, and anatomical sex development. Reproduction and prolificacy are two main parameters in the sheep industry; thus, DSDs in sheep are very detrimental. Interestingly, no DSDs-associated gene mutations have been reported in sheep so far, probably due to the fact that affected animals are not detected and studied. With the aim to deepen the knowledge about DSDs in sheep and improve diagnostic tools, screening of a sheep farm aimed to detect and study DSDs in ovine species has been started, and the actual findings relative to the first two sheep flocks analysed are reported here. In our opinion, this study demonstrates that, despite the low number of studies on ovine DSDs, if compared with other species, this problem is actually present and needs more attention.
The Disorders of Sex Development (DSDs) are congenital conditions characterized by inconsistency among chromosomal, gonadal, and anatomical sex development. The aim of this research is to report the clinical and cytogenetic findings of four DSD cases and 13 couples of heterosexual twins in sheep. To this purpose, C- and R-banding techniques were used, and the analyses of the
SRY
(Sex Determining Region Y) and
AMEL
(Amelogenin) genes were carried out. Moreover, morphopathological analyses were performed in one case. The four DSD sheep cases were registered as females at birth, and for none of them it was possible to establish whether the subjects were born from heterosexual multiple births. Three of the four cases were diagnosed as XX/XY blood lymphocyte chimaeras, while the fourth case was diagnosed as a 54, XY
SRY
-positive DSD sheep. None of the heterosexual twins showed XX/XY blood chimaerism. This finding suggests that the blood chimaeric cases detected could also be due to a zygote/embryo fusion. Moreover, no gene variants involved in sheep DSD are known, the identification of which would be very useful for the sheep industry.
View Full-Text
►

▼

Show Figures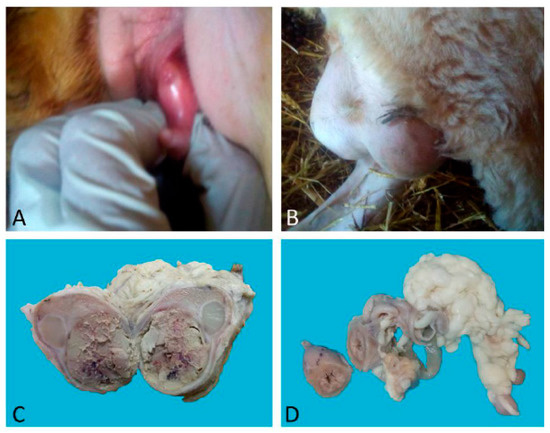 Figure 1
This is an open access article distributed under the
Creative Commons Attribution License
which permits unrestricted use, distribution, and reproduction in any medium, provided the original work is properly cited

MDPI and ACS Style
Albarella, S.; D'Anza, E.; Galdiero, G.; Esposito, L.; De Biase, D.; Paciello, O.; Ciotola, F.; Peretti, V. Cytogenetic Analyses in Ewes with Congenital Abnormalities of the Genital Apparatus. Animals 2019, 9, 776.
Show more citation formats
Show less citations formats
Note that from the first issue of 2016, MDPI journals use article numbers instead of page numbers. See further details
here
.