Characteristics of Trailer Thermal Environment during Commercial Swine Transport Managed under U.S. Industry Guidelines
Agricultural and Biological Engineering, University of Illinois at Urbana-Champaign, 1304 W. Pennsylvania Ave, Urbana, IL 61801, USA
*
Author to whom correspondence should be addressed.
Academic Editor: Marina von Keyserlingk
Received: 3 February 2015 / Revised: 28 February 2015 / Accepted: 3 April 2015 / Published: 10 April 2015
Simple Summary
Temperature and thermal conditions of the interior of a swine trailer during transport were monitored over a broad range of outdoor conditions (34 trips total) managed according to industry best practice (Transport Quality Assurance (TQA) guidelines (NPB, 2008)). For the outdoor temperature range of 5 °C (40 °F) to 27 °C (80 °F), generally acceptable trailer thermal conditions were observed according to the TQA. Beyond this outdoor temperature range, undesirable conditions within the trailer were prevalent. Areas for potential improvement in transport management were identified. Stops resulted in rapid increases in temperature, which could be beneficial during cooler outdoor temperatures, but detrimental for warmer outdoor temperatures.
Transport is a critical factor in modern pork production and can seriously affect swine welfare. While previous research has explored thermal conditions during transport, the impact of extreme weather conditions on the trailer thermal environment under industry practices has not been well documented; and the critical factors impacting microclimate are not well understood. To assess the trailer microclimate during transport events, an instrumentation system was designed and installed at the central ceiling level, pig level and floor-level in each of six zones inside a commercial swine trailer. Transport environmental data from 34 monitoring trips (approximately 1–4 h in duration each) were collected from May, 2012, to February, 2013, with trailer management corresponding to the National Pork Board Transport Quality Assurance (TQA) guidelines in 31 of these trips. According to the TQA guidelines, for outdoor temperature ranging from 5 °C (40 °F) to 27 °C (80 °F), acceptable thermal conditions were observed based on the criteria that no more than 10% of the trip duration was above 35 °C (95 °F) or below 0 °C (32 °F). Recommended bedding, boarding and water application were sufficient in this range. Measurements support relaxing boarding guidelines for moderate outdoor conditions, as this did not result in less desirable conditions. Pigs experienced extended undesirable thermal conditions for outdoor temperatures above 27 °C (80 °F) or below 5 °C (40 °F), meriting a recommendation for further assessment of bedding, boarding and water application guidelines for extreme outdoor temperatures. An Emergency Livestock Weather Safety Index (LWSI) condition was observed inside the trailer when outdoor temperature exceeded 10 °C (50 °F); although the validity of LWSI to indicate heat stress for pigs during transport is not well established. Extreme pig surface temperatures in the rear and middle zones of the trailer were more frequently experienced than in the front zones, and the few observations of pigs dead or down upon arrival were noted in these zones. Observations indicate that arranging boarding placement may alter the ventilation patterns inside the trailer.
View Full-Text
►

▼

Show Figures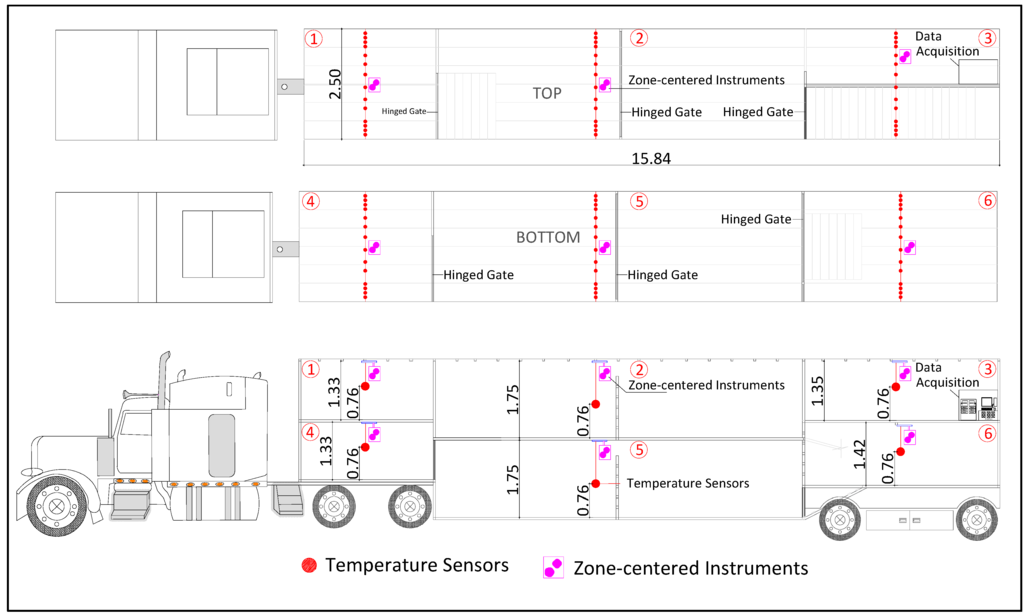 Figure 1
This is an open access article distributed under the
Creative Commons Attribution License
which permits unrestricted use, distribution, and reproduction in any medium, provided the original work is properly cited

MDPI and ACS Style
Xiong, Y.; Green, A.; Gates, R.S. Characteristics of Trailer Thermal Environment during Commercial Swine Transport Managed under U.S. Industry Guidelines. Animals 2015, 5, 226-244. https://doi.org/10.3390/ani5020226
AMA Style
Xiong Y, Green A, Gates RS. Characteristics of Trailer Thermal Environment during Commercial Swine Transport Managed under U.S. Industry Guidelines. Animals. 2015; 5(2):226-244. https://doi.org/10.3390/ani5020226
Chicago/Turabian Style
Xiong, Yijie, Angela Green, and Richard S. Gates 2015. "Characteristics of Trailer Thermal Environment during Commercial Swine Transport Managed under U.S. Industry Guidelines" Animals 5, no. 2: 226-244. https://doi.org/10.3390/ani5020226