Impact of Changes in Time Left Alone on Separation-Related Behaviour in UK Pet Dogs
Canine Behaviour and Research, Dogs Trust, London EC1V 7RQ, UK
*
Author to whom correspondence should be addressed.
Academic Editors: Paola Maria Valsecchi and Lynette A. Hart
Received: 8 December 2021
/
Revised: 27 January 2022
/
Accepted: 10 February 2022
/
Published: 15 February 2022
Simple Summary
Dogs can develop separation-related behaviours (SRBs), such as barking/howling, pacing, toileting or destroying household items when they are left without human company. These behaviours can be problematic for owners but are also welfare concerns for the dogs because they mean the dog is in a negative emotional state. Many dog owners have been able to spend more time at home with their pets during the COVID-19 pandemic, and there have been concerns this will increase risks of SRB when dogs are left alone for longer again. Here, we surveyed a group of dog owners in the United Kingdom (UK) twice during 2020. In the first survey, we asked owners about their dogs' behaviour before the pandemic, in February 2020, and at the time of the first lockdown; we then surveyed them again in October 2020 when restrictions had eased. Whether dogs showed SRBs or not changed considerably over the months of the study, and whilst one in two dogs with pre-existing SRBs were no longer showing them in October 2020, one in ten dogs who had previously not shown SRBs before the pandemic were found to have developed SRBs in October. Risk of developing SRBs was found to be linked to the change in time left alone during the lockdown, with dogs whose time alone reduced the most being most at risk of developing new SRBs in October.
Separation-related behaviours (SRBs), including but not limited to vocalisation, pacing, destruction and toileting, occur in the absence of human company. As well as being problematic for the dogs' owners, such behaviours indicate that the dogs' emotional state is compromised. As part of the COVID-19 pandemic, time spent alone decreased considerably for many pet dogs, leading to concerns about the development of SRBs when dogs are left alone more again. The main aim of this study was to test the hypothesis that dogs whose time left alone decreased most (compared to a February 2020 pre-COVID baseline) would be at greatest risk of developing new signs of SRB when time left alone increased again. To achieve this aim, we utilised survey data gathered from dog owners between 4th May and 3rd July 2020, during the first COVID-19 'lockdown' period in the United Kingdom (UK), and a follow-up survey of the same dog-owner cohort, completed when restrictions had eased between 10th October and 2nd November 2020. Individual dogs fluctuated considerably in whether they showed signs of SRB or not across the study period (
n
= 1807). Overall, the prevalence of SRB in the population decreased from 22.1% to 17.2%, as did the time dogs were left alone for between February and October 2020. However, 9.9% of dogs had developed new signs of SRB by the follow-up survey in October 2020, with dogs whose leaving hours decreased most during lockdown restrictions being at increased risk of developing SRBs. These findings have implications for our understanding of the etiology of SRB, by showing a link between changes in owner routine and SRB risk.
View Full-Text
►

▼

Show Figures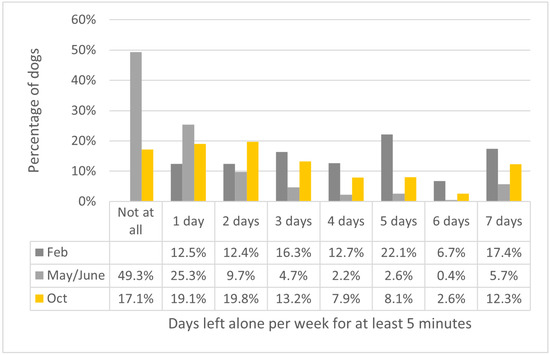 Figure 1
This is an open access article distributed under the
Creative Commons Attribution License
which permits unrestricted use, distribution, and reproduction in any medium, provided the original work is properly cited.

MDPI and ACS Style
Harvey, N.D.; Christley, R.M.; Giragosian, K.; Mead, R.; Murray, J.K.; Samet, L.; Upjohn, M.M.; Casey, R.A. Impact of Changes in Time Left Alone on Separation-Related Behaviour in UK Pet Dogs. Animals 2022, 12, 482. https://doi.org/10.3390/ani12040482
AMA Style
Harvey ND, Christley RM, Giragosian K, Mead R, Murray JK, Samet L, Upjohn MM, Casey RA. Impact of Changes in Time Left Alone on Separation-Related Behaviour in UK Pet Dogs. Animals. 2022; 12(4):482. https://doi.org/10.3390/ani12040482
Chicago/Turabian Style
Harvey, Naomi D., Robert M. Christley, Kassandra Giragosian, Rebecca Mead, Jane K. Murray, Lauren Samet, Melissa M. Upjohn, and Rachel A. Casey. 2022. "Impact of Changes in Time Left Alone on Separation-Related Behaviour in UK Pet Dogs" Animals 12, no. 4: 482. https://doi.org/10.3390/ani12040482
Note that from the first issue of 2016, MDPI journals use article numbers instead of page numbers. See further details
here
.