Conservation Implications of Shifting Gut Microbiomes in Captive-Reared Endangered Voles Intended for Reintroduction into the Wild
1
Department of Medicine and Epidemiology, School of Veterinary Medicine, University of California, Davis, CA 95616, USA
2
Wildlife Investigations Lab, California Department of Fish and Wildlife, 1701 Nimbus Road, Rancho Cordova, CA 95670, USA
3
Department of Molecular Biosciences, University of California, Davis, CA 95616, USA
*
Author to whom correspondence should be addressed.
Received: 30 June 2018 / Revised: 5 September 2018 / Accepted: 11 September 2018 / Published: 12 September 2018
Abstract
The Amargosa vole is a highly endangered rodent endemic to a small stretch of the Amargosa River basin in Inyo County, California. It specializes on a single, nutritionally marginal food source in nature. As part of a conservation effort to preserve the species, a captive breeding population was established to serve as an insurance colony and a source of individuals to release into the wild as restored habitat becomes available. The colony has successfully been maintained on commercial diets for multiple generations, but there are concerns that colony animals could lose gut microbes necessary to digest a wild diet. We analyzed feces from colony-reared and recently captured wild-born voles on various diets, and foregut contents from colony and wild voles. Unexpectedly, fecal microbial composition did not greatly differ despite drastically different diets and differences observed were mostly in low-abundance microbes. In contrast, colony vole foregut microbiomes were dominated by
Allobaculum
sp. while wild foreguts were dominated by
Lactobacillus
sp. If these bacterial community differences result in beneficial functional differences in digestion, then captive-reared Amargosa voles should be prepared prior to release into the wild to minimize or eliminate those differences to maximize their chance of success.
View Full-Text
►

▼

Figures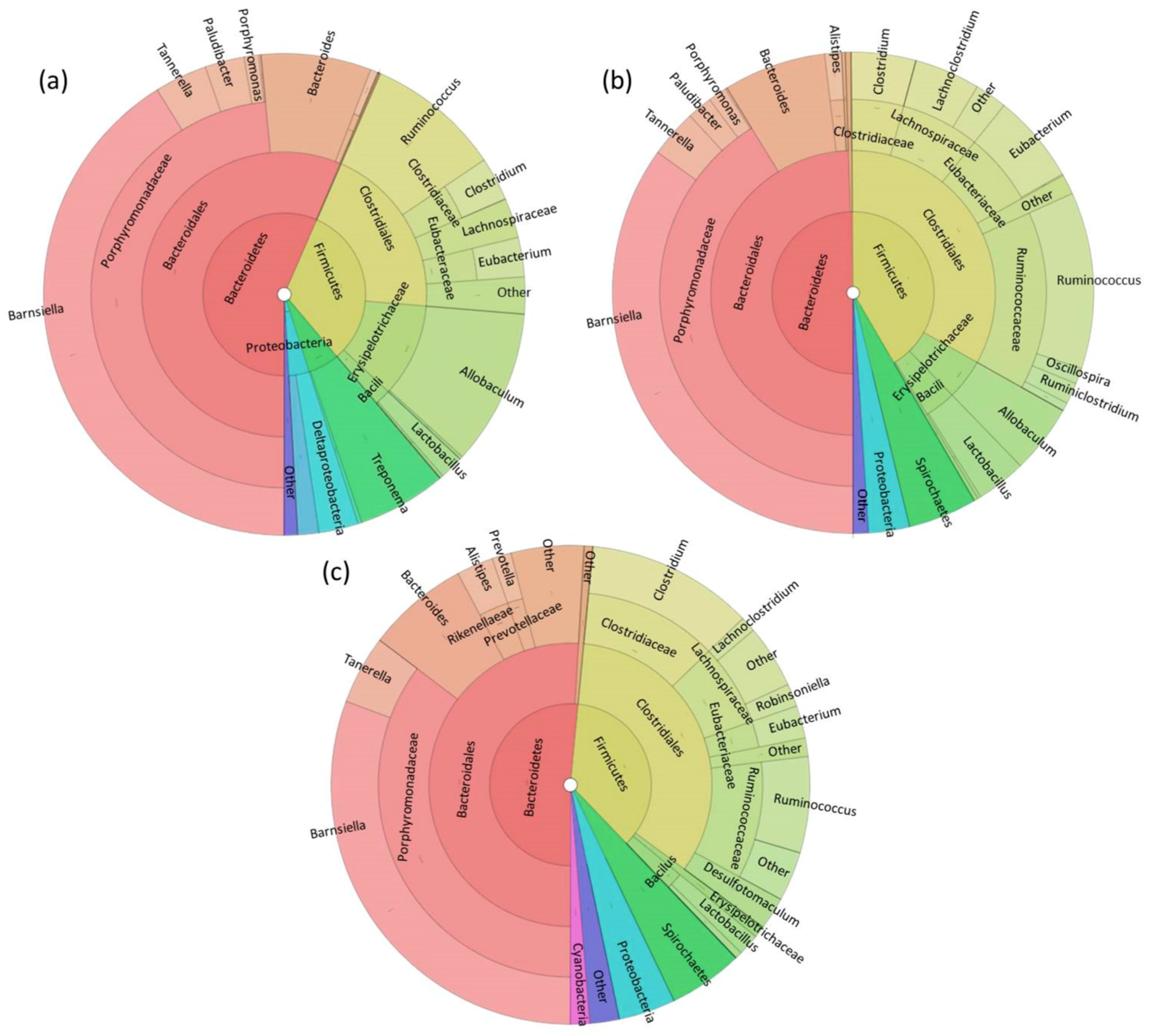 Figure 1
This is an open access article distributed under the
Creative Commons Attribution License
which permits unrestricted use, distribution, and reproduction in any medium, provided the original work is properly cited (CC BY 4.0).

Share & Cite This Article
MDPI and ACS Style
Allan, N.; Knotts, T.A.; Pesapane, R.; Ramsey, J.J.; Castle, S.; Clifford, D.; Foley, J. Conservation Implications of Shifting Gut Microbiomes in Captive-Reared Endangered Voles Intended for Reintroduction into the Wild. Microorganisms 2018, 6, 94.
Note that from the first issue of 2016, MDPI journals use article numbers instead of page numbers. See further details here.
Related Articles
Comments
[Return to top]