Improved Labeling of Pancreatic Islets Using Cationic Magnetoliposomes
1
Biomedical MRI/MoSAIC, Department of Imaging and Pathology, University of Leuven, Herestraat 49, B3000 Leuven, Belgium
2
Laboratory for Functional and Metabolic Imaging, Ecole Polytechnique Federale Lausanne, 1015 Lausanne, Switzerland
3
Laboratory of Experimental Hormonology, ULB, Campus Erasme, Route de Lennik 808, B1070 Brussels, Belgium
4
Laboratory of Histology, Biomedical Research Institute, Hasselt University, Campus Diepenbeek, Agoralaan, B3590 Diepenbeek, Belgium
5
Department of Biochemistry, ULB, Campus Erasme, Route de Lennik 808, B1070 Brussels, Belgium
6
Laboratory of BioNanoColloids, Interdisciplinary Research Centre, University of Leuven, Etienne Sabbelaan 53, B8500 Kortrijk, Belgium
*
Author to whom correspondence should be addressed.
†
These authors contributed equally to this manuscript.
Received: 21 December 2017 / Revised: 12 February 2018 / Accepted: 8 March 2018 / Published: 12 March 2018
Abstract
Pancreatic islets (PIs) transplantation is an alternative approach for the treatment of severe forms of type 1 diabetes (T1D). To monitor the success of transplantation, it is desirable to follow the location of engrafted PIs non-invasively. In vivo magnetic resonance imaging (MRI) of transplanted PIs is a feasible cell tracking method; however, this requires labeling with a suitable contrast agent prior to transplantation. We have tested the feasibility of cationic magnetoliposomes (MLs), compared to commercial contrast agents (Endorem and Resovist), by labeling insulinoma cells and freshly isolated rat PIs. It was possible to incorporate Magnetic Ressonance (MR)-detectable amounts of MLs in a shorter time (4 h) when compared to Endorem and Resovist. MLs did not show negative effects on the PIs' viability and functional parameters in vitro. Labeled islets were transplanted in the renal sub-capsular region of healthy mice. Hypointense contrast in MR images due to the labeled PIs was detected in vivo upon transplantation, while MR detection of PIs labeled with Endorem and Resovist was only possible after the addition of transfection agents. These findings indicate that MLs are suitable to image PIs, without affecting their function, which is promising for future longitudinal pre-clinical and clinical studies involving the assessment of PI transplantation.
View Full-Text
►

▼

Figures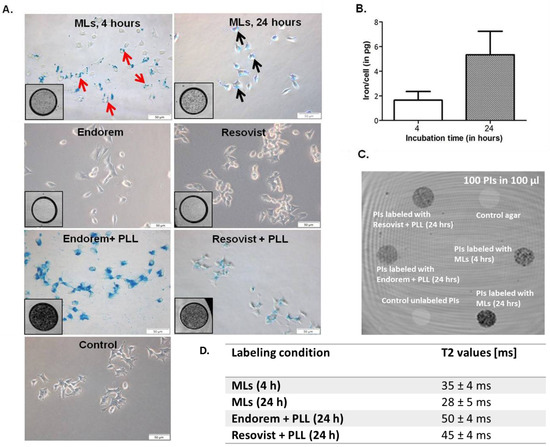 Figure 1
This is an open access article distributed under the
Creative Commons Attribution License
which permits unrestricted use, distribution, and reproduction in any medium, provided the original work is properly cited (CC BY 4.0).

Share & Cite This Article
MDPI and ACS Style
Garcia Ribeiro, R.S.; Ketkar-Atre, A.; Yin, T.; Louchami, K.; Struys, T.; Lambrichts, I.; Sener, A.; Malaisse, W.J.; De Cuyper, M.; Himmelreich, U. Improved Labeling of Pancreatic Islets Using Cationic Magnetoliposomes. J. Pers. Med. 2018, 8, 12.
Note that from the first issue of 2016, MDPI journals use article numbers instead of page numbers. See further details here.
Related Articles
Comments
[Return to top]