In Situ Chalcophile and Siderophile Element Behavior in Sulfides from Moroccan Middle Atlas Spinel Peridotite Xenoliths during Metasomatism and Weathering
1
GeoZentrum Nordbayern, Friedrich-Alexander Universität Erlangen-Nürnberg (FAU), Schlossgarten 5, D-91054 Erlangen, Germany
2
Forschungsbereich Archäometallurgie, Deutsches Bergbau-Museum Bochum, Am Bergbaumuseum 31, D-44791 Bochum, Germany
3
Department of Geosciences and Geography, University of Helsinki, P.O. Box 64, 00014 Helsinki, Finland
4
Deutsche Rohstoffagentur (DERA) in der Bundesanstalt für Geowissenschaften und Rohstoffe (BGR), Wilhelmstraße 25 – 30, D-13593 Berlin-Spandau, Germany
5
Florida Department of Environmental Protection, 3900 Commonwealth Boulevard, Tallahassee, FL 32399-3000, USA
*
Authors to whom correspondence should be addressed.
Received: 1 April 2019 / Revised: 29 April 2019 / Accepted: 30 April 2019 / Published: 4 May 2019
Abstract
In situ chalcophile and siderophile major and trace elements were analyzed in sulfides from eight Moroccan Middle Atlas lherzolite xenoliths using electron microprobe and laser ablation inductively coupled plasma mass spectrometry. The sulfides occur enclosed in primary silicates, interstitial in the peridotite matrix, and associated with glass-bearing melt pockets. Monosulfide solid solutions are enriched in these xenoliths relative to pentlandite and intermediate solid solutions. Regardless of the textural occurrence, sulfide platinum-group element (PGE) patterns are distinguished into residual ([Pd/Ir]
N
< 1 and [Pt/Pd]
N
> 1 or [Pt/Pd]
N
< 1), melt-like ([Pd/Ir]
N
> 1), and unfractionated patterns. The coexistence of both residual and melt-like PGE signatures on a cm scale in a single sample implies that sulfides may record initial depletion and subsequent re-enrichment more effectively than constituent silicates do. Chalcophile and siderophile trace elements other than the PGEs are fractionated between the precipitated sulfide phases, but do not vary systematically with the PGE signatures, suggesting that the PGEs are comparatively sensitive to melting and depletion. In addition, Fe-rich hydroxides generated by sulfide breakdown due to atmospheric weathering display PGE systematics almost identical to their precursor sulfides, implying that they may be reliable tracers of mantle processes even after extensive weathering.
View Full-Text
►

▼

Figures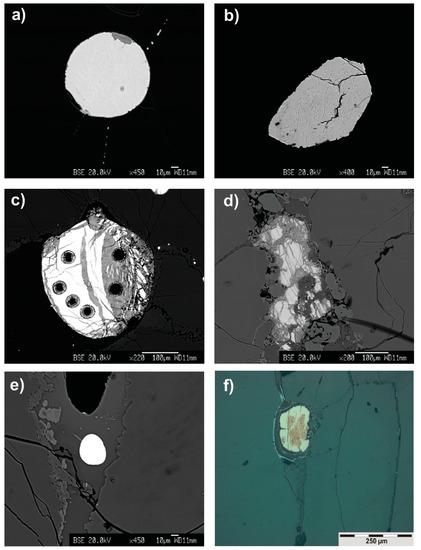 Figure 1
This is an open access article distributed under the
Creative Commons Attribution License
which permits unrestricted use, distribution, and reproduction in any medium, provided the original work is properly cited (CC BY 4.0).

Share & Cite This Article
MDPI and ACS Style
Westner, K.J.; Beier, C.; Klemd, R.; Osbahr, I.; Brooks, N. In Situ Chalcophile and Siderophile Element Behavior in Sulfides from Moroccan Middle Atlas Spinel Peridotite Xenoliths during Metasomatism and Weathering. Minerals 2019, 9, 276.
Note that from the first issue of 2016, MDPI journals use article numbers instead of page numbers. See further details here.
Related Articles
Comments
[Return to top]