Geochemistry, Geochronology, and Hf-S-Pb Isotopes of the Akechukesai IV Mafic-Ultramafic Complex, Western China
1
College of Earth Sciences, Jilin University, Changchun 130061, China
2
School of Resource Environment and Earth Science, Yunnan University, Kunming 650500, China
3
Qinghai provincial Bureau of Ferrous Metal and Geological Exploration, Xining 810007, China
4
National Gemological Training Center, Beijing 101300, China
*
Authors to whom correspondence should be addressed.
Received: 13 March 2019 / Revised: 29 April 2019 / Accepted: 1 May 2019 / Published: 2 May 2019
Abstract
The Akechukesai IV mafic–ultramafic complex, located in the western segment of the eastern Kunlun orogenic belt (EKOB), represents a newly-discovered complex, containing Ni ores at grades of up to 0.98% Ni. It is dominated by olivine pyroxenite, pyroxenite, and gabbro units. The gabbros are enriched in lithophile elements (e.g., Rb, U, and K) and light rare-earth elements (LREE), with negative anomalies in high field-strength elements, except Zr, Ta. Nb/Ta(∼5) and Zr/Hf (∼10) ratios lower than the primitive mantle and chondrites, respectively, indicate the influence of the mantle metasomatic process or fractionation of accessory mineral phases. Zircon U–Pb dating of the gabbro yielded an age of 423.9 ± 2.6 Ma, indicating that the complex formed contemporaneously with the Xiarihamu Ni deposit (423 ± 1 Ma). The gabbro has negative εHf(t) values (−11.3 to −1.2) with corresponding T
DM1
ages of 1535–1092 Ma. The vein-like and disseminated mineralization (i.e., pyrite and pyrrhotite) have δ
34
S values of 13.1‰–13.4‰ and 5.0‰–8.5‰, respectively, suggesting that the magmas that formed the complex assimilated crustal sulfur. They yield
206
Pb/
204
Pb,
207
Pb/
204
Pb, and
208
Pb/
204
Pb values of 17.323–18.472, 15.422–15.626, and 37.610–38.327, respectively, indicating Pb derived from multiple sources (i.e., mantle crustal sources). Geochemical and Hf–S–Pb isotopic characteristics suggest that the complex formed from a primitive magma derived by partial melting of a spinel- and garnet-bearing lherzolite mantle at variable degree of 5%–10%. This source region was geochemically enriched by previous interaction with slab-related fluids. Tectonic reconstruction suggests that the Akechukesai IV complex was generated in a post-collisional extensional environment.
View Full-Text
►

▼

Figures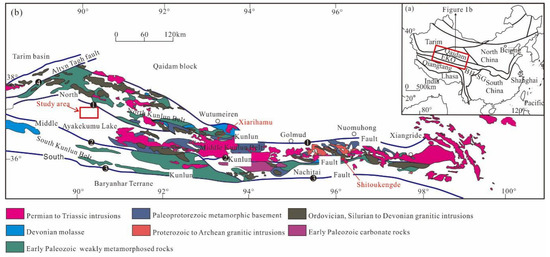 Figure 1
This is an open access article distributed under the
Creative Commons Attribution License
which permits unrestricted use, distribution, and reproduction in any medium, provided the original work is properly cited (CC BY 4.0).

Share & Cite This Article
MDPI and ACS Style
Yan, J.; Sun, F.; Qian, Y.; Li, L.; Zhang, Y.; Yan, Z. Geochemistry, Geochronology, and Hf-S-Pb Isotopes of the Akechukesai IV Mafic-Ultramafic Complex, Western China. Minerals 2019, 9, 275.
Note that from the first issue of 2016, MDPI journals use article numbers instead of page numbers. See further details here.
Related Articles
Comments
[Return to top]