Petrogenesis of Ore-Hosting Diorite in the Zaorendao Gold Deposit at the Tongren-Xiahe-Hezuo Polymetallic District, West Qinling, China
1
State Key Laboratory of Geological Processes and Mineral Resources, and School of Earth Science and Resources, China University of Geosciences, Beijing 100083, China
2
Key Laboratory of Mineral Resources, Institute of Geology and Geophysics, Chinese Academy of Sciences, Beijing 100029, China
3
Department of Geology and Geological Engineering, Colorado School of Mines, Golden, CO 80401, USA
4
Department of Earth and Environmental Sciences, University of Windsor, Windsor, On N9B 3P4, Canada
5
Guangxi Geological Exploration Institute of CCGMB, Nanning 530001, China
6
Zhaojin Ming Industry co., LTD, Zhaoyuan 265400, China
*
Author to whom correspondence should be addressed.
Received: 15 December 2018 / Revised: 17 January 2019 / Accepted: 24 January 2019 / Published: 28 January 2019
Abstract
The newly discovered Zaorendao gold deposit is in the Tongren-Xiahe-Hezuo polymetallic district in the westernmost West Qinling orogenic belt. The estimated pre-mining resource is approximately 13.6 t of Au at an average grade of 3.02 g/t. Mineralization is predominantly controlled by NW-trending and EW-trending faults within diorite intrusions and surrounding sedimentary rocks. In the present study, in situ zircon U–Pb geochronology and Lu–Hf isotopic analyses of the ore-hosting diorite at Zaorendao were measured using LA-ICP-MS. The data suggest that the diorite was emplaced at ca. 246.5 ± 1.9 Ma. The large variation of zircon Hf isotopic composition (ɛ
Hf
(t) values ranging from −12.0 to −1.8) indicates a two-stage model age (T
DM2
) that ranges from 1.4 Ga to 2.0 Ga. Such Lu–Hf isotopic compositions indicate that the diorite was dominantly derived from a Paleo- to Meso-Proterozoic continental crust. The wide range of ε
Hf
(t) and the presence of inherited zircon can be interpreted to suggest the mixing of Paleo- to Meso-Proterozoic continental crust with a mantle component. Combining such characteristics with the geochemistry of coeval rocks that are associated with the diorite, we therefore proposed that the gold-hosting Triassic diorite in the Zaorendao gold deposit formed in an active continental margin that was associated with the northward subduction of the paleo-Tethyan ocean.
View Full-Text
►

▼

Figures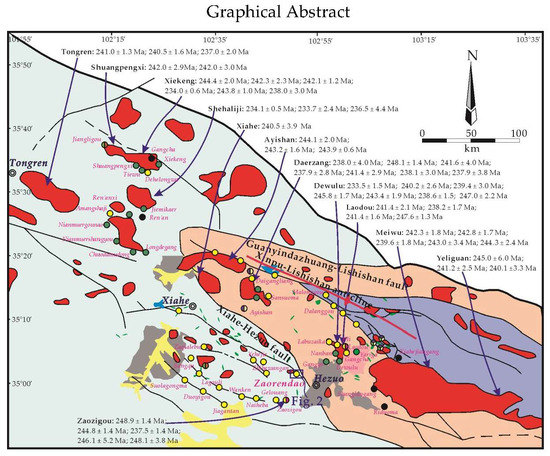 Graphical abstract
This is an open access article distributed under the
Creative Commons Attribution License
which permits unrestricted use, distribution, and reproduction in any medium, provided the original work is properly cited (CC BY 4.0).

Share & Cite This Article
MDPI and ACS Style
Gou, Z.-Y.; Yu, H.-C.; Qiu, K.-F.; Geng, J.-Z.; Wu, M.-Q.; Wang, Y.-G.; Yu, M.-H.; Li, J. Petrogenesis of Ore-Hosting Diorite in the Zaorendao Gold Deposit at the Tongren-Xiahe-Hezuo Polymetallic District, West Qinling, China. Minerals 2019, 9, 76.
Note that from the first issue of 2016, MDPI journals use article numbers instead of page numbers. See further details here.
Related Articles
Comments
[Return to top]