Comparative Study on Shale Characteristics of Different Sedimentary Microfacies of Late Permian Longtan Formation in Southwestern Guizhou, China
1
School of Energy Resources, China University of Geosciences (Beijing), Beijing 100083, China
2
Key Laboratory of Strategy Evaluation for Shale Gas, Ministry of Land and Resources, Beijing 100083, China
*
Author to whom correspondence should be addressed.
Received: 9 November 2018 / Revised: 21 December 2018 / Accepted: 22 December 2018 / Published: 29 December 2018
Abstract
Organic-rich marine-continental transitional shales are widely distributed in Guizhou Province, China. Samples from the Late Permian Longtan Formation were investigated using organic petrography analysis, X-ray diffraction (XRD) analysis, field emission-scanning electron microscopy observations, mercury intrusion capillary pressure and gas adsorption experiments to better understand the organic geochemical characteristic, mineralogical composition, full-size pore structure characteristics and fractal characteristic of shale reservoir. The relationships among the total organic carbon (TOC) content, mineral composition, pore structure parameter, methane adsorption capacity and fractal dimension of shale samples are discussed, along with the differences between different sedimentary microfacies. Results show that shale samples are characterized by high TOC contents, low permeability, complex mineral composition and pore structure. Shales of YV-1, deposited in delta and lower delta plains, have an extreme high clay content (71.33% average) and the clay minerals mainly consist of the I/S and kaolinite, while shales of XD-1, deposited in the lagoon-tidal flat, have a relatively low clay content (37% average) and the I/S occupies an absolute advantage. The pore volume, specific surface area and average pore diameter of YV-1 (0.02881 cm
3
/g, 20.806 m
2
/g and 11.07 nm, respectively) are larger than that of XD-1 (0.02110 cm
3
/g, 20.101 m
2
/g, and 8.40 nm, respectively). The mesopore of YV-1 is the predominant contributor to the pore structure, while the micropore of XD-1 also occupies a certain proportion in addition to the mesopore. Organic matter (OM)-hosted pores are largely developed in XD-1 samples, while clay mineral-hosted pores dominate the pore system of YV-1. Shale samples with higher TOC content and clay content generally have larger specific surface area and pore volume, which provides more adsorption space and enhances pore structure heterogeneity. Samples of XD-1 have high TOC contents, suitable mineral composition and complex pore structure, suggesting that shales deposited in a lagoon-tidal flat environment may have a greater potential for shale gas development.
View Full-Text
►

▼

Figures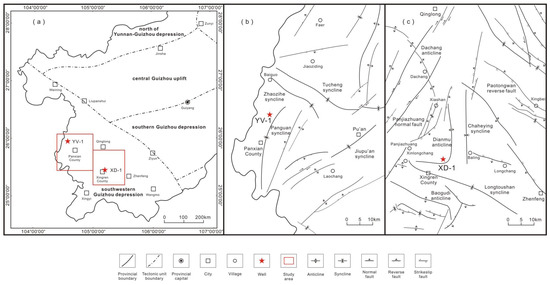 Figure 1
This is an open access article distributed under the
Creative Commons Attribution License
which permits unrestricted use, distribution, and reproduction in any medium, provided the original work is properly cited (CC BY 4.0).

Share & Cite This Article
MDPI and ACS Style
Ma, X.; Guo, S. Comparative Study on Shale Characteristics of Different Sedimentary Microfacies of Late Permian Longtan Formation in Southwestern Guizhou, China. Minerals 2019, 9, 20.
Note that from the first issue of 2016, MDPI journals use article numbers instead of page numbers. See further details here.
Related Articles
Comments
[Return to top]