Geochemical Investigations of Fe-Si-Mn Oxyhydroxides Deposits in Wocan Hydrothermal Field on the Slow-Spreading Carlsberg Ridge, Indian Ocean: Constraints on Their Types and Origin
1
Key Laboratory of Submarine Geosciences, Second Institute of Oceanography, State Oceanic Administration, Hangzhou 310012, China
2
Department of Marine Science, Ocean College, Zhejiang University, Zhoushan 316021, China
3
Nigerian Institute for Oceanography and Marine Research, Lagos P.M.B 12729, Nigeria
*
Author to whom correspondence should be addressed.
Received: 28 November 2018 / Revised: 19 December 2018 / Accepted: 21 December 2018 / Published: 28 December 2018
Abstract
We have studied morphology, mineralogy and geochemical characteristics of Fe-oxyhydroxide deposits from metal-enriched sediments of the active (Wocan-1) and inactive (Wocan-2) hydrothermal sites (Carlsberg Ridge, Northwest Indian Ocean). Fe-oxyhydroxide deposits on the Wocan-1 site are reddish-brownish, amorphous and subangular. They occur in association with sulfides (e.g., pyrite, chalcopyrite and sphalerite) and sulfate minerals (e.g., gypsum and barite). The geochemical composition shows enrichment in transition metals (Ʃ (Cu + Co + Zn + Ni) = ~1.19 wt. %) and low (<0.4 wt. %) values of Al/(Al + Fe + Mn) ratio. The Wocan-2 samples show poorly crystallized reddish brown and yellowish Fe-oxyhydroxide, with minor peaks of goethite and manganese oxide minerals. The mineral assemblage includes sulfide and sulfate phases. The geochemical compositions show two distinct types (type-1 and type-2). The type-1 Fe-oxyhydroxides are enriched in transition metals (up to ~1.23 wt. %), with low values of Fe/Ti vs. Al/(Al + Fe + Mn) ratio similar to the Wocan-1 Fe-oxyhydroxides. The type-2 Fe-oxyhydroxides are depleted in transition metals, with Al/(Al + Fe + Mn) ratio of 0.003–0.58 (mean value, 0.04). The ridge flank oxyhydroxides exhibit an extremely low (mean value ~ 0.01) Fe/Mn ratio and a depleted concentration of transition metals. Our results revealed that the Wocan-1 Fe-oxyhydroxides and type-1 Fe-oxyhydroxides of the Wocan-2 site are in the range of Fe-oxyhydroxides deposits that are precipitated by mass wasting and corrosion of pre-existing sulfides. The type-2 Fe-oxyhydroxides are precipitated from sulfide alteration by seawater in an oxygenated environment relative to type-1. The association of biogenic detritus with the oxyhydroxides of the ridge flanks and the low Fe/Mn ratio suggests hydrogenous/biogenic processes of formation and masked hydrothermal signatures with distance away from the Wocan hydrothermal field.
View Full-Text
►

▼

Figures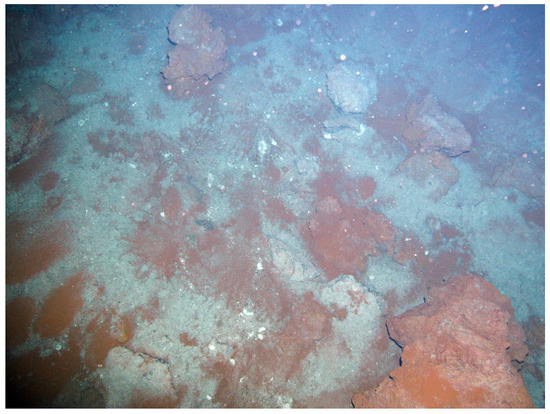 Graphical abstract
This is an open access article distributed under the
Creative Commons Attribution License
which permits unrestricted use, distribution, and reproduction in any medium, provided the original work is properly cited (CC BY 4.0).

Share & Cite This Article
MDPI and ACS Style
Olatunde Popoola, S.; Han, X.; Wang, Y.; Qiu, Z.; Ye, Y. Geochemical Investigations of Fe-Si-Mn Oxyhydroxides Deposits in Wocan Hydrothermal Field on the Slow-Spreading Carlsberg Ridge, Indian Ocean: Constraints on Their Types and Origin. Minerals 2019, 9, 19.
Note that from the first issue of 2016, MDPI journals use article numbers instead of page numbers. See further details here.
Related Articles
Comments
[Return to top]