Is Cr-Spinel Geochemistry Enough for Solving the Provenance Dilemma? Case Study from the Palaeogene Sandstones of the Western Carpathians (Eastern Slovakia)
1
Institute of Geography, Faculty of Science, Pavol Jozef Šafárik University in Košice, Jesenná 5, 040 01 Košice, Slovakia
2
Earth Science Institute, Slovak Academy of Sciences, Geological Division, Ďumbierska 1, 974 01 Banská Bystrica, Slovakia
*
Author to whom correspondence should be addressed.
Received: 18 October 2018 / Revised: 9 November 2018 / Accepted: 20 November 2018 / Published: 23 November 2018
Abstract
The provenance of the Proč and Strihovce sandstones is crucial for understanding the relationship between the Pieniny Klippen (PKB) and Flysch (FB) belts in the easternmost part of the Western Carpathian realm. Detrital Cr-spinels in these tectonic units were assertively interpreted as sourced from the southern sources representing the Meliata mélange. In this study, we use the geochemistry of detrital chromian spinels to identify the mafic and ultramafic source of the sediments and to compare them each other. Simultaneously, we compare their chemical compositions with those from the different Western Carpathian geological units, which could feed the Proč and Krynica basins during the Paleogene, where the Proč and Strihovce formations (fms), respectively, were deposited. Chromian spinels from the Proč and Strihovce fms exhibit similar geochemical characteristics (Cr# = 0.44–0.88 and 0.29–0.89, Mg# = 0.17–0.68 and 0.2–0.72, TiO
2
= 0.0–3.67 and 0.01–2.08 wt.%, respectively). The spinels show both supra-subduction zone (SSZ) peridotite signatures and volcanic origin. Whereas volcanic spinels from the Proč Formation (Fm.) were formed under an ocean island basalt (OIB) and back-arc basin basalt (BABB) geodynamic setting, those from the Strihovce Fm. suggest a predominantly mid-ocean ridge basalt (MORB) origin. To avoid mistakes in the provenance interpretations, the data from garnet geochemistry of both formations is supplied. The analysed Cr-spinels do not absolutely overlap with spinels reported from the Meliata Unit, and their composition indicates at least two independent sources.
View Full-Text
►

▼

Figures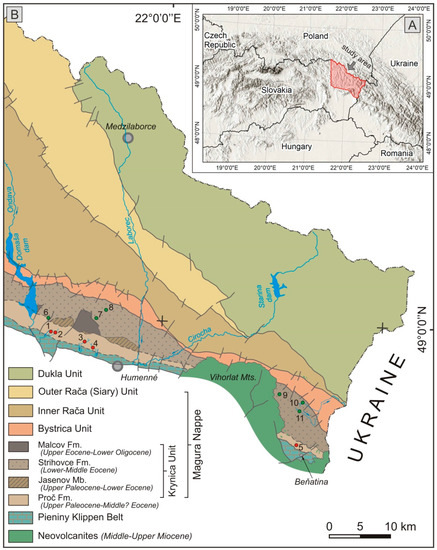 Figure 1
This is an open access article distributed under the
Creative Commons Attribution License
which permits unrestricted use, distribution, and reproduction in any medium, provided the original work is properly cited (CC BY 4.0).

Share & Cite This Article
MDPI and ACS Style
Bónová, K.; Mikuš, T.; Bóna, J. Is Cr-Spinel Geochemistry Enough for Solving the Provenance Dilemma? Case Study from the Palaeogene Sandstones of the Western Carpathians (Eastern Slovakia). Minerals 2018, 8, 543.
Note that from the first issue of 2016, MDPI journals use article numbers instead of page numbers. See further details here.
Related Articles
Comments
[Return to top]