Occurrence of Chiral Bioactive Compounds in the Aquatic Environment: A Review
1
CESPU, Instituto de Investigação e Formação Avançada em Ciências e Tecnologias da Saúde, Rua Central de Gandra, 1317, 4585-116 Gandra PRD, Portugal
2
Centro Interdisciplinar de Investigação Marinha e Ambiental (CIIMAR/CIMAR), Universidade do Porto, Rua dos Bragas 289, 4050-123 Porto, Portugal
3
Laboratory of Separation and Reaction Engineering—Laboratory of Catalysis and Materials (LSRE-LCM), Faculdade de Engenharia, Universidade do Porto, Rua Dr. Roberto Frias s/n, 4200-465 Porto, Portugal
4
Universidade Católica Portuguesa, CBQF—Centro de Biotecnologia e Química Fina—Laboratório Associado, Escola Superior de Biotecnologia, Rua Arquiteto Lobão Vital, Apartado 2511, 4202-401 Porto, Portugal
5
Laboratório de Química Orgânica e Farmacêutica, Departamento de Ciências Químicas, Faculdade de Farmácia da Universidade do Porto, Rua de Jorge Viterbo Ferreira, 228, 4050-313 Porto, Portugal
*
Author to whom correspondence should be addressed.
Received: 30 August 2017 / Revised: 30 September 2017 / Accepted: 30 September 2017 / Published: 3 October 2017
Abstract
In recent decades, the presence of micropollutants in the environment has been extensively studied due to their high frequency of occurrence, persistence and possible adverse effects to exposed organisms. Concerning chiral micropollutants in the environment, enantiomers are frequently ignored and enantiomeric composition often neglected. However, enantioselective toxicity is well recognized, highlighting the need to include enantioselectivity in environmental risk assessment. Additionally, the information about enantiomeric fraction (EF) is crucial since it gives insights about: (i) environmental fate (i.e., occurrence, distribution, removal processes and (bio)degradation); (ii) illicit discharges; (iii) consumption pattern (e.g., illicit drugs, pharmaceuticals used as recreational drugs, illicit use of pesticides); and (iv) enantioselective toxicological effects. Thus, the purpose of this paper is to provide a comprehensive review about the enantioselective occurrence of chiral bioactive compounds in aquatic environmental matrices. These include pharmaceuticals, illicit drugs, pesticides, polychlorinated biphenyls (PCBs) and polycyclic musks (PCMs). Most frequently analytical methods used for separation of enantiomers were liquid chromatography and gas chromatography methodologies using both indirect (enantiomerically pure derivatizing reagents) and direct methods (chiral stationary phases). The occurrence of these chiral micropollutants in the environment is reviewed and future challenges are outlined.
View Full-Text
►

▼

Figures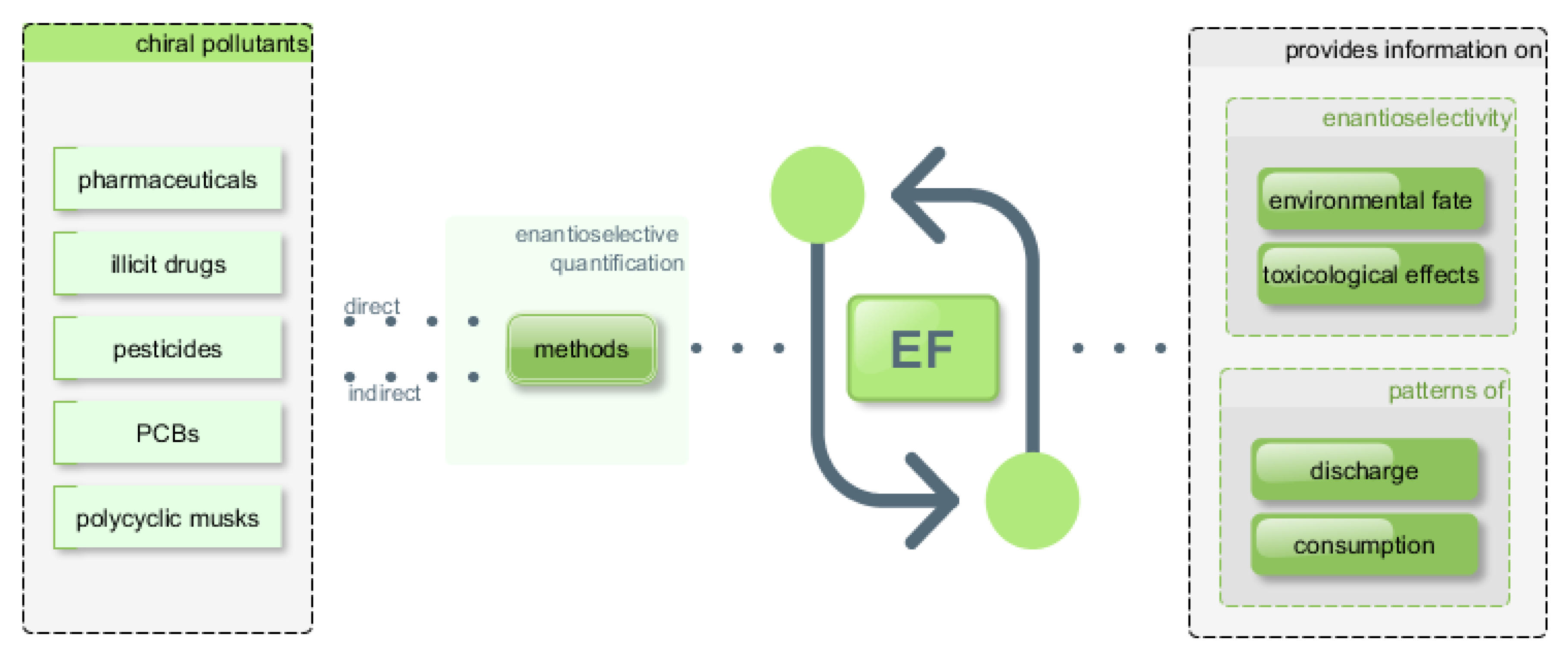 Figure 1
This is an open access article distributed under the
Creative Commons Attribution License
which permits unrestricted use, distribution, and reproduction in any medium, provided the original work is properly cited (CC BY 4.0).

Share & Cite This Article
MDPI and ACS Style
Ribeiro, C.; Ribeiro, A.R.; Maia, A.S.; Tiritan, M.E. Occurrence of Chiral Bioactive Compounds in the Aquatic Environment: A Review. Symmetry 2017, 9, 215.
Note that from the first issue of 2016, MDPI journals use article numbers instead of page numbers. See further details here.
Related Articles
Comments
[Return to top]