Open Access This article is
freely available
re-usable
Article
The Flexible Governance of Water in Cairo's Informal Areas
The Bartlett Development Planning Unit, University College London (UCL), 34 Tavistock Square, Bloomsbury, London WC1H 9EZ, UK
Received: 14 January 2019 / Accepted: 25 July 2019 / Published: 9 August 2019
Abstract
:
This article explores the relationship between informality and water infrastructure in informal areas in Egypt. I apply three concepts drawn from the wider literatures on state power and governance: Topological power, flexible governing, and the "statization" of urban space. I find that infrastructure has functioned as one of the main instruments through which the state is produced or "effected" in the daily lives of residents. Due to this, examining the governance of water infrastructure in informal areas exposes the Egyptian state's "flexibility" and the uneven nature of its power. I argue that this flexibility is a result of the ad hoc nature of power in governance and the uneven quality of the state's authority and reach. This flexibility creates a waterscape constituted by overlapping infrastructures, practices, and actors, making traditional binaries such as public–private and formal–informal meaningless. However, I find that in Egypt's post-Arab-Spring era, the state has been seeking ways to effect its presence more strongly within informal areas, and one of the ways in which it has been doing so is by incorporating "informal" users into the "formal" public water supply and allowing/forcing them to pay for water. I argue that this accommodation of informality is a way to increase the statization of informal areas, while also charging them for water usage. In this way, I find that the state's flexibility allows it to benefit from informality without having to actually "formalise" the neighbourhoods themselves or address the underlying causes of why they are labelled as informal.
Keywords:
water; infrastructure; informality; Cairo; Egypt; power; governance
1. Introduction
"We (the GCWWC) are in charge of everything related to drinking water in Cairo. Nobody can get water without going through us first. As for those in the ashwa'eyat who steal water, they have only two options: either payment or incarceration".

(Interview, Greater Cairo Water and Wastewater Company—GCWWC official, 2014)
"A few years ago some of us tried approaching the water company but they would just say insha'allah (English: God willing) and not do anything. So we figured out other ways to get water. It was only after the Caritas organisation got involved that the water company actually began connecting us".

(Interview, Haggana male resident, 2014)
The above two quotations describe two very different perspectives on water provision in Cairo, Egypt. The first is from a department head within the Greater Cairo Water and Wastewater Company (GCWWC), and the second is from a resident of Ezbet El-Haggana, an area in Cairo designated by the state as "unplanned". The term "unplanned" is used in Egypt's legal code to refer to neighbourhoods that were not planned by the state. A sub-category of unplanned areas is "unsafe areas", which refers to small percentage of unplanned areas that pose health or safety risks to their residents. When the water company official made these comments to me, he also explained that although the GCWWC is a company, it is still a state institution and thus has the authority and means to retrieve the money owed to it by the "thieves in the ashwa'eyat" ("ashwa'eyat" is the colloquial term used in Egypt to refer to informal areas). The second quotation illustrates the reality of water provision on the ground: That although the GCWWC is the main provider of water, it is only after residents mobilised local organisations that the water company took action. The quotations contrast the image of state institutions that believe (or wish to portray) that they are in control of urban planning and governance, against the reality of the day-to-day governing of urban affairs, which is much more ad hoc and uneven.
In this article, I inquire about what the Egyptian state has achieved in terms of governing water infrastructure in informal areas. Many analyses of water provision in Egypt take a more "top-down" perspective, focusing on the different aspects of water governance. Contrarily, I adopt a perspective that focuses instead on the "bottom-up" assemblage of services as a fragmented, almost accidental process. I therefore focus less on governance through policies, plans, and legal decrees and more on the daily reality of informal areas and how their residents experience access to water on a regular basis. I adopt here a broad understanding of governance as the different ways in which government actors—whether individuals or institutions—try to intervene in urban affairs with the purported aim of changing or improving conditions. This definition of governance adopts a more state-centric perspective than some of the more mainstream definitions (e.g., Bakker, 2003 [
1
]) that depict a more pluralistic process. Bakker (2003) defines governance as "the process by which stakeholders articulate their interests, their input is absorbed, decisions are taken and implemented, and decision-makers are held accountable". Contrarily, my view of governance as a process carried out almost exclusively by the state is in line with the experiences of many countries under heavily centralised and/or authoritarian regimes. I focus specifically on access to drinking water in Ezbet El-Haggana (hereafter referred to simply as Haggana)—an unplanned neighbourhood in the eastern part of Cairo, Egypt—while situating the analysis within the governance of water in informal areas more broadly.
To conduct the analysis in this research, I employ two main conceptual tools. Firstly, I reflect on the claim by Desai (2012) [
2
] that the Indian state governs its informal areas "flexibly" by employing practices that contradict official discourse. I also explore the claim by Mahadevia (2011) [
3
] that such contradictions are part of a deliberate plan by the state to confuse citizens. I examine the application of these ideas to the Egyptian case by looking into the "flexibility" of how water is governed in Haggana. Secondly, I draw on wider discussions of power in governance by Collier (2009) [
4
], Griffin (2012) [
5
], and Allen (2016) [
6
], particularly their conceptualisation of power in governance as topological, contingent, and necessarily uneven. I relate this notion to infrastructure by arguing that we need to distinguish between our analyses of infrastructure as a subject or instrument of power, and of infrastructure as an object of power through governance interventions or development efforts. By doing this we remove any conceptual contradiction between depicting infrastructure as an effective instrument of state power and an object of government interventions that can exhibit the truly contingent nature of power in governance, as I do in this article. In other words, infrastructure is not only a materialisation of state governance policies and practices, but it also a manifestation of the state itself and its power.
In doing this, I situate this article within ongoing scholarly debates on informality within the urban waterscape, and its relationship to access and governance. In this regard, there are two main bodies of literature that I draw from. The first is scholarship on the relationship between informality and infrastructure in urban areas, and how this relationship affects peoples' experience with accessing resources. The second is the body of research by political ecologists focused on the relationship between nature, infrastructure, and the state.
A number of analyses of infrastructure have examined how people experience infrastructure within informal areas, and have offered invaluable insights into the workings of cities, resources, and politics in everyday life. The objects of these studies have ranged from specific forms of infrastructure such as water, sanitation, and electricity networks (e.g., Ranganathan, 2014 [
7
]; Desai, McFarlane and Graham, 2015 [
8
]; Silver, 2015 [
9
]), to specific components of those infrastructures such as meters (e.g., Loftus, 2006 [
10
]; von Schnitzler, 2016 [
11
]; Baptista, 2016 [
12
]). For example, Graham, Desai, and McFarlane (2013) [
13
] demonstrate how certain discourses around city water shortages and water theft have been mobilised to demonise informal areas as spaces that must be reproduced in order to protect Mumbai's image as a global city. Bjorkman (2014) [
14
] shows how water infrastructure in a Mumbai slum has become imbricated with residents' ability to navigate a constantly changing waterscape. The local waterscapes described by the author differ so much from neighbourhood to neighbourhood, that it is not sufficient to have "knowledge of water flows in a particular moment" [
14
], but it is rather necessary to have social networks within the neighbourhood that guarantee the constant flow of updated information regarding water flows. These social networks enable residents to make strategic choices regarding what actions to take, in light of risks associated with water cut-offs, water pressure changes, and police raids to remove illegal connections. Anand (2011) [
15
], looking at water in informal areas in Mumbai, argues that water pressure functions as a political tool shaping inequitable access to water, by allowing high water pressure in elite areas and limiting water pressure in poorer areas. Truelove (2016) [
16
] examines a state-led initiative to provide water to a slum settlement in Delhi and finds that a variety of political assemblages between state and non-state actors are involved in the everyday regulation and governance of water. McFarlane (2008) [
17
] finds in analysing Mumbai that a state-led sanitation project was partially aimed at disrupting existing clientelistic networks around sanitation that reflected voting patterns along religious and ethnic lines.
In reference to the contested nature of the state in water governance, Ahlers et al. (2014) [
18
] highlight the notion of "negotiated statehood" to understand the role of the state, particularly with regards to informality in the urban waterscape. The notion of the negotiated state provides a frame for understanding the multifarious nature of the urban waterscape and its overlapping practices that cannot be categorised as formal or informal. It calls for understanding that state bodies are not the only actors that hold the power to make "binding decisions on members of society" [
18
], but rather that shaping the urban waterscape is a contested process that often results in "hybrid arrangements" [
18
]. In viewing the state this way, it becomes clear that the state has different "capacities and limitations at different operating scales" [
18
]. In light of this discussion, Ahlers et al. (2014) [
18
] call on scholars to widen the scope of debates around informality and infrastructure, in order to benefit from other disciplines and bodies of literature. For example, drawing on ideas from fields such as political geography and state theory could provide innovative insights into how we can understand the way the state operates in informal areas.
The employment of insights from other disciplines in analyses of access to resources is something many political ecologists have engaged with, especially in recent years. Debates around what questions of nature can tell us about the state and power have provided valuable insights into understanding the issues around access to water raised in this article. For example, Meehan and Molden (2015) [
19
] argue against anthropocentric conceptions of the state, arguing instead that "stateness" is created through the mobilisation of power and the "spatial arrangements of humans and non-humans" (p. 443). Furthermore, one of the main roles of modern states is to make nature legible (per Scott, 1998 [
20
]) so that it can be incorporated into the capitalist system. In a similar vein, Loftus (2018) [
21
], drawing on Harris (2012) [
22
] and Meehan (2014) [
23
], explains that such an understanding of the state enables us to de-fetishise it and understand it more as a relation that is produced through practice. He therefore argues that water and its infrastructure serve to produce and consolidate the effect of the state, and may either reify or disrupt state-society boundaries. Harris (2017) [
24
], drawing on Meehan (2013) [
25
] and Grundy-Warr et al. (2015) [
26
], claims that the material conditions of natural resources (such as their topography), as well as their associated infrastructure, are "crucial to map and speak to the uneven geography of state power". Such an understanding enables us to see the contested state of infrastructure in informal areas as a reflection of the contested nature of the state itself—or, in other words, the state's incompleteness (Kelly-Richards and Banister, 2017 [
27
]). Similarly, Rodina and Harris (2017) [
28
] show that studying infrastructure in marginalised neighbourhoods can shed light on how the effect of the state is experienced in uneven ways both spatially and socially. They examine access to water in a marginalised neighbourhood on the outskirts of Cape Town, and find that the process of formalising housing and access to water has been accompanied with a discourse that promotes payment for water as part of the "expectations associated with individuated responsible citizenship" (p. 346). To sum up, the above contributions, and this body of literature in general, shows the importance of understanding the state as an effect that is produced through concrete things such as infrastructure and the way in which infrastructure manipulates spaces and lives. Through this process, the state comes into being, but it always incomplete and contested, and its power is always uneven. In other words, infrastructure acts as a reflection of differentiated and uneven state's relations within a given population/space.
More broadly, this article speaks to the importance of a holistic understanding of water access when addressing issues of water resources. For example, given Egypt's status as a water-scarce country, many studies focus on debates around sharing the Nile waters between Egypt and other Nile countries, and Egypt's national share of freshwater. This is, of course, an important and necessary debate. However it is also crucial to understand that access to potable water in many countries tends to be an issue of inequitable distribution of water within different spaces of a single country or city. Nevertheless, debates around national shares of freshwater are often mobilised to justify spatially unequal distribution of potable water, and this has been a common trope in the discourse used by Egyptian government authorities to the media. These issues, while pertinent, are unfortunately outside the scope of this study, but important to keep in mind nonetheless.
Ultimately, my intention is not for this research to advocate for a specific policy such as the formalisation of informal infrastructure or the adoption of different payment schemes for informal users. Rather, my hope is that this research can advocate for the importance of producing policies based on politics from the ground-up—policies that take into consideration local histories and the multiplicity of forces, actors, and relations that shape the urban landscape.
2. Methods
The research presented here is based on qualitative fieldwork I conducted in Ezbet El-Haggana, as well as interviews I conducted with government officials, in addition to secondary data analysis. The field research began with pilot interviews in late 2013, and then officially began in early 2014 and extended until late 2015, with some follow-up visits in 2016. The fieldwork in Haggana was based on merging oral history techniques (focused on the history of water access in the area) within unstructured in-depth interviews.
I applied the oral history technique using an "infrastructure biography" method. I based this infrastructure biography method on the "house biography" method developed by Blunt (2008) [
29
] and used by Ascensao (2015) [
30
]. The method utilises ethnographic methods to collect historical and contemporary data. This approach is used to "tell stories of particular dwellings and their inhabitants over time and reveal the ways in which a house itself, and domestic life within it, are intimately bound up with wider social, economic and political processes" (Blunt, 2008, p. 551) [
29
]. This method is implemented by visiting the house of the interviewee and asking the resident to tell the life story or oral history of their home (Ascensao, 2015) [
30
]. Applying this to infrastructure, I asked residents to show me their water meters and taps and tell me the life story of how these came to be. The end result is what can be considered a type of micro-history (Ascensao, 2015) [
30
] of each interviewee's at-home water infrastructure. The combined micro-histories of household infrastructures collectively enabled me to construct an infrastructural history of an informal area. This, in turn, contributes to the overarching goal of understanding how the urban waterscape is constituted, governed, and contested in informal areas.
In order to reach residents, I relied on a combination of purposive and snowball sampling. The purposive sampling was done through a local non-governmental organisation (NGO) that was assisting me with my research (which has requested to remain anonymous), and I chose to target homeowners since they are the ones responsible for installing water infrastructure. The snowball sampling was achieved through my personal relationships with certain residents who then introduced me to their neighbours and friends. Overall, I conducted 44 interviews with Haggana residents (14 male, 30 female), four interviews with staff members of various non-governmental organisations (NGOs) and community based organisations (CBOs) operating in Haggana, nine interviews with government officials, and six interviews with academics and urban experts.
In addition to the interviews, I also gathered information from residents through a community workshop I co-organised in 2014. The workshop consisted of 17 residents (eight male and seven female) from different backgrounds (including five college students, three elderly residents, three teachers, one researcher, four NGO staff, and one headmaster of a local school). It began with an open discussion on the purpose of the workshop and the issues that would be discussed. The participants were then divided into four groups, and each group engaged in a mapping exercise to produce a map of Haggana from their perspective, highlighting the most important sites and services within the area. During this group activity I posed questions to the different participants about the state of water infrastructure in the neighbourhood as a whole, and in their homes specifically. The workshop then concluded with an open discussion with the whole group, which revolved around a number of topics including infrastructure and water. I organised this workshop as part of TADAMUN: The Cairo Urban Solidarity Initiative, with which I was working at the time, and integrated questions relevant to my research. This was done with the assistance of the aforementioned local NGO who assisted in reaching out to residents and who also kindly offered us the use of their premises. The workshop was recorded by the TADAMUN initiative and partially documented on the TADAMUN website (The documentation of the workshop can be accessed at
http://www.tadamun.co/?post_type=voice&p=5229&lang=en&lang=en#.XNftX5Mzbq0
), while I documented in writing the responses to the additional questions I posed.
3. A Note on Informality
Prior to providing contextual background about the neighbourhood discussed in the remainder of this article, it is important to provide a brief overview of the ongoing debate around how to conceptualise informality, as well as the nature of how the Egyptian state deals with informal areas.
Though much of the policy-oriented literature speaks of the formal and the informal as two easily distinguishable sectors, in reality informality is much less tangible, and what seem to be formal and informal often overlap. Due to the complex and multifarious nature of the informal, theoretical discussions of informality have burgeoned over the past several decades, and many voices have called for a dismissal of the formal-informal binary in favour of a formal–informal continuum. For example, Beneria and Roldan (1987) [
31
] stress that dualistic divisions between the formal and in the formal lead to "conceptual problems and shortcomings", claiming that in reality the two overlap in various ways. This division, according to the authors, is an artificial one. Similarly, Portes (1983) [
32
] encourages the perspective that rejects dualistic understandings of a formal–informal divide and instead highlights the overlaps between different ways of acting within a single economy. Roy (2005) [
33
] explains that rather than being part of a binary, informality should rather be seen as an entanglement of relationships that connect various spaces together. It should thus be understood as a mode of urbanisation that is never entirely separate from formal urbanisation. McFarlane (2012) [
34
] expands on the above conceptualisations to understand informality as a form of urban practice. He describes the relationship between formality and informality as a "meshwork" (p. 101) of varying practices that is not a pre-existing fixed category but is rather always in formation. From this perspective, actors within the city are constantly moving between formal and informal activities. McFarlane thus views the formal–informal divide as a tool that is "deployed by states as an organisational device that allows particular domains and forms of intervention (e.g., around resource allocation, service provision, or statistical monitoring)" (p. 91).
Building on this, I conceptualise informality as primarily a discourse employed by the state to exert its power by casting certain spaces/populations as legitimate and others as illegitimate. In the words of Ahlers et al. (2014) [
18
], "formality and informality are fluid concepts that say more about the authority to legitimate certain practices than describe the condition of that particular practice" (p. 2). An important point in this understanding is that informality should not be seen as something that exists outside of the state, but rather something partially produced by state practices. The understanding of informality as a discursive practice of legitimising and delegitimising highlights the ways in which states can manipulate and mobilise the categories of informal and illegal to permit or criminalise different practices (Cheng, 2014 [
35
]; Misra, 2014 [
36
]; Kooy, 2014 [
37
]). For example, Cheng (2014) [
35
] finds that informal water vendors in Manila were incorporated into the water utility's operation in certain parts of the city, and in these areas the water vendors are accepted as part of the formal public service. In other parts of the city where the vendors have not been asked to partner with the utility, they are still considered informal. Similarly, Kooy (2014) [
37
] shows how informal practices Jakarta's urban water supply was framed as opposing the state-promoted modern infrastructural ideal. This discourse of delegitimisation was part of a major international development project that ultimately resulted in the introduction of the private sector into Jakarta's urban water supply. Such examples show how contradictory discourses around informality are often mobilised in order to serve different political agendas. Thus, informality cannot be simply defined as everything that lies beyond the state's influence (Ahlers et al., 2014) [
18
] but is rather produced by and intimately tied to the state's regulatory practices. Informal areas are informal not because they are poor or do not have proper tenure documents (many homes in upscale areas lack proper tenure documents but are not labelled by the state as informal). Rather, they are informal because the state designates them as such. City-dwellers engage in informal practices throughout the city and across the socioeconomic spectrum, but certain practices are labelled as informal while others are not. This does not mean that the formal-informal binary does not exist, but rather that creating this binary is one of the discursive tools employed by modern states to manipulate and control space and the populations that inhabit it.
This conceptual overview is crucial in order to understand the awkward place that informal areas occupy within Egypt's legal and governance systems. For example, in Egypt one can easily come across an apartment that has been inhabited informally (through an uncertified sale or rental agreement) within a formal building, or a building that has been built informally (without a building license) on a formally registered piece of land. Alternatively, the land may be state-owned land that residents squatted upon, and thus the entire neighbourhood is considered informal. In other words, there are various scales of informality that often overlap, making it difficult to be conceptually robust when discussing the formal-informal divide.
Furthermore, although residents of informal areas are often portrayed as people who are living illegally, Egypt's legal code does not criminalise them. On the contrary, the Universal Building Law (Law 119/2008) states that informal areas should be upgraded as needed, and that only unsafe areas should be demolished. Moreover, several decrees have been issued over the past decades mandating that utility companies connect illegal buildings to the public utility networks and/or find ways to charge them for their usage. During the 1990s many informal areas were incorporated within the local urban administration system that divides cities into municipalities (known in Egypt as hayy) and sub-districts (known in Egypt as shiaakha). The result of this is that even though a neighbourhood, such as the Ezbet El-Haggana area discussed below, may be designated by the state as informal and have no officially recognised tenure documents, it is still represented in neighbourhood-level elected bodies, and receives part of the local development budgets that are allocated to the municipalities. Thus, informal areas in Egypt are simultaneously pathologised and demonised in mainstream discourse, while also being included in public service-provision and upgrading schemes.
4. Background
Since Haggana became a "shiaakha" (the lowest urban spatial division in Egypt) in the 1990s, there has been a member of the Local Popular Council (LPC) that represents the neighbourhood (according to Egypt's local administration law, all urban municipalities have a Local Popular Council that is made up of representatives of the district, and is tasked with overseeing local development efforts). The LPC is the only form of elected local government, and the representatives of Haggana often engaged in aggressive campaigning and vote-buying. Members of parliament (MPs) have also played an important role in the area, mostly in past elections, especially during the late 1990s and early 2000s. This campaigning largely revolved around access to services, as Haggana had been marginalised from basic services due to its status as an informal area. This theme is explored in more depth in the following section.
6. Discussion
The historical examination of Haggana's access to water highlights a highly variegated and complex water infrastructural landscape. Government statements to the media frame this complicated process in terms that make it seem as though the water authorities simply realised a need for water and filled it. It neglects to mention the multiple methods that residents had to resort to in order to obtain water, including vote selling to local politicians, taking part in self-help projects, and participating in donor-driven NGO projects. It also neglects the almost tug-of-war nature of the relationship between the residents and the authorities responsible for providing water, one that involved lawsuits, sit-ins, and resistance constantly exhibited by officials despite higher-level decrees establishing Haggana's right to water. This account of water infrastructure in Ezbet El-Haggana highlights a number of points in regards to informality and governance in the urban waterscape.
6.1. Infrastructure and the State as Mutually Constitutive
6.2. Flexibility and the Statization of the Informal Waterscape
Such a conceptualisation of state power can help us understand the often self-contradictory practices of state authorities in governing informal areas. Desai (2012) [
2
] argues that the governing of informal areas in India is "flexible", a term I used earlier in this article. She highlights the disconnect between state policies and pronouncements towards the inclusion of informal dwellers as rights-bearing citizens and the actual practices of agencies that continue to exclude residents of informal areas. In her discussion, Desai (2012) [
2
] draws on Mahadevia's (2011) [
3
] description of a "paradigm of deliberate confusion" where states adopt contradictory policies in an attempt to cater to opposing political agendas by different interest groups (e.g., informal dwellers, capitalists, etc.). States may therefore adopt policies that directly harm the urban poor, while also targeting the urban poor through urban upgrading programs. The inconsistency in urban policy serves the interests of the state by "allowing policy to swing in the direction from where the pressure is coming". I highlight in this article a similar flexibility and self-contradictory practice by the state in Cairo's informal areas, especially with regards to the governance of infrastructure—though I differ in my portrayal of a state that has the power to deliberately confuse, as I argue in the previous section that the state does this despite itself, because the very nature of its power is effective in some ways but limited in others.
This flexibility renders common dichotomies such as public/private and formal/informal meaningless as the resultant waterscape is one of overlapping infrastructures, practices, and actors. The combination of plumbers, pipes, CBOs, resident cooperation, and clientelistic state-society relations, created a mix of social and physical infrastructure. Haggana's waterscape was an "archipelago" (Bakker, 2003) [
56
] of various combinations across the formality–informality spectrum. This is consistent with the claim by Ahlers et al. (2014) [
18
] that the urban waterscape often incorporates multiple overlapping service delivery mechanisms and activities that "vary according to the degree to which they are formal or informal".
However, the findings presented in
Section 5.4
show that the post-2014 era has been witnessing a shift in the role of the state vis-à-vis informality in the urban waterscape. The "archipelago" nature of Haggana's pre-2014 waterscape is slowly disappearing. As detailed above, state authorities, and especially the water company, have been employing different measures to incorporate residents of informal areas into the official public water supply regime, a phenomenon I describe as accommodating informality. Such developments have led to what can be described as an increased "statization"—a term I borrow from Painter (2006) [
52
]—of informal areas. This term is based on the argument that everyday life is permeated by the effect of the state (which he refers to using the term "stateness") through "prosaic" manifestations, including the mundane bureaucratic requirements of daily life such as filing papers, or paying for services. This conceptualisation builds on work by Mitchell (1991) [
53
] who depicts the state as an effect produced by real practices with material consequences—practices that include, among many other things, the "meticulous organisation of space" (p. 92). The process of the infiltration of such state-effecting practices into everyday life is what Painter (2006) [
52
] describes as the process of "statization". Infrastructure is often intimately tied to the degree to which different areas/spaces are statized. As argued by Harris (2012) [
22
], the manipulation of natural resources through infrastructure "can be understood as part and parcel of what enables the boundary between state and society to appear" (p. 26).
The findings presented above show that informal areas have been witnessing increased statization as state authorities have been exploring ways to accommodate informality in the urban waterscape. Egyptian utility companies are turning towards ways to accommodate water users that had previously been shunned as informal. However, while these residents are being allowed to formally connect to the public network, the neighbourhoods themselves remain in a state of ambiguous—if not ambivalent—legality. Residents of unplanned areas are, on the one hand, being treated as clients who must pay for services just as all other citizens do. On the other hand, they continue to be portrayed as illegal occupants who have encroached on state land. The state's flexibility in governing informal areas allows it to benefit from informality without having to deal with the many systemic issues underlying it.
7. Conclusions
In the above article I interrogated the role of the state in governing informality in the urban waterscape in Cairo, Egypt. Inspired by the call by Ahlers et al. (2014) [
18
] to apply insights from wider bodies of literature to water service delivery, I focused on the bottom-up assemblage of water infrastructure in the informal area of Ezbet El-Haggana, employing the concepts of topological power (Allen, 2011 [
51
]; Griffin, 2012 [
5
]), flexible governance (Desai, 2012 [
2
]), and conceptualisations of the state as an effect produced in practice (Mitchell, 1991 [
53
]; Harris, 2012 [
22
]).
Another purpose of this analysis was to illuminate the rich details of what it has entailed over the past few decades to access water in informal areas in Cairo, while also exploring how this has been changing in the last few years after the political upheaval of the Arab Spring. Examining the history of water infrastructure in the neighbourhood, I found that the process of accessing water began initially as an ad hoc process of fetching water from standpipes and purchasing from water vendors, and later developed into a system of vote selling to local politicians in exchange for the installation of infrastructure. This is a process that officials were fully participant in, yet when it came to installing infrastructure legally and formally, officials within the responsible institutions objected and obstructed the process for many years. Informality, in effect, guaranteed a certain system of benefits for local politicians and Haggana's elite. Until the late 2000s, Haggana's waterscape was characterised by an overlap of various infrastructure systems—a meshwork of formal, informal, public, and private.
One starting point I addressed in this article is the recognition that binaries such as formal–informal and public–private are quite meaningless in this context. This discourse of binaries must be analysed while remaining cognizant of the benefits it allows the Egyptian state. Ahlers et al. (2014) [
18
] highlight the importance of understanding how states engage in "governance through authority and legitimacy creation". Applying labels such as informal and illegal is a way for the state to manipulate spaces and lives, and create the impression of a powerful external structure that masks the reality of the state's unevenness. The manipulation of discourses and imaginaries around infrastructure renders many injustices invisible, and sometimes even denied. It allows the state to benefit from its ad hoc nature while continuing to maintain its image as a powerful external structure. To maintain this image, the Egyptian state has often relied on the manipulation of discourses, but it has also heavily relied on infrastructure. It has done this through creating "shows-of-force" such as the construction of roads and bridges, and the announcement of national mega-projects. In other words, infrastructure has functioned as one of the main instruments through which the state is produced or "affected" in the daily lives of residents.
However, infrastructure is both a delimiter and manifestation of the state. Due to this, examining the governance of water infrastructure in informal areas exposes the Egyptian state's "flexibility" and the uneven nature of its power. This flexibility is a result of the ad hoc nature of power in governance and the uneven quality of the state's authority and reach. In the post-Arab-Spring era, the Egyptian state has been adopting more aggressive policies to combat informality, even if this is through finding non-traditional ways of accommodating informal practices and incorporating them into the legal system. The state has been seeking ways to affect its presence more strongly within informal areas, and one of the ways in which it has been doing so is by incorporating "informal" users into the "formal" public water supply and allowing/forcing them to pay for water. This accommodation of informality is a way to increase the statization of informal areas, while also charging them for water usage. In this way, I find that the state's flexibility allows it to benefit from informality without having to actually "formalise" the neighbourhoods themselves or address the underlying causes of why they are labelled as informal.
Funding
This research was partially funded by the Ford Foundation.
Acknowledgments
This research is based on my doctoral dissertation, titled "Neoliberal Water Infrastructure, Informality, and the State in Cairo 1952–2017: A Case Study of Ezbet El-Haggana", University College London, 2018. During my field research I benefited from the support of a local NGO that has been operating in Ezbet El-Haggana since 2001, and has requested to remain anonymous. I also benefited from the support of TADAMUN: The Cairo Urban Solidarity Initiative. TADAMUN is a research initiative jointly founded and managed by Takween Integrated Community Development and American University in Washington, D.C.
Conflicts of Interest
The author declares no conflict of interest.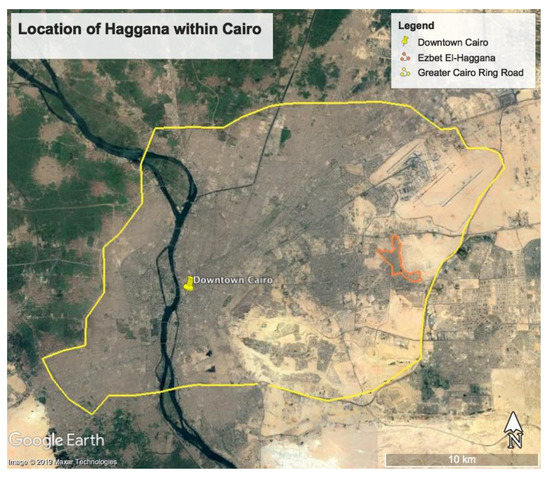 Figure 1. The borders of Cairo, encompassing the borders of East Nasr City, encompassing the borders of Ezbet El-Haggana. Source: Author.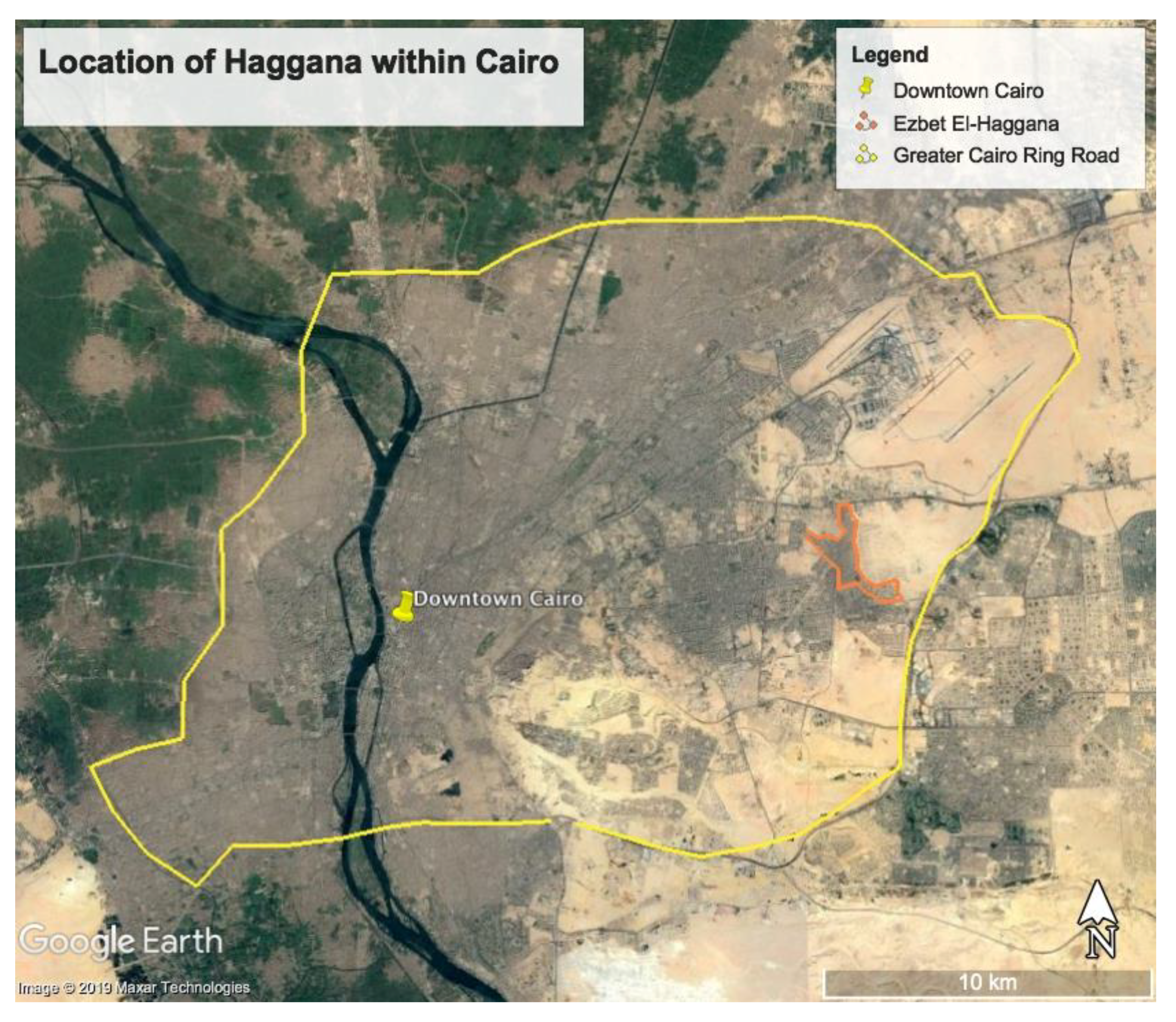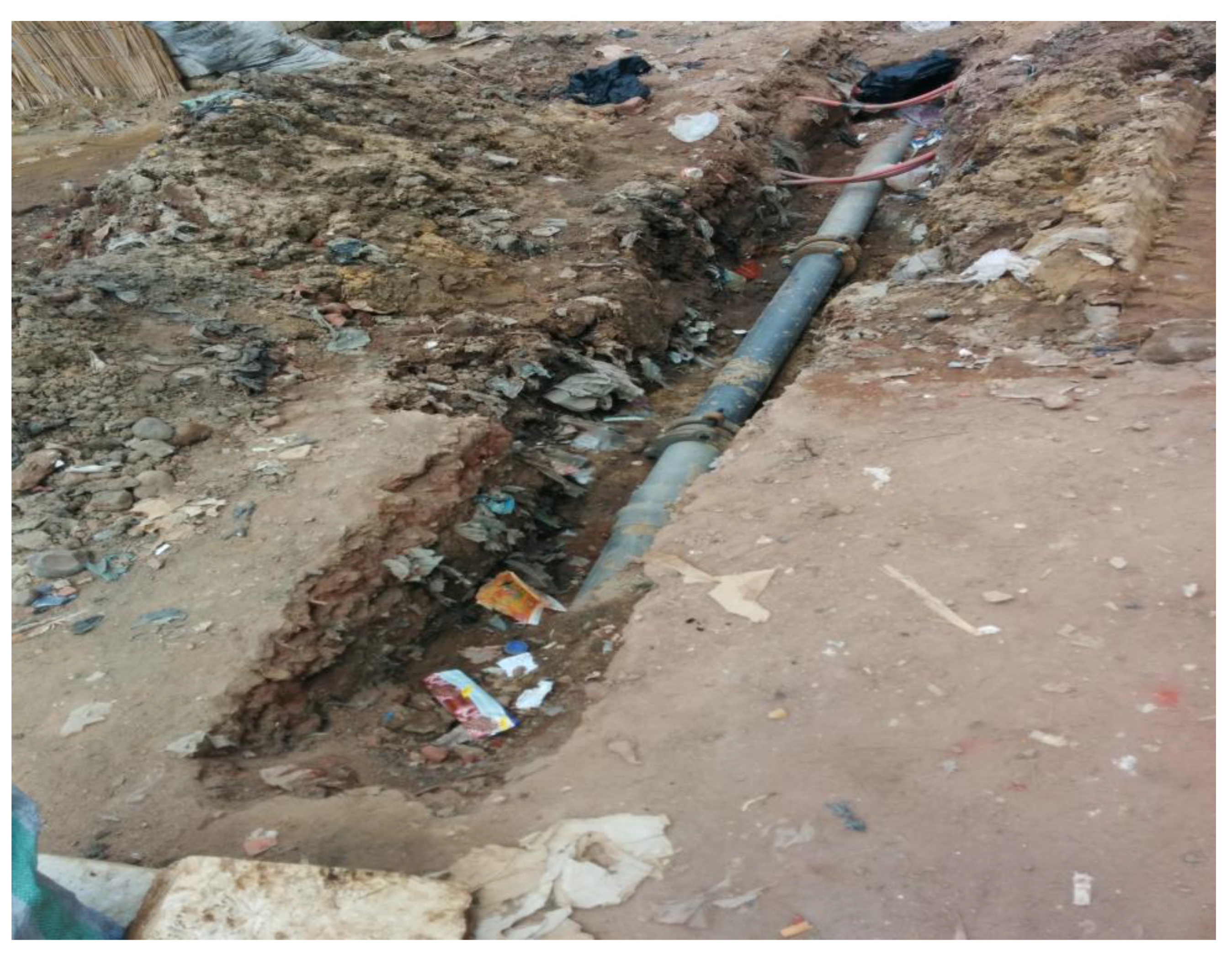 © 2019 by the author. Licensee MDPI, Basel, Switzerland. This article is an open access article distributed under the terms and conditions of the Creative Commons Attribution (CC BY) license (http://creativecommons.org/licenses/by/4.0/).