Analysis of Precipitation and Temperature Extremes over the Muda River Basin, Malaysia
1
Geography Section, School of Humanities, Universiti Sains Malaysia, Penang 11800, Malaysia
2
Department of Ecology, School of Horticulture and Plant Protection, Yangzhou University, Yangzhou 225009, China
*
Author to whom correspondence should be addressed.
Received: 30 November 2018 / Revised: 1 January 2019 / Accepted: 8 January 2019 / Published: 6 February 2019
(This article belongs to the Section
Hydrology
)
Abstract
Trends in precipitation and temperature extremes of the Muda River Basin (MRB) in north-western Peninsular Malaysia were analyzed from 1985 to 2015. Daily climate data from eight stations that passed high quality data control and four homogeneity tests (standard normal homogeneity test, Pettitt test, Buishand range test, and von Neumann ratio test) were used to calculate 22 Expert Team on Climate Change Detection and Indices (ETCCDI) extreme indices. Non-parametric Mann–Kendall, modified Mann–Kendall and Sens' slope tests were applied to detect the trend and magnitude changes of the climate extremes. Overall, the results indicate that monthly precipitation tended to increase significantly in January (17.01 mm/decade) and December (23.23 mm/decade), but decrease significantly in May (26.21 mm/decade), at a 95% significance level. Monthly precipitation tended to increase in the northeast monsoon, but decrease in the southwest monsoon. Mann–Kendall test detected insignificant trends in most of the annual climate extremes, except the extremely wet days (R99p), mean of maximum temperature (TXmean), mean of minimum temperature (TNmean), cool days (TX10p), cool nights (TN10p), warm days (TX90p) and warm nights (TN90p) indices. The number of heavy (R10mm), very heavy (R20mm), and violent (R50mm) precipitation days changed at magnitudes of 0~2.73, −2.14~3.33, and −1.67~1.29 days/decade, respectively. Meanwhile, the maximum 1-day (Rx1d) and 5-day (Rx5d) precipitation amount indices changed from −10.18 to 3.88 mm/decade and −21.09 to 24.69 mm/decade, respectively. At the Ampangan Muda station, TNmean (0.32 °C/decade) increased at a higher rate compared to TXmean (0.22 °C/decade). The number of the cold days and nights tended to decrease, while an opposite trend was found in the warmer days and nights.
View Full-Text
►

▼

Figures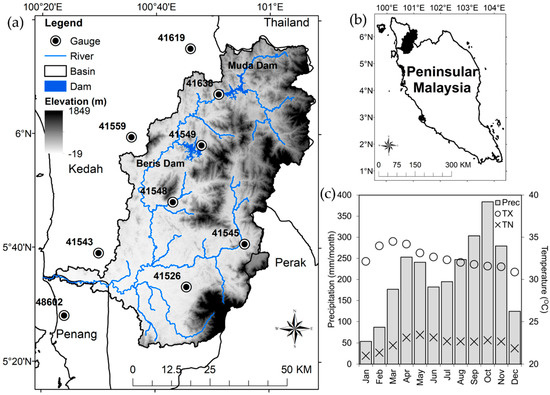 Figure 1
This is an open access article distributed under the
Creative Commons Attribution License
which permits unrestricted use, distribution, and reproduction in any medium, provided the original work is properly cited (CC BY 4.0).

Share & Cite This Article
MDPI and ACS Style
Tan, M.L.; Samat, N.; Chan, N.W.; Lee, A.J.; Li, C. Analysis of Precipitation and Temperature Extremes over the Muda River Basin, Malaysia. Water 2019, 11, 283.
Note that from the first issue of 2016, MDPI journals use article numbers instead of page numbers. See further details here.
Related Articles
Comments
[Return to top]