Open Access This article is
freely available
re-usable
Article
An Amphiphilic, Graphitic Buckypaper Capturing Enzyme Biomolecules from Water
Nanochemistry and Nanoengineering, School of Chemical Engineering, Department of Chemistry and Materials Science, Aalto University, Kemistintie 1, 00076 Aalto, Finland
*
Authors to whom correspondence should be addressed.
Received: 13 November 2018 / Accepted: 18 December 2018 / Published: 20 December 2018
Abstract
:
The development of carbon nanomaterials for adsorption based removal of organic pollutants from water is a progressive research subject. In this regard, carbon nanomaterials with bifunctionality towards polar and non-polar or even amphiphilic undesired materials are indeed attractive for further study and implementation. Here, we created carbon buckypaper adsorbents comprising amphiphilic (oxygenated amorphous carbon (a-COx)/graphite (G)) nanofilaments that can dynamically adsorb organic biomolecules (i.e., urease enzyme) and thus purify the wastewaters of relevant industries. Given the dynamic conditions of the test, the adsorbent was highly efficient in adsorption of the enzyme (88%) while being permeable to water (4750 L·h−1m−2bar−1); thus, it holds great promise for further development and upscaling. A subsequent citric acid functionalization declined selectivity of the membrane to urease, implying that the biomolecules adsorb mostly via graphitic domains rather than oxidized, polar amorphous carbon ones.
Keywords:
carbon; nanofiber; membrane; urease; biomolecules; water treatment
1. Introduction
As a global challenge, water scarcity is expanding to major parts of the world, threatening human beings' lives. This crisis can have different origins but undoubtedly water pollution from industry and from urban communities is a main one. Amongst the variety of water pollutants, the organic ones such as proteins and biomolecules play a determining role. These substances even at a negligible amount, <1% of the entire contamination in a river, for instance, can deplete the oxygen present in water and cause the death of living creatures in that ecosystem [
1
]. Water recycling via purification can somewhat remediate this problem but necessitates the development of advanced water treatment systems. Micro-, ultra- and nanofiltration membranes are typically utilized for wastewater treatment. Their purification action mainly relies on sieving of the pollutants, and thus they require a porous structure whose pore size is less than the size of the solute to be separated. Other than the membranes, in a sustainable manner and using conventional and also emerging materials, functionalized adsorbents have shown applicability in the removal of even molecules and tiny pollutants based on physical/chemical interactions or biological functions [
2
,
3
,
4
,
5
,
6
,
7
]. Accordingly, there is no need for the construction of porous materials with small pore sizes that could impose high pressure differences. Moreover, a functionalized adsorbent with a surface decorated by particular functional groups can discriminate or entrap molecules in a selective manner [
8
].
Electrospun nanofibrous adsorbents have shown promising capabilities for selective water remediation. Their structure possesses a high interconnected porosity and huge surface area that in case of functionalization can efficiently separate functional pollutants, e.g., ions, dye molecules, organics, etc. While the high porosity realizes a significant permeability and with that, energy efficiency, the expansive surface area enables the notable functionalization necessary for highly selective adsorbents. In this regard, several biofunctionalized nanofibrous membranes made of polyurethane, polysulfone, polyacrylonitrile, and cellulose have been tested for the separation of protein and enzyme (e.g., Immunoglobulin G (IgG), Bovine Serum Albumin (BSA), lipase, bromelain, etc.) [
8
,
9
,
10
,
11
]. In our studies [
2
,
4
,
12
], we also developed a biofunctionalized nanofibrous adsorbent composed of Bovine Serum Albumin and poly(acrylonitrile-co-glycidyl methacrylate) (PANGMA), as the functional agent and polymer nanofiber, respectively, that could offer a significant metal nanoparticle and biomolecule removal efficiency while being highly water permeable. This adsorbent was synthesized in a simple fashion versus the other previously developed systems [
8
,
13
]. The separation tests were performed under the most tricky conditions, i.e., dynamically and with a low protein amount (a few mg·L
−1
instead of mg·mL
−1
adopted by References [
8
,
10
,
11
,
14
]) and with a size scale of pollutants, potentially passing readily through a macroporous nanofibrous structure. Despite such circumstances, the adsorbent was successful in the removal of nanoparticles (97%) as well as proteins (88% BSA and 81%
Candida antarctica
Lipase B (Cal-B)). In another research, we developed a nanofibrous adsorbent comprising polyethersulfone (PES) nanofibers that were functionalized by the inclusion of vanadium oxide (V
2
O
5
) nanoparticles [
6
]. This adsorbent system was able to separate methylene blue (MB) dye from water with an efficiency of 85% under alkaline condition and high temperature.
Despite the various merits of the above-mentioned systems in the adsorption of diverse water pollutants, their synthesis and functionalization are not one pot. As a step forward to meet this need, recently, we developed carbon buckypapers based on amphiphilic carbon nanofilaments [
15
]. The nanofilaments are composed of oxygenated amorphous carbon (a-CO
x
) and graphite (G), and thus are able to adsorb both polar (e.g., dye) and non-polar (e.g., oil) water pollutants efficiently. Already investigating the applicability of the amphiphilic graphitic buckypaper in discrimination of polar and non-polar contaminants, here, we challenge the buckypaper adsorbents with an amphiphilic water pollutant. For this sake, biomolecules (i.e., urease enzyme), one of the major organic pollutants that can adversely affect the water ecosystems, will be considered.
2. Experimental
Materials
: polyacrylonitrile (PAN) (200,000 g·mol
−1
, purity 99.5%) and dimethylformamide (DMF) (purity 99%) were purchased from Dolan GmbH (Kelheim, Germany) and Merck (Darmstadt, Germany), respectively. Urease enzyme (impurity; ammonium < 4–10 µmol·U
−1
enzyme) and citric acid (citric acid monohydrate, ACS reagent ≥ 99.0%) were obtained from Sigma-Aldrich (Saint Louis, MO, USA). All the materials were used as received.
Synthesis
: The precursor PAN nanofibers were synthesized by electrospinning. To do so, employing a syringe pump (Harvard Apparatus, Holliston, MA, USA), a solution of PAN (8 wt % in DMF) was fed steadily (1 mL·h
−1
) into a needle (0.8 mm inner diameter with a circular opening). Upon electrifying the solution with a voltage of 20 kV (Heinzinger Electronic GmbH, Rosenheim, Germany), PAN was electrospun on an aluminum foil. The as-synthesized PAN nanofibers underwent oxidative stabilization and were heated in air at 250 °C for 2 h within a furnace with maximum operational temperature of 1250 °C (Linn Elektro Therm). In the next step, the oxidized nanofibers were carbonized under argon atmosphere at 1250 °C for half an hour with a heating rate of 5 °C·min
−1
and then cooled down to the room temperature at a same rate.
Due to the extreme brittleness of the graphitized nanofibers, challenging their handling as a freestanding membrane, they were suspended in distilled water (10 mL) and underwent an ultrasonication process for 2 min at a power of 20%. The a-COx/G nanofibers under the influence of ultrasonication are disintegrated as suspended nanofilaments that can be subsequently cast on a circular poly(phenylene sulfide) (PPS) technical nonwoven (3.5 cm in diameter). As a control group, a-COx/G nanofilaments were also functionalized by citric acid (CA). To do this, CA (30 mg·mL−1)) was added to the aqueous suspension to be ultrasonicated.
Characterization
: The a-CO
x
/G nanofilaments were characterized in terms of morphology by scanning electron microscopy (SEM) (LEO 1550VP Gemini from Carl ZEISS, Jena, Germany) and an atomic force microscope (AFM) (MultiMode
TM
Atomic Force Microscope from Bruker AXS, Madison, WI, USA). The surface chemistry of the a-CO
x
/G nanofilaments was analyzed by FTIR (ALPHA (ATR-Ge, ATR-Di) from BRUKER Optik GmbH, Ettlingen, Germany). The a-CO
x
/G buckypaper's pore size distribution was determined by an automated capillary flow porometer (Porous Materials Inc. (PMI), Ithaca, NY, USA).
The urease retention efficiency of the buckypapers was assessed using the corresponding aqueous solutions in a dead-end manner and by employing a lab-built set-up [
16
]. The set-up's reservoir contained 200 mL urease solution (1 g·L
−1
) which permeated through the buckypapers under a 0.5 bar pressure. Based on a constructed standard urease calibration curve, the permeate's urease concentration was determined by UV-vis spectroscopy (HITACHI U3000, HITACHI, Tokyo, Japan). The urease retention efficiency (RE) was calculated via Equation (1):
where C
p
and C
f
represent the permeate's and feed's urease concentration, respectively. The permeation time was also recorded and the permeate permeance was calculated via Equation (2) [
17
]:
where J is the permeate permeance (L·h
−1
m
−2
bar
−1
), Q is the collected volume (L) of the permeate, A is the effective filtration area of the buckypapers (m
2
), Δt is the collecting time (h), and ΔP is the pressure difference (bar). The permeance measurements were done for three 50 mL permeates to ascertain the consistency of the buckypapers' performance. It is worthy to note that considering the hydrophobic, large microfibers of the PPS support layer, providing huge pore sizes, no significant contact and interaction with the urease molecules passing through the carbon layer can be envisioned. Thus, only the buckypaper is responsible for the reported removal efficiency and permeance.
The electrical conductivity of the buckypapers as non-functionalized and CA-functionalized before and after urease adsorption was measured by a four-point probe test. At least five measurements were done on different parts of the buckypapers, and the error bars were calculated. The thickness of the samples to be considered in the conductivity measurement was already measured by a digital micrometer (Deltascope® MP2C from Fischer, Windsor, CT, USA).
3. Results and Discussion
4. Conclusion
Taken together, we devised a buckypaper adsorbent based on amphiphilic carbon nanofilaments that could separate urease molecules from water effectively (as large as 88%). The separation tests were performed under dynamic conditions that could challenge the adsorbent more strictly. Desirable selectivity and permeance (over 4 kL·h−1m−2bar−1) of this novel adsorbent/membrane holds great promise for further development of the system for practical applications. Furthermore, firm immobilization of urease on conductive nanofilaments can assure the efficiency of a potential biosensing system. This proof of concept makes us optimistic with respect to the high potential of such nanomaterials for water treatment and biosensing in an industrial platform. However, first, we need to tackle some relevant bottlenecks for upscaling of their production. Electrospinning has shown to be a reliable method for large scale production of nanofibers, but post treatment (i.e., carbonization) of nanofibers must be performed in a controlled manner following a precise protocol that can govern a desirable chemistry for nanofibers. This step must be optimized and designed in a more economical way. For instance, the as-developed carbon nanofibers need to be stronger to exclude the chopping step, while maintaining their uniformity, porosity and more importantly functionality. We are at the beginning of the development of this system for water treatment and biosensing, but the obtained results encourage and motivate us to start further working on our material either as is or coupled with extra reactive agents.
Author Contributions
S.H. conceived the idea, prepared samples, performed characterizations and drafted the manuscript. M.E. was involved in development of the idea and analysis of the results.
Funding
M.E. appreciates the financial support provided through Aalto University, Academy of Finland, and Helmholtz Association (Grant No. VH-NG-523).
Acknowledgments
The authors would like to acknowledge Kristian Bühr for the design of the water permeance measurement set-up, and Joachim Koll for the bubble point test.
Conflicts of Interest
The authors declare no conflict of interest. The founding sponsors had no role in the design of the study; in the collection, analyses, or interpretation of data; in the writing of the manuscript, and in the decision to publish the results.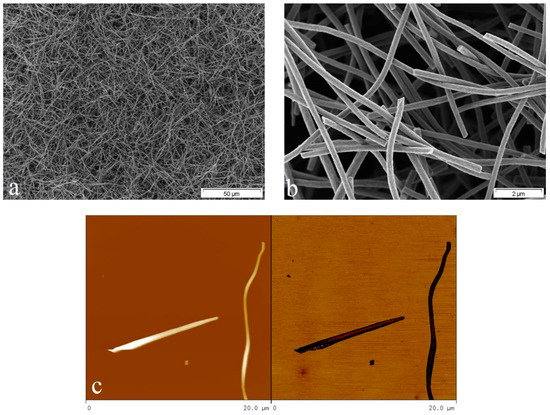 Figure 1. Scanning electron microscopy (SEM) images show morphology of the nanofilaments at (a) a low and (b) high magnification. (c) Atomic force microscope (AFM) micrographs imply the nanofilaments' dimensions and morphology.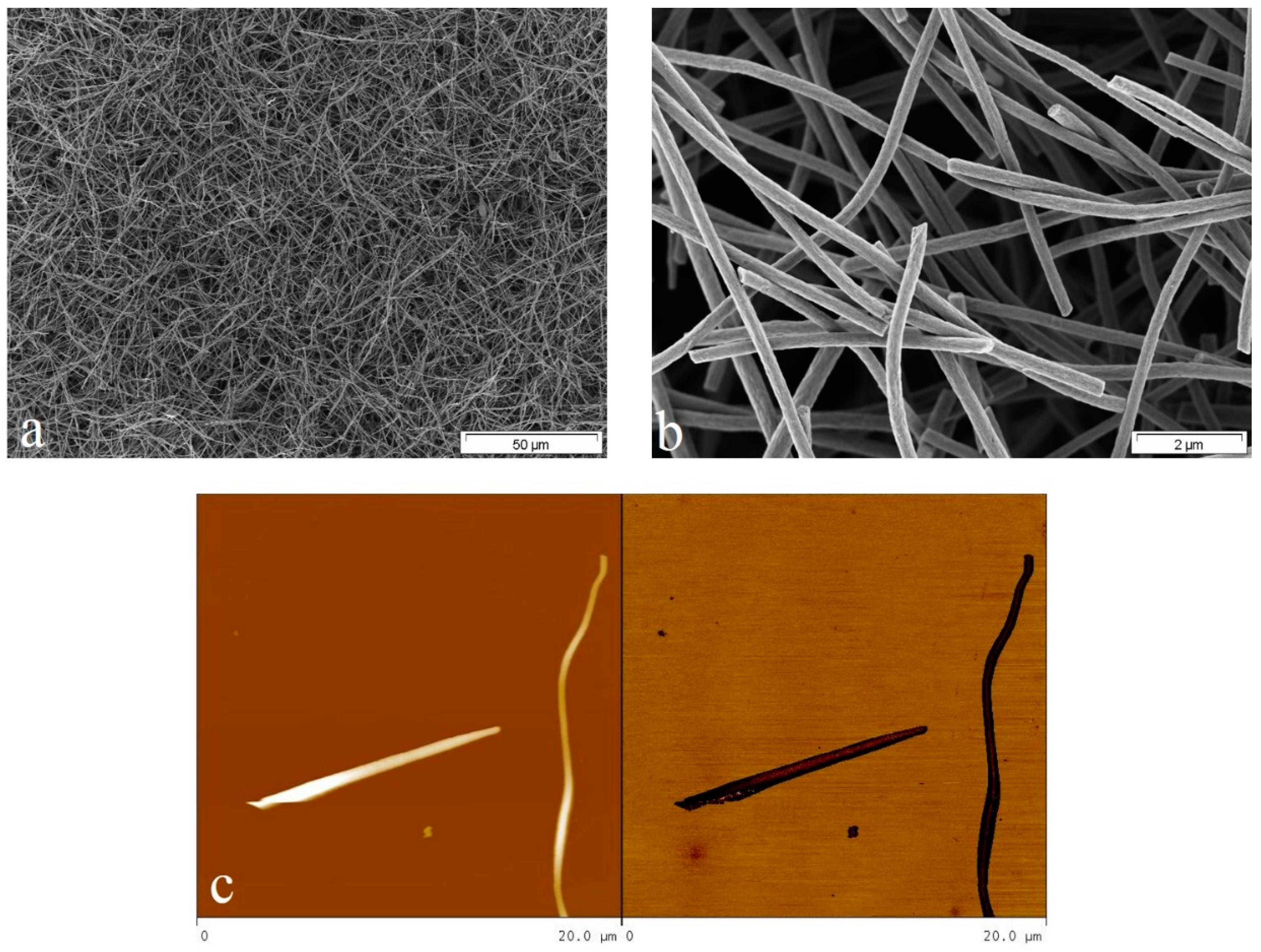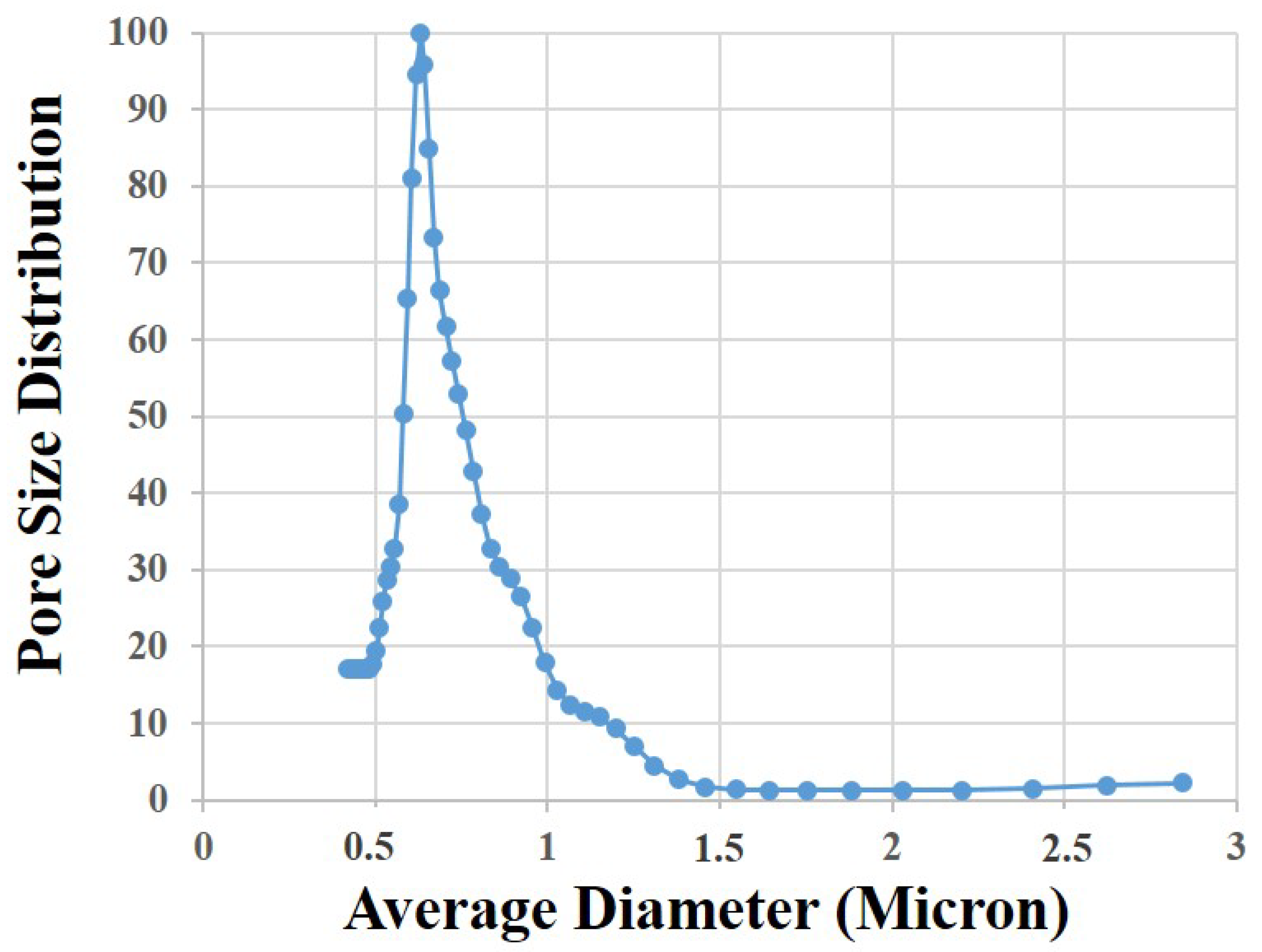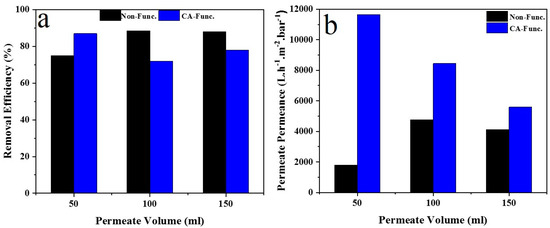 Figure 3. (a) Urease removal efficiency; (b) permeate permeance of the buckypapers in two classes of non-functionalized and CA-functionalized.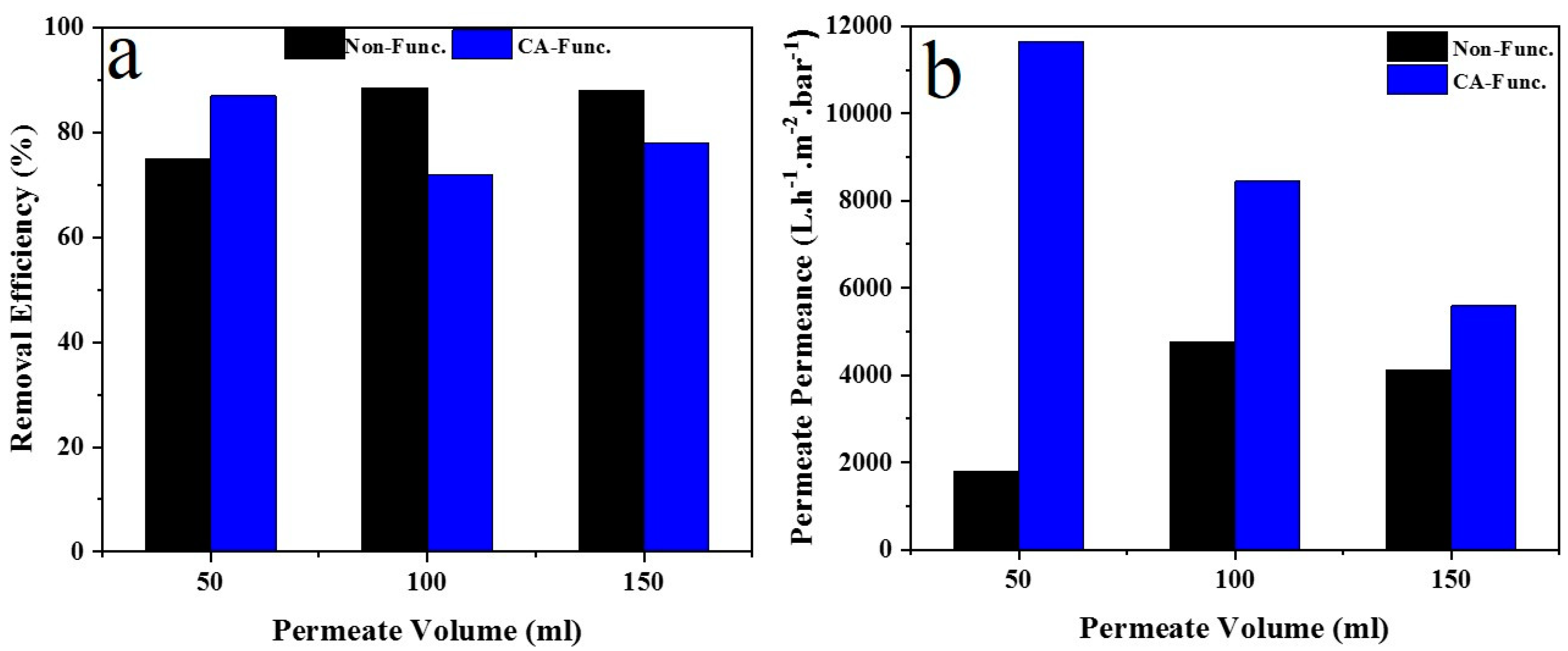 Figure 4. ATR-FTIR spectra compare the surface chemistry of carbon nanofilaments before and after (a) urease adsorption and (b) CA functionalization.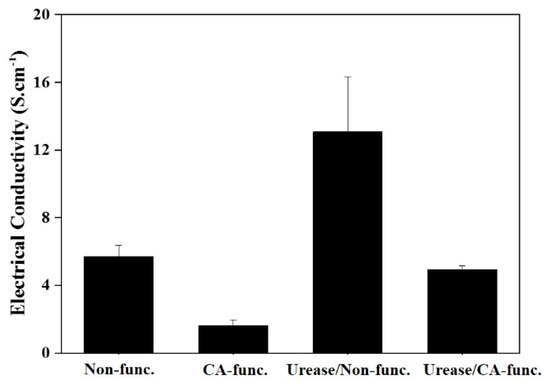 Figure 5. Electrical conductivity of the various classes of buckypapers before and after the adsorption of urease measured via a four-probe test.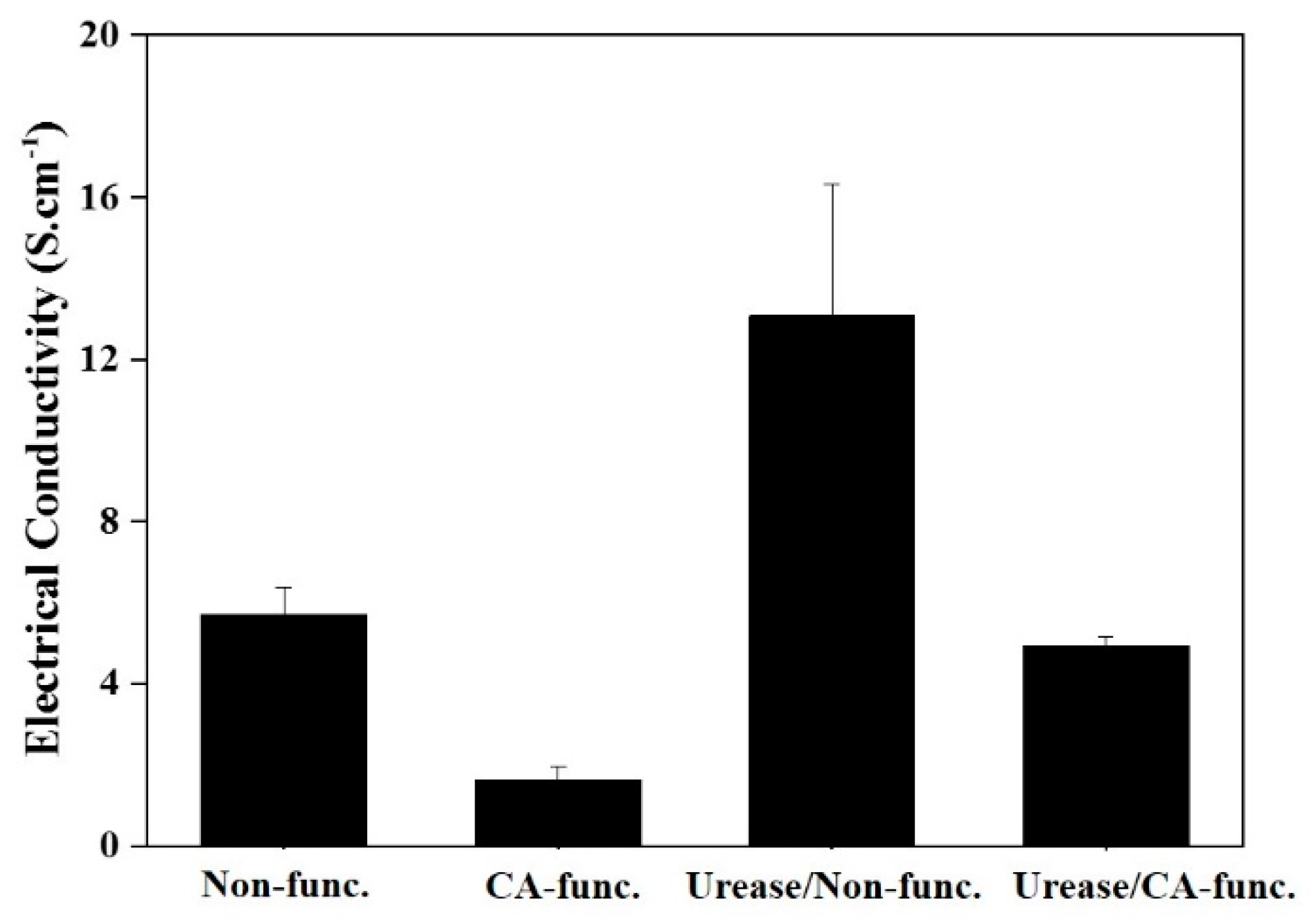 © 2018 by the authors. Licensee MDPI, Basel, Switzerland. This article is an open access article distributed under the terms and conditions of the Creative Commons Attribution (CC BY) license (http://creativecommons.org/licenses/by/4.0/).