Efficient Knock-in of a Point Mutation in Porcine Fibroblasts Using the CRISPR/Cas9-
GMNN

Fusion Gene

1

Institute for Molecular and Cell Physiology, Hannover Medical School, Carl-Neuberg-Str. 1, 30625 Hannover, Germany

2

Institute of Farm Animal Genetics, Friedrich-Loeffler-Institut, Hoeltystrasse 10, Mariensee, 31535 Neustadt, Germany

*

Author to whom correspondence should be addressed.

Received: 23 April 2018 / Revised: 30 May 2018 / Accepted: 8 June 2018 / Published: 13 June 2018
Abstract
During CRISPR/Cas9 mediated genome editing, site-specific double strand breaks are introduced and repaired either unspecific by non-homologous end joining (NHEJ) or sequence dependent by homology directed repair (HDR). Whereas NHEJ-based generation of gene knock-out is widely performed, the HDR-based knock-in of specific mutations remains a bottleneck. Especially in primary cell lines that are essential for the generation of cell culture and animal models of inherited human diseases, knock-in efficacy is insufficient and needs significant improvement. Here, we tested two different approaches to increase the knock-in frequency of a specific point mutation into the
MYH7
-gene in porcine fetal fibroblasts. We added a small molecule inhibitor of NHEJ, SCR7 (5,6-bis((E)-benzylideneamino)-2-mercaptopyrimidin-4-ol), during genome editing and screened cell cultures for the point mutation. However, this approach did not yield increased knock-in rates. In an alternative approach, we fused humanized Cas9 (hCas9) to the N-terminal peptide of the Geminin gene (
GMNN
). The fusion protein is degraded in NHEJ-dominated cell cycle phases, which should increase HDR-rates. Using hCas9-
GMNN
and point mutation-specific real time PCR screening, we found a two-fold increase in genome edited cell cultures. This increase of HDR by hCas9-
GMNN
provides a promising way to enrich specific knock-in in porcine fibroblast cultures for somatic cloning approaches.
View Full-Text
►

▼

Figures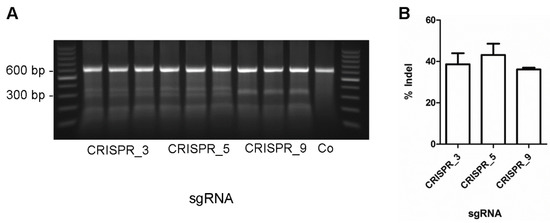 Figure 1
This is an open access article distributed under the
Creative Commons Attribution License
which permits unrestricted use, distribution, and reproduction in any medium, provided the original work is properly cited (CC BY 4.0).

Share & Cite This Article
MDPI and ACS Style
Gerlach, M.; Kraft, T.; Brenner, B.; Petersen, B.; Niemann, H.; Montag, J. Efficient Knock-in of a Point Mutation in Porcine Fibroblasts Using the CRISPR/Cas9-GMNN Fusion Gene. Genes 2018, 9, 296.
Note that from the first issue of 2016, MDPI journals use article numbers instead of page numbers. See further details here.
Related Articles
Comments
[Return to top]