Characterization of
Solanum melongena

Thioesterases Related to Tomato Methylketone Synthase 2

1

Faculty of Biology and Biotechnology, University of Science, Vietnam National University, Ho Chi Minh City 700000, Vietnam

2

VN-UK Institute for Research and Executive Education, University of Danang, Danang City 550000, Vietnam

3

Agricultural Hi-tech Park, Ho Chi Minh City 700000, Vietnam

*

Author to whom correspondence should be addressed.

Received: 15 June 2019 / Revised: 11 July 2019 / Accepted: 16 July 2019 / Published: 18 July 2019
Abstract
2-Methylketones are involved in plant defense and fragrance and have industrial applications as flavor additives and for biofuel production. We isolated three genes from the crop plant Solanum melongena (eggplant) and investigated these as candidates for methylketone production. The wild tomato methylketone synthase 2 (ShMKS2), which hydrolyzes β-ketoacyl-acyl carrier proteins (ACP) to release β-ketoacids in the penultimate step of methylketone synthesis, was used as a query to identify three homologs from
S. melongena
: SmMKS2-1, SmMKS2-2, and SmMKS2-3
.
Expression and functional characterization of SmMKS2s in
E. coli
showed that SmMKS2-1 and SmMKS2-2 exhibited the thioesterase activity against different β-ketoacyl-ACP substrates to generate the corresponding saturated and unsaturated β-ketoacids, which can undergo decarboxylation to form their respective 2-methylketone products, whereas SmMKS2-3 showed no activity.
SmMKS2-1
was expressed at high level in leaves, stems, roots, flowers, and fruits, whereas expression of
SmMKS2-2
and
SmMKS2-3
was mainly in flowers and fruits, respectively. Expression of
SmMKS2-1
was induced in leaves by mechanical wounding, and by methyl jasmonate or methyl salicylate, but
SmMKS2-2
and
SmMKS2-3
genes were not induced. SmMKS2-1 is a candidate for methylketone-based defense in eggplant, and both SmMKS2-1 and SmMKS2-2 are novel MKS2 enzymes for biosynthesis of methylketones as feedstocks to biofuel production.
View Full-Text
►

▼

Figures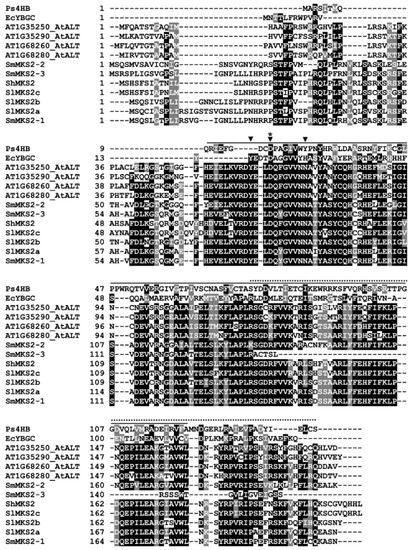 Figure 1
This is an open access article distributed under the
Creative Commons Attribution License
which permits unrestricted use, distribution, and reproduction in any medium, provided the original work is properly cited (CC BY 4.0).

Share & Cite This Article
MDPI and ACS Style
Khuat, V.L.U.; Bui, V.T.T.; Tran, H.T.D.; Truong, N.X.; Nguyen, T.C.; Mai, P.H.H.; Dang, T.L.A.; Dinh, H.M.; Pham, H.T.A.; Nguyen, T.T.H. Characterization of Solanum melongena Thioesterases Related to Tomato Methylketone Synthase 2. Genes 2019, 10, 549.
Note that from the first issue of 2016, MDPI journals use article numbers instead of page numbers. See further details here.
Related Articles
Comments
[Return to top]