Molecular and Kinetic Analyses of Circulating Tumor Cells as Predictive Markers of Treatment Response in Locally Advanced Rectal Cancer Patients
1
International Research Center, A.C. Camargo Cancer Center, São Paulo 01508-010, Brazil
2
Department of Medical Oncology, A.C. Camargo Cancer Center, São Paulo 01509-900, Brazil
3
Department of Radiotherapy, A.C. Camargo Cancer Center, São Paulo 01509-900, Brazil
4
Department of Radiology, A.C. Camargo Cancer Center, São Paulo 01509-900, Brazil
5
Department of Pelvic Surgery, A.C. Camargo Cancer Center, São Paulo 01509-900, Brazil
6
National Institute for Science and Technology in Oncogenomics and Therapeutic Innovation, São Paulo 01509-900, Brazil
*
Author to whom correspondence should be addressed.
†
These authors have contributed equally to the work.
Received: 10 May 2019 / Revised: 11 June 2019 / Accepted: 12 June 2019 / Published: 26 June 2019
Abstract
Neoadjuvant chemoradiation (NCRT) followed by total mesorectal excision is the standard treatment for locally advanced rectal cancer (LARC). To justify a non-surgical approach, identification of pathologic complete response (pCR) is required. Analysis of circulating tumor cells (CTCs) can be used to evaluate pCR. We hypothesize that monitoring of thymidylate synthase (TYMS) and excision repair protein, RAD23 homolog B (RAD23B), can be used to predict resistance to chemotherapy/radiotherapy. Therefore, the aims of this study were to analyze CTCs from patients with LARC who underwent NCRT plus surgery for expression of TYMS/RAD23B and to evaluate their predictive value. Blood samples from 30 patients were collected prior to NCRT (S1) and prior to surgery (S2). CTCs were isolated and quantified by ISET
®
, proteins were analyzed by immunocytochemistry, and
TYMS
mRNA was detected by chromogenic in situ hybridization. CTC counts decreased between S1 and S2 in patients exhibiting pCR (
p
= 0.02) or partial response (
p
= 0.01). Regarding protein expression, TYMS was absent in 100% of CTCs from patients with pCR (
p
= 0.001) yet was expressed in 83% of non-responders at S2 (
p
< 0.001). Meanwhile, RAD23B was expressed in CTCs from 75% of non-responders at S1 (
p
= 0.01) and in 100% of non-responders at S2 (
p
= 0.001). Surprisingly, 100% of non-responders expressed
TYMS
mRNA at both timepoints (
p
= 0.001). In addition, TYMS/RAD23B was not detected in the CTCs of patients exhibiting pCR (
p
= 0.001). We found 83.3% of sensitivity for TYMS mRNA at S1 (
p
= 0.001) and 100% for TYMS (
p
= 0.064) and RAD23B (
p
= 0.01) protein expression at S2. Thus,
TYMS
mRNA and/or TYMS/RAD23B expression in CTCs, as well as CTC kinetics, have the potential to predict non-response to NCRT and avoid unnecessary radical surgery for LARC patients with pCR.
View Full-Text
►

▼

Figures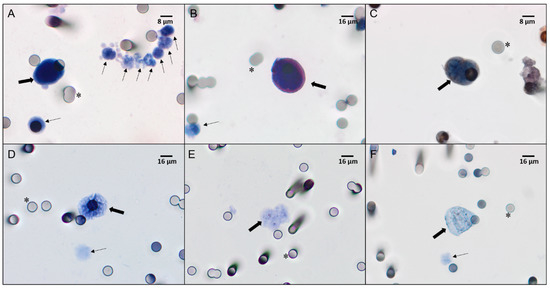 Figure 1
This is an open access article distributed under the
Creative Commons Attribution License
which permits unrestricted use, distribution, and reproduction in any medium, provided the original work is properly cited (CC BY 4.0).

Share & Cite This Article
MDPI and ACS Style
Troncarelli Flores, B.C.; Souza e Silva, V.; Ali Abdallah, E.; Mello, C.A.; Gobo Silva, M.L.; Gomes Mendes, G.; Camila Braun, A.; Aguiar Junior, S.; Thomé Domingos Chinen, L. Molecular and Kinetic Analyses of Circulating Tumor Cells as Predictive Markers of Treatment Response in Locally Advanced Rectal Cancer Patients. Cells 2019, 8, 641.
Note that from the first issue of 2016, MDPI journals use article numbers instead of page numbers. See further details here.
Related Articles
Comments
[Return to top]