Sh3bp2

Gain-Of-Function Mutation Ameliorates Lupus Phenotypes in B6.MRL-Faslpr Mice

1

Department of Rheumatology, Kawasaki Medical School, Kurashiki, Okayama 701-0192, Japan

2

Department of Immunology and Molecular Genetics, Kawasaki Medical School, Kurashiki, Okayama 701-0192, Japan

3

Department of Nephrology and Hypertension, Kawasaki Medical School, Kurashiki, Okayama 701-0192, Japan

4

Indiana Center for Musculoskeletal Health, Indiana University, Bloomington, IN 46202, USA

*

Author to whom correspondence should be addressed.

Received: 22 March 2019 / Revised: 11 April 2019 / Accepted: 27 April 2019 / Published: 30 April 2019
Abstract
SH3 domain-binding protein 2 (SH3BP2) is an adaptor protein that is predominantly expressed in immune cells, and it regulates intracellular signaling. We had previously reported that a gain-of-function mutation in SH3BP2 exacerbates inflammation and bone loss in murine arthritis models. Here, we explored the involvement of SH3BP2 in a lupus model.
Sh3bp2
gain-of-function (P416R knock-in;
Sh3bp2KI/+
) mice and lupus-prone B6.MRL-
Faslpr
mice were crossed to yield double-mutant (
Sh3bp2KI/+Faslpr/lpr
) mice. We monitored survival rates and proteinuria up to 48 weeks of age and assessed renal damage and serum anti-double-stranded DNA antibody levels. Additionally, we analyzed B and T cell subsets in lymphoid tissues by flow cytometry and determined the expression of apoptosis-related molecules in lymph nodes.
Sh3bp2
gain-of-function mutation alleviated the poor survival rate, proteinuria, and glomerulosclerosis and significantly reduced serum anti-dsDNA antibody levels in
Sh3bp2KI/+Faslpr/lpr
mice. Additionally, B220
+
CD4
−
CD8
−
T cell population in lymph nodes was decreased in
Sh3bp2KI/+Faslpr/lpr
mice, which is possibly associated with the observed increase in cleaved caspase-3 and tumor necrosis factor levels.
Sh3bp2
gain-of-function mutation ameliorated clinical and immunological phenotypes in lupus-prone mice. Our findings offer better insight into the unique immunopathological roles of SH3BP2 in autoimmune diseases.
View Full-Text
►

▼

Figures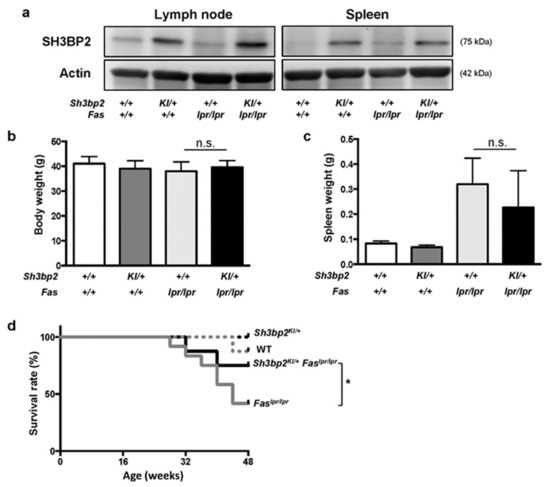 Figure 1
This is an open access article distributed under the
Creative Commons Attribution License
which permits unrestricted use, distribution, and reproduction in any medium, provided the original work is properly cited (CC BY 4.0).

Share & Cite This Article
MDPI and ACS Style
Nagasu, A.; Mukai, T.; Iseki, M.; Kawahara, K.; Tsuji, S.; Nagasu, H.; Ueki, Y.; Ishihara, K.; Kashihara, N.; Morita, Y. Sh3bp2 Gain-Of-Function Mutation Ameliorates Lupus Phenotypes in B6.MRL-Faslpr Mice. Cells 2019, 8, 402.
Note that from the first issue of 2016, MDPI journals use article numbers instead of page numbers. See further details here.
Related Articles
Comments
[Return to top]