MicroRNAs as Potential Pharmaco-Targets in Ischemia-Reperfusion Injury Compounded by Diabetes
1
Department of Pharmacology and Toxicology, Faculty of Medicine, American University of Beirut, Beirut P.O. Box 11-0236, Lebanon
2
Department of Biology, American University of Beirut, Beirut P.O. Box 11-0236, Lebanon
3
Department of Pharmacology and Toxicology, Alexandria University, Alexandria P.O. Box 21521, El-Mesallah, Egypt
4
Department of Anatomy, Cell Biology and Physiological Sciences, Faculty of Medicine, American University of Beirut, Beirut P.O. Box 11-0236, Lebanon
5
Department of Nutrition, University of Petra, Amman P.O Box 961343 Amman, Jordan
6
Department of Biomedical Sciences, College of Health Sciences, Qatar University, Doha P.O. Box 2713, Qatar
7
Biomedical Research Center, Qatar University, Doha P.O. Box 2713, Qatar
*
Authors to whom correspondence should be addressed.
†
These authors contributed equally to this work.
‡
These authors contributed equally to this work.
Received: 9 January 2019 / Revised: 6 February 2019 / Accepted: 10 February 2019 / Published: 12 February 2019
Abstract
Background: Ischemia-Reperfusion (I/R) injury is the tissue damage that results from re-oxygenation of ischemic tissues. There are many players that contribute to I/R injury. One of these factors is the family of microRNAs (miRNAs), which are currently being heavily studied. This review aims to critically summarize the latest papers that attributed roles of certain miRNAs in I/R injury, particularly in diabetic conditions and dissect their potential as novel pharmacologic targets in the treatment and management of diabetes. Methods: PubMed was searched for publications containing microRNA and I/R, in the absence or presence of diabetes. All papers that provided sufficient evidence linking miRNA with I/R, especially in the context of diabetes, were selected. Several miRNAs are found to be either pro-apoptotic, as in the case of miR-34a, miR-144, miR-155, and miR-200, or anti-apoptotic, as in the case of miR-210, miR-21, and miR-146a. Here, we further dissect the evidence that shows diverse cell-context dependent effects of these miRNAs, particularly in cardiomyocytes, endothelial, or leukocytes. We also provide insight into cases where the possibility of having two miRNAs working together to intensify a given response is noted. Conclusions: This review arrives at the conclusion that the utilization of miRNAs as translational agents or pharmaco-targets in treating I/R injury in diabetic patients is promising and becoming increasingly clearer.
View Full-Text
►

▼

Figures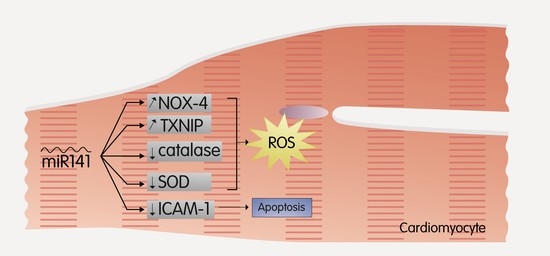 Graphical abstract
This is an open access article distributed under the
Creative Commons Attribution License
which permits unrestricted use, distribution, and reproduction in any medium, provided the original work is properly cited (CC BY 4.0).

Share & Cite This Article
MDPI and ACS Style
Dehaini, H.; Awada, H.; El-Yazbi, A.; Zouein, F.A.; Issa, K.; Eid, A.A.; Ibrahim, M.; Badran, A.; Baydoun, E.; Pintus, G.; Eid, A.H. MicroRNAs as Potential Pharmaco-Targets in Ischemia-Reperfusion Injury Compounded by Diabetes. Cells 2019, 8, 152.
Note that from the first issue of 2016, MDPI journals use article numbers instead of page numbers. See further details here.
Related Articles
Comments
[Return to top]