Dynamics of Parkinson's Disease Multimodal Complex Treatment in Germany from 2010–2016: Patient Characteristics, Access to Treatment, and Formation of Regional Centers
1
Department of Neurology, St. Josef-Hospital, Ruhr-University Bochum, 44801 Bochum, Germany
2
DRG MARKET, D-49069 Osnabrück, Germany
3
Second Department of Neurology, National and Kapodistrian University of Athens, Athens 15771, Greece
4
Department of Neurology, St. Joseph Krankenhaus Berlin-Weißensee, 13088 Berlin, Germany
5
Center for Movement Disorders, Parkinson-Klinik Ortenau, 77709 Wolfach, Germany
6
Department of Neurology, University Hospital Freiburg, 79104 Freiburg, Germany
7
Neurologisches Fachkrankenhauses für Bewegungsstörungen/Parkinson, Kliniken Beelitz, 14547 Beelitz, Germany
8
Neurodegeneration Research, Protein Research Unit Ruhr (PURE), Ruhr University Bochum, 44801 Bochum, Germany
*
Author to whom correspondence should be addressed.
Received: 27 December 2018 / Revised: 6 February 2019 / Accepted: 9 February 2019 / Published: 11 February 2019
Abstract
Parkinson's disease (PD) is currently the world's fastest-growing neurological disorder. It is characterized by motor and non-motor symptoms which progressively lead to significant clinical impairment, causing a high burden of disease. In addition to pharmacological therapies, various non-pharmacological treatment options are available. A well established and frequently used multiprofessional inpatient treatment concept in Germany is "Parkinson's disease multimodal complex treatment" (PD-MCT) which involves physiotherapists, occupational therapists, speech therapists, and other specializations for the optimization of treatment in PD (ICD G20) and other Parkinsonian syndromes (ICD G21 and G23). In this study we analyze the PD-MCT characteristics of 55,141 PD inpatients who have been integrated into this therapy concept in Germany in the years 2010–2016. We demonstrate that PD-MCT is increasingly applied over this time period. Predominately, PD patients with advanced disease stage and motor fluctuations in age groups between 45 and 69 years were hospitalized. In terms of gender, more male than female patients were treated. PD-MCT is provided primarily in specialized hospitals with high patient numbers but a minor part of all therapies is performed in a rather large number of hospitals with each one treating only a few patients. Access to PD-MCT differs widely across regions, leading to significant migration of patients from underserved areas to PD-MCT centers–a development that should be considered when implementing such therapies in other countries. Furthermore, our data imply that despite the overall increase in PD-MCT treatments during the observational period, the restricted treatment accessibility may not adequately satisfy current patient's need.
View Full-Text
►

▼

Figures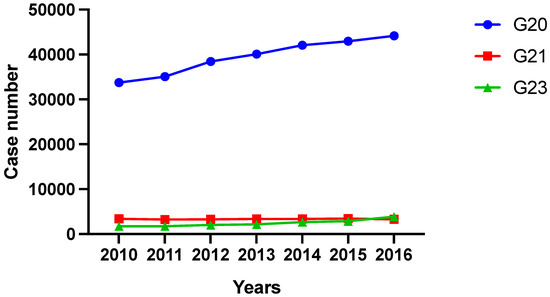 Figure 1
This is an open access article distributed under the
Creative Commons Attribution License
which permits unrestricted use, distribution, and reproduction in any medium, provided the original work is properly cited (CC BY 4.0).

Share & Cite This Article
MDPI and ACS Style
Richter, D.; Bartig, D.; Muhlack, S.; Hartelt, E.; Scherbaum, R.; Katsanos, A.H.; Müller, T.; Jost, W.; Ebersbach, G.; Gold, R.; Krogias, C.; Tönges, L. Dynamics of Parkinson's Disease Multimodal Complex Treatment in Germany from 2010–2016: Patient Characteristics, Access to Treatment, and Formation of Regional Centers. Cells 2019, 8, 151.
Note that from the first issue of 2016, MDPI journals use article numbers instead of page numbers. See further details here.
Related Articles
Comments
[Return to top]