Silencing Heat Shock Protein 27 Inhibits the Progression and Metastasis of Colorectal Cancer (CRC) by Maintaining the Stability of Stromal Interaction Molecule 1 (STIM1) Proteins
1
Department of Surgery, College of Medicine, Taipei Medical University, Taipei 110, Taiwan
2
Division of General Surgery, Department of Surgery, Shuang Ho Hospital, Taipei Medical University, Taipei 110, Taiwan
3
Division of Colorectal Surgery, Department of Surgery, Wan Fang Hospital, Taipei Medical University, Taipei 110, Taiwan
4
Cancer Research Center and Translational Laboratory, Department of Medical Research, Taipei Medical University Hospital, Taipei Medical University, Taipei 110, Taiwan
5
Division of Colorectal Surgery, Department of Surgery, Taipei Medical University Hospital, Taipei Medical University, Taipei 110, Taiwan
6
Graduate Institute of Cancer Biology and Drug Discovery, Taipei Medical University, Taipei 110, Taiwan
7
Department of Pathology, School of Medicine, College of Medicine, Taipei Medical University, Taipei 110, Taiwan
8
Department of Pathology, Wan Fang Hospital, Taipei Medical University, Taipei 110, Taiwan
9
School of Pharmacy, Taipei Medical University, Taipei 110, Taiwan
10
Master Program for Clinical Pharmacogenomics and Pharmacoproteomics, Taipei Medical University, Taipei 110, Taiwan
11
Graduate Institute of Clinical Medicine, College of Medicine, Taipei Medical University, Taipei 110, Taiwan
†
These authors contributed equally to this study.
*
Author to whom correspondence should be addressed.
Received: 13 November 2018 / Revised: 2 December 2018 / Accepted: 7 December 2018 / Published: 10 December 2018
Abstract
The incidence of colorectal cancer (CRC) has significantly increased in recent decades, and this disease has become an important health issue worldwide. Currently, there is no useful prognostic or diagnostic biomarker for CRC. Heat shock protein 27 (HSP27) is a chaperone that interacts with many proteins. HSP27 has been shown to be overexpressed in many cancers, including colon cancer, and its overexpression is related to poor disease outcome. Although the importance of HSP27 as a biomarker cannot be underrated, its detailed mechanisms in colon cancer are still unclear. In vitro studies have indicated that silencing HSP27 reduces the proliferation, migration and invasion of colon cancer cells, and xenograft models have shown that silencing HSP27 decreases tumor progression. Tissue array results showed that colon cancer patients with high expression of HSP27 exhibited poor prognosis. In addition, we found a reduction of calcium influx through a decrease in STIM1 protein after HSP27 was abolished. The formation of puncta was decreased in HSP27 knockdown (HSP27KD) cells after thapsigargin (TG) treatment. Finally, we confirmed that the reduction of STIM1 after HSP27 silencing may be due to a loss of STIM1 stability instead of transcription. HSP27 may interact with STIM1 but not Orai1, as shown by immunoprecipitation assays. HSP27 and STIM1 were co-expressed in CRC specimens. Our study showed that HSP27 is a key mediator in the progression and metastasis of CRC by regulating the store-operated calcium entry. This novel pathway may provide a new direction for development of therapeutic strategies for CRC.
View Full-Text
►

▼

Figures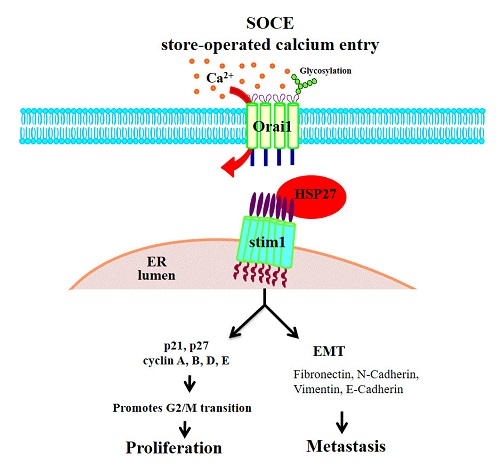 Graphical abstract
This is an open access article distributed under the
Creative Commons Attribution License
which permits unrestricted use, distribution, and reproduction in any medium, provided the original work is properly cited (CC BY 4.0).

Share & Cite This Article
MDPI and ACS Style
Huang, C.-Y.; Wei, P.-L.; Chen, W.-Y.; Chang, W.-C.; Chang, Y.-J. Silencing Heat Shock Protein 27 Inhibits the Progression and Metastasis of Colorectal Cancer (CRC) by Maintaining the Stability of Stromal Interaction Molecule 1 (STIM1) Proteins. Cells 2018, 7, 262.
Note that from the first issue of 2016, MDPI journals use article numbers instead of page numbers. See further details here.
Related Articles
Comments
[Return to top]