Post-Translational Modification and Subcellular Distribution of Rac1: An Update
Department of Medical Genetics, and Signal Transduction Research Group, Faculty of Medicine and Dentistry, University of Alberta, Edmonton, AB T6G 2H7, Canada
*
Author to whom correspondence should be addressed.
Received: 13 November 2018 / Revised: 6 December 2018 / Accepted: 10 December 2018 / Published: 11 December 2018
Abstract
Rac1 is a small GTPase that belongs to the Rho family. The Rho family of small GTPases is a subfamily of the Ras superfamily. The Rho family of GTPases mediate a plethora of cellular effects, including regulation of cytoarchitecture, cell size, cell adhesion, cell polarity, cell motility, proliferation, apoptosis/survival, and membrane trafficking. The cycling of Rac1 between the GTP (guanosine triphosphate)- and GDP (guanosine diphosphate)-bound states is essential for effective signal flow to elicit downstream biological functions. The cycle between inactive and active forms is controlled by three classes of regulatory proteins: Guanine nucleotide exchange factors (GEFs), GTPase-activating proteins (GAPs), and guanine-nucleotide-dissociation inhibitors (GDIs). Other modifications include RNA splicing and microRNAs; various post-translational modifications have also been shown to regulate the activity and function of Rac1. The reported post-translational modifications include lipidation, ubiquitination, phosphorylation, and adenylylation, which have all been shown to play important roles in the regulation of Rac1 and other Rho GTPases. Moreover, the Rac1 activity and function are regulated by its subcellular distribution and translocation. This review focused on the most recent progress in Rac1 research, especially in the area of post-translational modification and subcellular distribution and translocation.
View Full-Text
►

▼

Figures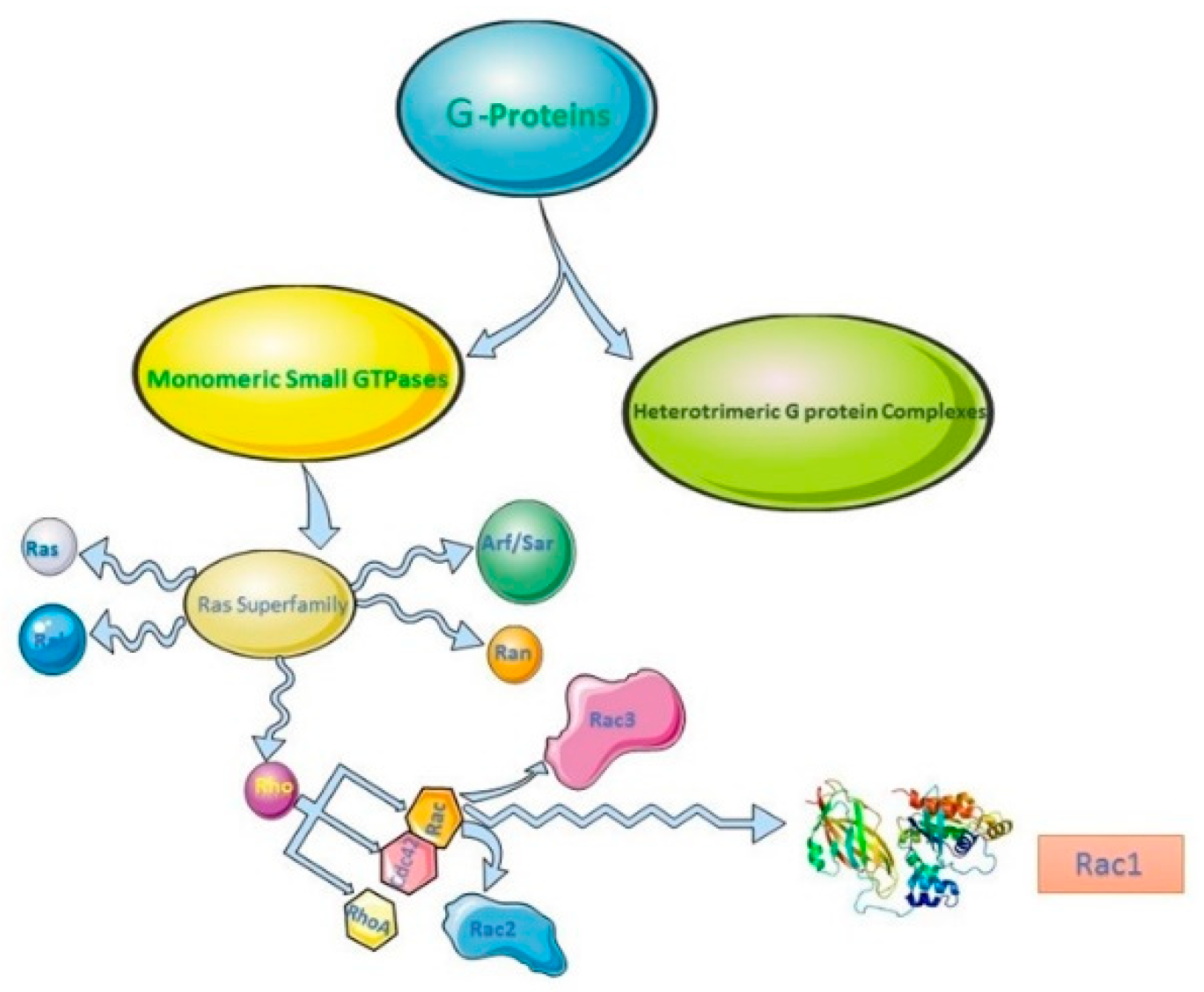 Figure 1
This is an open access article distributed under the
Creative Commons Attribution License
which permits unrestricted use, distribution, and reproduction in any medium, provided the original work is properly cited (CC BY 4.0).

Share & Cite This Article
MDPI and ACS Style
Abdrabou, A.; Wang, Z. Post-Translational Modification and Subcellular Distribution of Rac1: An Update. Cells 2018, 7, 263.
Note that from the first issue of 2016, MDPI journals use article numbers instead of page numbers. See further details here.
Related Articles
Comments
[Return to top]