Comparison between Chemical Fertilization and Integrated Nutrient Management: Yield, Quality, N, and P Contents in
Dendranthema grandiflorum

(Ramat.) Kitam. Cultivars

Department of Agro-Environmental and Territorial Science (DISAAT), University of Bari, "Aldo Moro", Italy Via Amendola 165/A, 70120 Bari, Italy

*

Author to whom correspondence should be addressed.

Received: 27 February 2019 / Revised: 28 March 2019 / Accepted: 17 April 2019 / Published: 19 April 2019
Abstract
To assess the effects of a new integrated nutrient management protocol on yield and cut stem quality, root morphology, N accumulation, nitrogen utilization efficiency (NUE), and P content in tissue, a biennial (2011 and 2012) chrysanthemum cut flower cultivation was carried out. In both years, two nutrition management (CNM: conventional NM and INM: integrated NM) treatments and two
Dendranthema grandiflorum
(Ramat.) Kitamura cultivar ("White CV
1
" and "Yellow CV
2
") treatments were compared. The treatments were arranged in a split-plot design with three replicates. CNM was fertilized using a recommended dose fertilization of mineral NPK; INM treatment was fertilized using a half dose (50%) of CNM plus a combined usage of N organic fertilizer, seaweed extract (
Ascophyllum nodosum
), and microrganism consortium (
Glomus
sp. and
Bacillus
sp.). Yield at harvest (+19%), number of leaves (+33%), leaf area (+46%), number of flower heads (+27%), and total aboveground dry weight (+40%) were significantly increased by the INM application compared to the control. In terms of the root system, the increase was evident in terms of length (+174%), volume (+167%), projected area (+166%), and surface area (+165%), tips (+175%), forks (+285%), and crossings (+464%). The greatest N accumulation, in both years, was registered by INM treatment at harvest: +94% in 2011 and +55% in 2012. Differences in the NM were evident in the NUE, which was highest in CNM (on average 162) compared to INM (on average 142). In both years the P content in above-ground chrysanthemum tissues was in the order of head > leaves > stems, which was maintained in both INM and CNM treatments. A higher yield (138 stems m
−2
) was obtained in "CV
2
Yellow" compared to "CV
1
White" (120 stems m
−2
). Based on our findings, applying INM to chrysanthemum improves yield, cut flower quality, and plant nutrient uptake, in an agro–environmentally sustainable way. A basic economic analysis on fertilizers, cost gross production, and takings difference obtained, was carried out.
View Full-Text
►

▼

Figures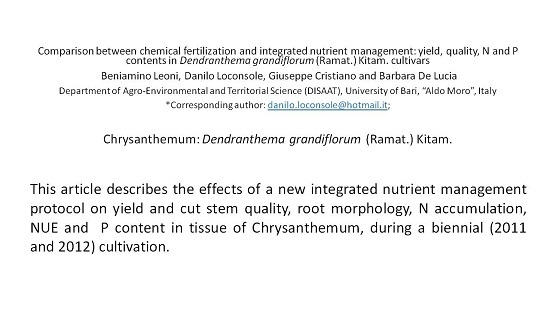 Graphical abstract
This is an open access article distributed under the
Creative Commons Attribution License
which permits unrestricted use, distribution, and reproduction in any medium, provided the original work is properly cited (CC BY 4.0).

Share & Cite This Article
MDPI and ACS Style
Leoni, B.; Loconsole, D.; Cristiano, G.; De Lucia, B. Comparison between Chemical Fertilization and Integrated Nutrient Management: Yield, Quality, N, and P Contents in Dendranthema grandiflorum (Ramat.) Kitam. Cultivars. Agronomy 2019, 9, 202.
Note that from the first issue of 2016, MDPI journals use article numbers instead of page numbers. See further details here.
Related Articles
Comments
[Return to top]