Iron(II) Spin Crossover Complex with the 1,2,3-Triazole-Containing Linear Pentadentate Schiff-Base Ligand and the MeCN Monodentate Ligand
1
Department of Chemistry, Faculty of Education, Gifu University, Yanagido 1-1, Gifu 501-1193, Japan
2
Graduate School of Education, Gifu University, Yanagido 1-1, Gifu 501-1193, Japan
3
Department of Chemistry and Biomolecular Science, Faculty of Engineering, Gifu University, Yanagido 1-1, Gifu 501-1193, Japan
*
Author to whom correspondence should be addressed.
Received: 16 May 2019 / Revised: 24 May 2019 / Accepted: 25 May 2019 / Published: 28 May 2019
Abstract
A mononuclear iron(II) complex bearing the linear pentadentate N
5
Schiff-base ligand containing two 1,2,3-triazole moieties and the MeCN monodentate ligand, [Fe
II
MeCN(L
3-Me-3
Ph
)](BPh
4
)
2
·MeCN·H
2
O (
1
), have been prepared (L
3-Me-3
Ph
= bis(
N
,
N′
-1-Phenyl-1
H
-1,2,3-triazol-4-yl-methylideneaminopropyl)methylamine). Variable-temperature magnetic susceptibility measurements revealed an incomplete one-step spin crossover (SCO) from the room-temperature low-spin (LS,
S
= 0) state to a mixture of the LS and high-spin (HS,
S
= 2) species at the higher temperature of around 400 K upon first heating, which is irreversible on the consecutive cooling mode. The magnetic modulation at around 400 K was induced by the crystal-to-amorphous transformation accompanied by the loss of lattice MeCN solvent, which was evident from powder X-ray diffraction (PXRD) studies and themogravimetry. The single-crystal X-ray diffraction studies showed that the complex is in the LS state (
S
= 0) between 296 and 387 K. In the crystal lattice, the complex-cations and B(1)Ph
4
−
ions are alternately connected by intermolecular CH···π interactions between the methyl group of the MeCN ligand and phenyl groups of B(1)Ph
4
−
ions, forming a 1D chain structure. The 1D chains are further connected by P4AE (parallel fourfold aryl embrace) interactions between two neighboring complex-cations, constructing a 2D extended structure. B(2)Ph
4
−
ions and MeCN lattice solvents exist in the spaces of the 2D layer. DFT calculations verified that the 1,2,3-triazole-containing ligand L
3-Me-3
Ph
gives a stronger ligand field around the octahedral coordination environment of the iron(II) ion than the analogous imidazole-containing ligand H
2
L
2Me
(= bis(
N
,
N
′-2-methylimidazol-4-yl-methylideneaminopropyl)methylamine) of the known compound [Fe
II
MeCN(H
2
L
2Me
)](BPh
4
)
1.5
·Cl
0.5
·0.5MeCN (
2
) reported by Matsumoto et al. (Nishi, K.; Fujinami, T.; Kitabayashi, A.; Matsumoto, N. Tetrameric spin crossover iron(II) complex constructed by imidazole⋯chloride hydrogen bonds.
Inorg. Chem. Commun.
2011
,
14
, 1073–1076), resulting in the much higher spin transition temperature of
1
than that of
2
.
View Full-Text
►

▼

Figures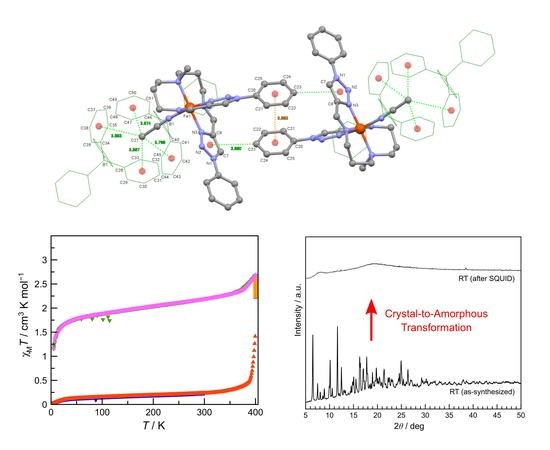 Graphical abstract
This is an open access article distributed under the
Creative Commons Attribution License
which permits unrestricted use, distribution, and reproduction in any medium, provided the original work is properly cited (CC BY 4.0).

Share & Cite This Article
MDPI and ACS Style
Matsuyama, T.; Nakata, K.; Hagiwara, H.; Udagawa, T. Iron(II) Spin Crossover Complex with the 1,2,3-Triazole-Containing Linear Pentadentate Schiff-Base Ligand and the MeCN Monodentate Ligand. Crystals 2019, 9, 276.
Note that from the first issue of 2016, MDPI journals use article numbers instead of page numbers. See further details here.
Related Articles
Comments
[Return to top]