Inducing Crystallinity of Metal Thin Films with Weak Magnetic Fields without Thermal Annealing
1
Environmental Science Program, Environmental Science Research Center, Faculty of Science, Chiang Mai University, Chiang Mai 50200, Thailand
2
Graduate School, Chiang Mai University 239, Huay Kaew Road, Muang District, Chiang Mai 50200, Thailand
3
Department of Chemistry, Faculty of Science, Chiang Mai University, Chiang Mai 50200, Thailand
4
Materials Science Research Center, Faculty of Science, Chiang Mai University, Chiang Mai 50200, Thailand
5
Center of Excellence in Materials Science and Technology, Chiang Mai University, Chiang Mai 50200, Thailand
6
Department of Physics and Materials Science, Faculty of Science, Chiang Mai University, Chiang Mai 50200, Thailand
7
Center of Excellence in Physics and Astronomy, Faculty of Science, Chiang Mai University, Chiang Mai 50200, Thailand
*
Author to whom correspondence should be addressed.
Received: 31 May 2018 / Revised: 1 September 2018 / Accepted: 6 September 2018 / Published: 13 September 2018
Abstract
Since the discovery of thin films, it has been known that higher crystallinity demands higher temperatures, making the process inadequate for energy-efficient and environmentally friendly methods of thin film fabrication. We resolved this problem by sparking metal wires in a 0.4 Tesla magnetic field at ambient conditions under ultra-pure nitrogen flow to replace the annealing of thin films, and thus designed an environmentally friendly and energy-efficient thin film fabrication method. We employed grazing incidence X-Ray Diffraction spectroscopy to characterize crystallinity of Iron, Nickel, Copper and Tungsten thin films prepared by a sparking discharge process in the presence of 0.4 T magnetic field at an ambient temperature of 25 °C. Control experiment was conducted by sparking without a magnetic field present and using ultra-pure nitrogen flow and ambient air containing oxygen. The Iron thin film prepared in ultra-pure nitrogen flow preserved crystallinity even after one year of ageing. Nickel exhibited higher crystallinity when sparked in nitrogen gas flow than when sparked in atmospheric air and was the only element to crystalize under atmospheric air. Tungsten successfully crystalized after just 40 min of sparking and aluminium failed to crystalize at all, even after 12 h of sparking under nitrogen flow.
View Full-Text
►

▼

Figures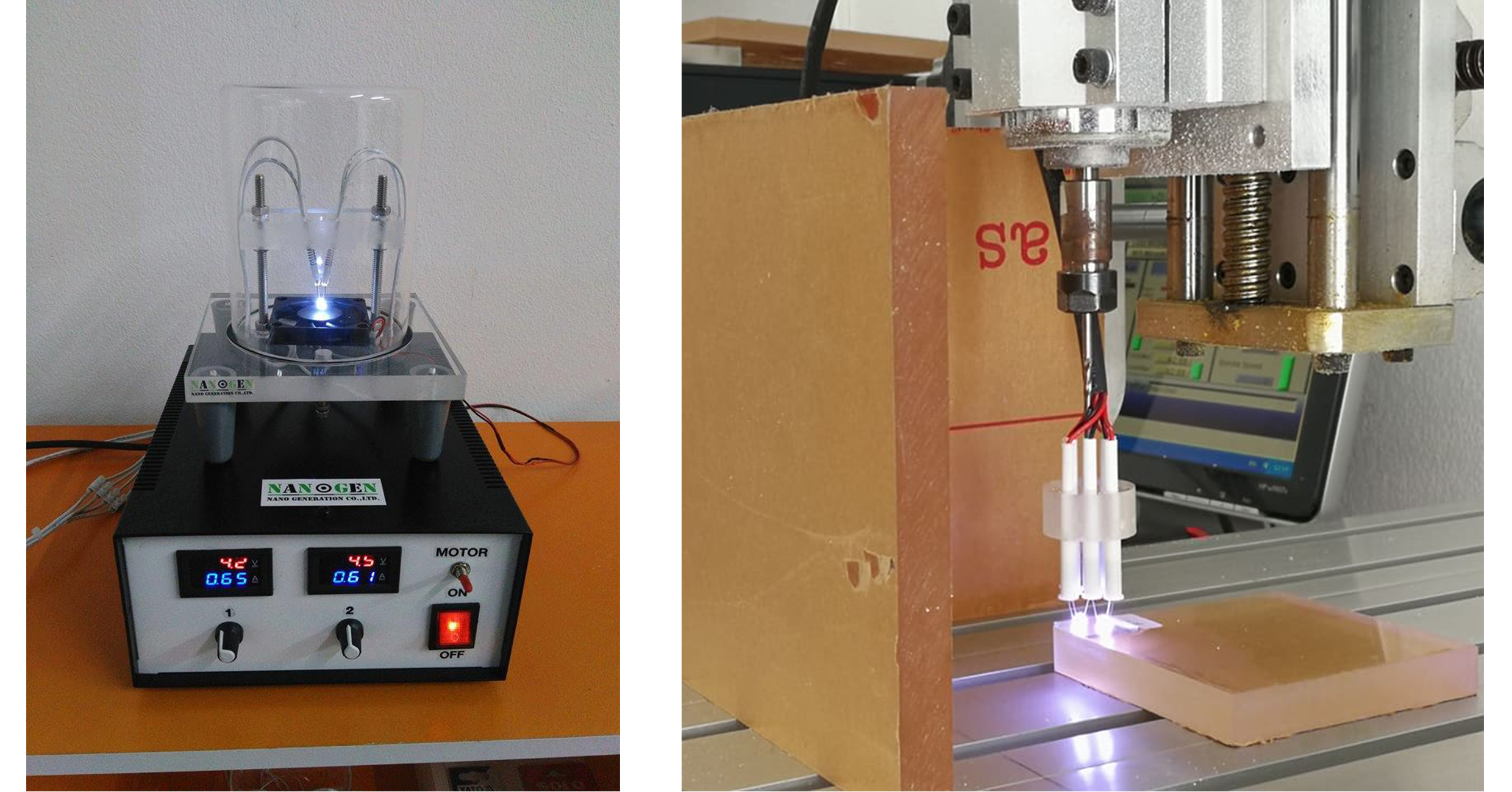 Graphical abstract
This is an open access article distributed under the
Creative Commons Attribution License
which permits unrestricted use, distribution, and reproduction in any medium, provided the original work is properly cited (CC BY 4.0).
Supplementary materials
Supplementary File 1:

PDF-Document (PDF, 1409 KB)

Externally hosted supplementary file 1
Doi: 10.1039/C7NJ04730D
Link: http://www.rsc.org/suppdata/c7/nj/c7nj04730d/c7nj04730d1.pdf
Description: Novel strategy for longevity prolongation of iron-based nanoparticles thin film by applied magnetic force Please include this to add info, and link to priprint where figure 5b, now Figure S1 can be seen

Share & Cite This Article
MDPI and ACS Style
Ručman, S.S.; Punyodom, W.; Jakmunee, J.; Singjai, P. Inducing Crystallinity of Metal Thin Films with Weak Magnetic Fields without Thermal Annealing. Crystals 2018, 8, 362.
Note that from the first issue of 2016, MDPI journals use article numbers instead of page numbers. See further details here.
Related Articles
Comments
[Return to top]