Structural and Magnetic Properties of Co‒Mn Codoped ZnO Nanoparticles Obtained by Microwave Solvothermal Synthesis
1
Institute of High Pressure Physics, Polish Academy of Sciences, Sokolowska 29/37, 01-142 Warsaw, Poland
2
Institute of Experimental Physics, Faculty of Physics, University of Warsaw, Pasteura 5, 02-093 Warsaw, Poland
*
Author to whom correspondence should be addressed.
Received: 11 October 2018 / Revised: 27 October 2018 / Accepted: 29 October 2018 / Published: 31 October 2018
Abstract
Zinc oxide nanoparticles codoped with Co
2+
and Mn
2+
ions (Zn
(1−x−y)
Mn
x
Co
y
O NPs) were obtained for the first time by microwave solvothermal synthesis. The nominal content of Co
2+
and Mn
2+
in Zn
(1−x−y)
Mn
x
Co
y
O NPs was x = y = 0, 1, 5, 10 and 15 mol % (the amount of both ions was equal). The precursors were obtained by dissolving zinc acetate dihydrate, manganese (II) acetate tetrahydrate and cobalt (II) acetate tetrahydrate in ethylene glycol. The morphology, phase purity, lattice parameters, dopants content, skeleton density, specific surface area, average particle size, average crystallite size, crystallite size distribution and magnetic properties of NPs were determined. The real content of dopants was up to 25.0% for Mn
2+
and 80.5% for Co
2+
of the nominal content. The colour of the samples changed from white to dark olive green in line with the increasing doping level. Uniform spherical NPs with wurtzite structure were obtained. The average size of NPs decreased from 29 nm to 21 nm in line with the increase in the dopant content. Brillouin type paramagnetism and an antiferromagnetic interaction between the magnetic ions was found for all samples, except for that with 15 mol % doping level, where a small ferromagnetic contribution was found. A review of the preparation methods of Co
2+
and Mn
2+
codoped ZnO is presented.
View Full-Text
►

▼

Figures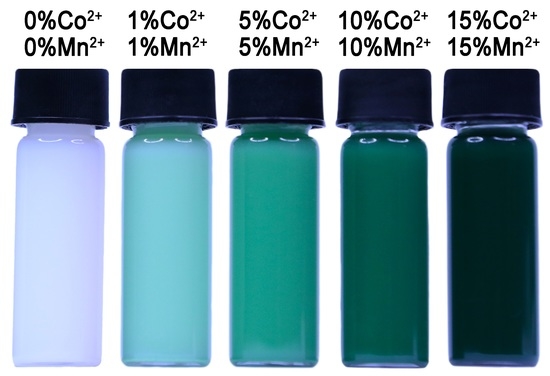 Graphical abstract
This is an open access article distributed under the
Creative Commons Attribution License
which permits unrestricted use, distribution, and reproduction in any medium, provided the original work is properly cited (CC BY 4.0).

Share & Cite This Article
MDPI and ACS Style
Wojnarowicz, J.; Omelchenko, M.; Szczytko, J.; Chudoba, T.; Gierlotka, S.; Majhofer, A.; Twardowski, A.; Lojkowski, W. Structural and Magnetic Properties of Co‒Mn Codoped ZnO Nanoparticles Obtained by Microwave Solvothermal Synthesis. Crystals 2018, 8, 410.
Note that from the first issue of 2016, MDPI journals use article numbers instead of page numbers. See further details here.
Related Articles
Comments
[Return to top]