A Review on Thermal Conversion of Plant Oil (Edible and Inedible) into Green Fuel Using Carbon-Based Nanocatalyst
1
Catalysis Science and Technology Research Centre (PutraCat); Faculty of Science, Universiti Putra Malaysia, Serdang 43400 UPM, Selangor, Malaysia
2
Nanotechnology & Catalysis Research Centre (NanoCat), Institute of Postgraduate Studies, University Malaya, Kuala Lumpur 50603, Malaysia
3
Institute of Advanced Technology, Universiti Putra Malaysia, Serdang 43400 UPM, Selangor, Malaysia
4
Chemical Engineering Department, Jessore University of Science and Technology, Jessore 7408, Bangladesh
*
Authors to whom correspondence should be addressed.
Received: 4 January 2019 / Revised: 25 January 2019 / Accepted: 26 January 2019 / Published: 10 April 2019
Abstract
Renewable diesels (e.g., biodiesel and green diesel) have emerged as a sustainable alternative to petrodiesel as a means of meeting the growing demand for fuel without damaging the environment. Although renewable diesels are composed of different chemical compositions to petrodiesel, they provide similar fuel characteristics as petrodiesel. The present articles focused on various type of green diesel, where the properties and its performance are discussed in detail. Green diesels offer multiple benefits over petrodiesel in terms of biodegradability, environmental protection and low toxicity. Additional, this paper described various types of process for green diesels production such as deoxygenation, hydrodeoxygenation, and pyrolysis. Among the synthesis process, the most effective and economical route to produce green diesel is through deoxygenation (DO). This study also emphasizes the use of a carbon-based catalyst for the DO reaction. The carbon-based catalyst renders several advantageous in term of highly resistance toward coke formation, greater catalyst stability, and product selectively, where the DO process occur via carbon–oxygen cleavage of fatty acid chain yielding diesel-like hydrocarbons. Due to this reason, various methods for synthesizing effective carbon-based catalysts for the DO reaction are further reviewed. Coke affinity over carbon-base catalyst during DO process is further discussed in the present study. Besides, DO operating condition toward optimum yield of hydrocarbons and recent progress in DO of realistic oil for production of diesel-like hydrocarbons are also discussed herein.
View Full-Text
►

▼

Figures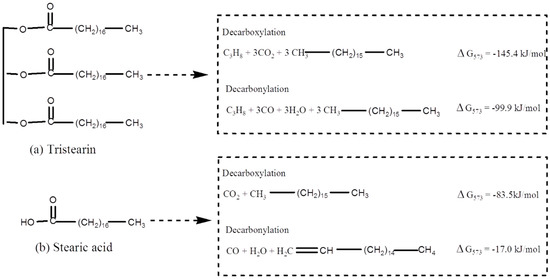 Figure 1
This is an open access article distributed under the
Creative Commons Attribution License
which permits unrestricted use, distribution, and reproduction in any medium, provided the original work is properly cited (CC BY 4.0).

Share & Cite This Article
MDPI and ACS Style
Abdulkareem-Alsultan, G.; Asikin-Mijan, N.; Lee, H.V.; Rashid, U.; Islam, A.; Taufiq-Yap, Y.H. A Review on Thermal Conversion of Plant Oil (Edible and Inedible) into Green Fuel Using Carbon-Based Nanocatalyst. Catalysts 2019, 9, 350.
Note that from the first issue of 2016, MDPI journals use article numbers instead of page numbers. See further details here.
Related Articles
Comments
[Return to top]