Characterization and Effect of Ag(0) vs. Ag(I) Species and Their Localized Plasmon Resonance on Photochemically Inactive TiO2
1
Program Studi Ilmu Lingkungan, Universitas Sriwijaya, Jalan Padang Selasa No. 524, Palembang 30121, Sumatera Selatan, Indonesia
2
Leibniz-Institut für Katalyse e. V. (LIKAT), Albert-Einstein-Str. 29a, 18059 Rostock, Germany
3
Arbeitsbereich Medizinische Biologie und Elektronenmikroskopisches Zentrum (EMZ), Universitätsmedizin Rostock, Strempelstr. 14, 18057 Rostock, Germany
4
Laboratory of Inorganic Materials Chemistry, Department of Chemical Engineering and Chemistry, Eindhoven University of Technology, P.O. Box 513, 5600 MB Eindhoven, The Netherlands
5
Program Studi Teknik Kimia, Fakultas Teknik, Universitas Sriwijaya, Jalan Palembang-Inderalaya Km. 32, Inderalaya 30862, Sumatera Selatan, Indonesia
*
Authors to whom correspondence should be addressed.
Received: 21 February 2019 / Revised: 15 March 2019 / Accepted: 25 March 2019 / Published: 2 April 2019
Abstract
Commercial TiO
2
(anatase) was successfully modified with Ag nanoparticles at different nominal loadings (1%–4%) using a liquid impregnation method. The prepared materials retained the anatase structure and contained a mixture of Ag
0
and Ag
I
species. Samples exhibited extended light absorption to the visible region. The effect of Ag loading on TiO
2
is studied for the photocatalytic reduction of CO
2
to CH
4
in a gas–solid process under high-purity conditions. It is remarkable that the reference TiO
2
used in this work is entirely inactive in this reaction, but it allows for studying the effect of Ag on the photocatalytic process in more detail. Only in the case of 2% Ag/TiO
2
was the formation of CH
4
from CO
2
observed. Using different light sources, an influence of the localized surface plasmon resonance (LSPR) effect of Ag is verified. A sample in which all Ag has been reduced to the metallic state was less active than the respective sample containing both Ag
0
and Ag
+
, indicating that a mixed oxidation state is beneficial for photocatalytic performance. These results contribute to a better understanding of the effect of metal modification of TiO
2
in photocatalytic CO
2
reduction.
View Full-Text
►

▼

Figures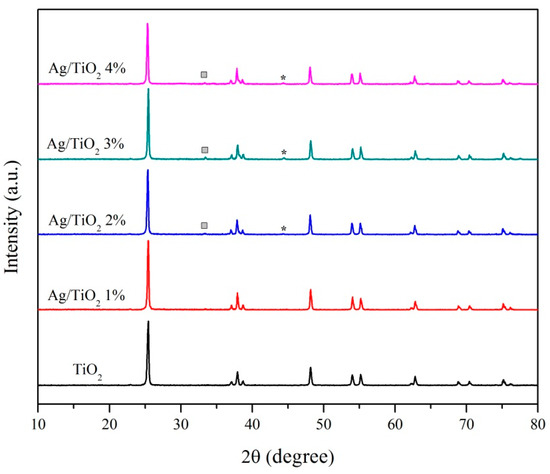 Figure 1
This is an open access article distributed under the
Creative Commons Attribution License
which permits unrestricted use, distribution, and reproduction in any medium, provided the original work is properly cited (CC BY 4.0).

Share & Cite This Article
MDPI and ACS Style
Handoko, C.T.; Moustakas, N.G.; Peppel, T.; Springer, A.; Oropeza, F.E.; Huda, A.; Bustan, M.D.; Yudono, B.; Gulo, F.; Strunk, J. Characterization and Effect of Ag(0) vs. Ag(I) Species and Their Localized Plasmon Resonance on Photochemically Inactive TiO2. Catalysts 2019, 9, 323.
Note that from the first issue of 2016, MDPI journals use article numbers instead of page numbers. See further details here.
Related Articles
Comments
[Return to top]