First-Principles Study of Optoelectronic Properties of the Noble Metal (Ag and Pd) Doped BiOX (X = F, Cl, Br, and I) Photocatalytic System
1
National Center for International Research on Green Optoelectronics, South China Academy of Advanced Optoelectronics, South China Normal University, Guangzhou 510006, China
2
Shenzhen Guohua Optoelectronics Tech. Co. Ltd., Shenzhen 518110, China
3
Siyuan Laboratory, Guangzhou Key Laboratory of Vacuum Coating Technologies and New Energy Materials, Department of Physics, Jinan University, Guangzhou 510632, China
4
Shenyang Institute of Automation, Guangzhou, Chinese Academy of Sciences, Guangzhou 511458, China
5
Department of Chemistry and Biochemistry, North Dakota State University, Fargo, ND 58108, USA
6
Department of Physics, South China University of Technology, Guangzhou 510640, China
*
Authors to whom correspondence should be addressed.
Received: 19 December 2018 / Revised: 30 January 2019 / Accepted: 31 January 2019 / Published: 21 February 2019
Abstract
To explore the photocatalytic performances and optoelectronic properties of pure and doped bismuth oxyhalides D-doped BiOX (D = Ag, Pd; X = F, Cl, Br, I) compounds, their atomic properties, electronic structures, and optical properties were systematically investigated using first-principles calculations. In previous experiments, the BiOX (X = Cl, Br) based system has been observed with enhanced visible light photocatalytic activity driven by the Ag dopant. Our calculations also show that the potential photocatalytic performance of Ag-doped BiOCl or BiOBr systems is enhanced greatly under visible light, compared with other Pd-doped BiOX (X = Cl, Br) compounds. Furthermore, it is intriguing to find that the Pd-doped BiOF compound has strong absorption over the infrared and visible light spectrum, which may offer an effective strategy for a promising full spectrum catalyst. Indicated by various Mulliken charge distributions and different impurity states in the gap when Ag or Pd was doped in the BiOX compounds, we notice that all D-doped BiOXs exhibit a p-type semiconductor, and all impurity levels originated from the D-4d state. The charge transfer, optoelectronic properties, and absorption coefficients for photocatalytic activities among D-doped BiOX photocatalysts caused by the electronegativity difference of halide elements and metal atoms will finally affect the photocatalytic activity of doped BiOX systems. Therefore, it is significant to understand the inside physical mechanism of the enhanced Ag/Pd-doped BiOX photocatalysts through density functional theory.
View Full-Text
►

▼

Figures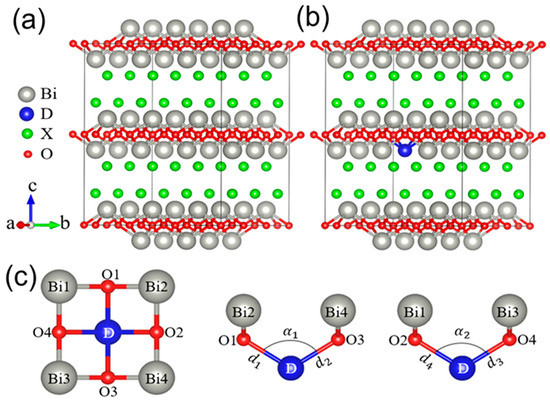 Figure 1
This is an open access article distributed under the
Creative Commons Attribution License
which permits unrestricted use, distribution, and reproduction in any medium, provided the original work is properly cited (CC BY 4.0).

Share & Cite This Article
MDPI and ACS Style
Zhou, S.; Shi, T.; Chen, Z.; Kilin, D.S.; Shui, L.; Jin, M.; Yi, Z.; Yuan, M.; Li, N.; Yang, X.; Meng, Q.; Wang, X.; Zhou, G. First-Principles Study of Optoelectronic Properties of the Noble Metal (Ag and Pd) Doped BiOX (X = F, Cl, Br, and I) Photocatalytic System. Catalysts 2019, 9, 198.
Note that from the first issue of 2016, MDPI journals use article numbers instead of page numbers. See further details here.
Related Articles
Comments
[Return to top]