Air Regeneration of Ethanol-Laden Pellet NaY-SiO2 and Pt/NaY-SiO2: Effects of Air Flow Rate on Pt Morphology and Regeneration Efficiency
1
Department of Chemical Engineering, National Chung Cheng University, Chia-Yi 62102, Taiwan
2
National Synchrotron Radiation Research Center, Hsinchu 30076, Taiwan
*
Author to whom correspondence should be addressed.
Received: 19 June 2018 / Revised: 10 July 2018 / Accepted: 12 July 2018 / Published: 17 July 2018
Abstract
Regeneration process and adsorbent performance were investigated by a fixed-bed adsorber at 300 °C. Surface species, zeolite structure, and Pt morphology were characterized by FT-IR, XRPD and EXAFS, respectively. Performance test results indicated that ethanol adsorption capacity of Pt/NaY-SiO
2
is about 2.5 times that of NaY-SiO
2
. After regeneration, adsorption-capacity loss is 2.5 and 43%, respectively, for Pt/NaY-SiO
2
regenerated at superficial velocity of 13.2 (PtR
(HF)
) and 5.3 cm/min (PtR
(LF)
); in contrast, it is 8 and 21%, respectively, for NaYR
(HF)
and NaYR
(LF)
. The appearance of absorption bands in the CH stretching region (υ
CH
) of the IR spectra characterizing the regenerated NaY-SiO
2
suggested that the adsorption-capacity loss for NaY-SiO
2
was mainly caused by the deposition of carbonaceous species formed in regeneration, which cannot be burned off readily at 300 °C. In contrast, no υ
CH
bands have been observed for the IR spectra of PtR
(HF)
and PtR
(LF)
, indicating that Pt helps to burn off carbonaceous species. However, Pt agglomeration was observed in TEM and EXAFS for Pt/NaY-SiO
2(LF)
. The appearance of a υ
CO
band at about 2085 cm
−1
of the IR spectra characterizing PtR
(LF)
suggested that Pt agglomeration was induced by CO adsorption. The growth of Pt particles decreases the ethanol adsorbed on Pt together with the conversion of ethanol to ethoxides and aldehyde, leading to a decrease of adsorption capacity.
View Full-Text
►

▼

Figures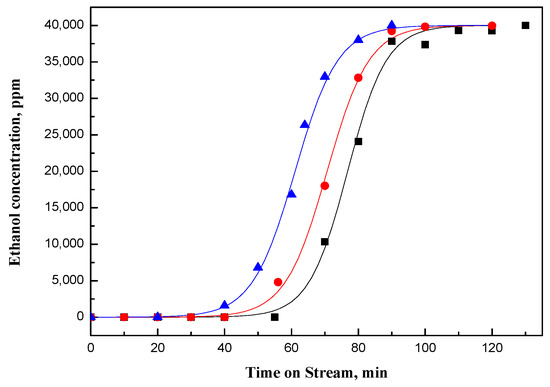 Figure 1
This is an open access article distributed under the
Creative Commons Attribution License
which permits unrestricted use, distribution, and reproduction in any medium, provided the original work is properly cited (CC BY 4.0).

Share & Cite This Article
MDPI and ACS Style
Yeh, C.-Y.; Chen, Y.-T.; Chen, N.-Y.; Chang, J.-R. Air Regeneration of Ethanol-Laden Pellet NaY-SiO2 and Pt/NaY-SiO2: Effects of Air Flow Rate on Pt Morphology and Regeneration Efficiency. Catalysts 2018, 8, 288.
Note that from the first issue of 2016, MDPI journals use article numbers instead of page numbers. See further details here.
Related Articles
Comments
[Return to top]