Tuning the Activity and Selectivity of Phenylacetylene Hydrosilylation with Triethylsilane in the Liquid Phase over Size Controlled Pt Nanoparticles
1
Department of Applied and Environmental Chemistry, University of Szeged, H-6720 Szeged, Hungary
2
Institute of Organic Chemistry, Research Centre for Natural Sciences, Hungarian Academy of Sciences, Budapest, Magyar tudósok körútja 2, 1117 Budapest, Hungary
3
MTA-SZTE Reaction Kinetics and Surface Chemistry Research Group, University of Szeged, H-6720 Szeged, Hungary
4
Institute of Environmental and Technological Sciences, University of Szeged, H-6720 Szeged, Hungary
*
Author to whom correspondence should be addressed.
Received: 11 December 2017 / Revised: 8 January 2018 / Accepted: 11 January 2018 / Published: 13 January 2018
Abstract
Pt nanoparticles with controlled sizes between 1.6–7.0 nm were anchored onto the surface and pores of SBA-15 silica support. The catalysts were characterized by TEM-ED, BET, XRD, and ICP-MS techniques and were tested in liquid phase hydrosilylation of phenylacetylene with triethylsilane. The activity of the 7.0 nm Pt nanoparticles anchored onto the surface of SBA-15 in hydrosilylation (TOF = 0.107 molecules·site
−1
·s
−1
) was ~2 times higher compared to the 5.0 nm Pt/SBA-15 (TOF = 0.049 molecules·site
−1
·s
−1
) catalyst and ~10 times higher compared to the 1.6 nm Pt/SBA-15 (TOF = 0.017 molecules·site
−1
·s
−1
) catalyst. Regarding the selectivity, bigger nanoparticles produced more vinylsilane-type products (α- and β-(E)-products) and less side products (mainly ditriethylsilane, triethyl(1-phenylethyl)silane and triethyl(phenethyl)silane derived likely from the reduction of the vinylsilane products). However, the selectivity towards the β-(
E
)-triethyl(styryl)silane was higher in the case of 1.6 nm Pt/SBA-15 catalyst compared to 5.0 nm Pt/SBA-15 and 7.0 nm Pt/SBA-15, respectively, which can be attributed to the beneficial effect of the size differences of the Pt nanoparticles as well as the differences of the quality and quantity of Pt/SiO
2
interfaces.
View Full-Text
►

▼

Figures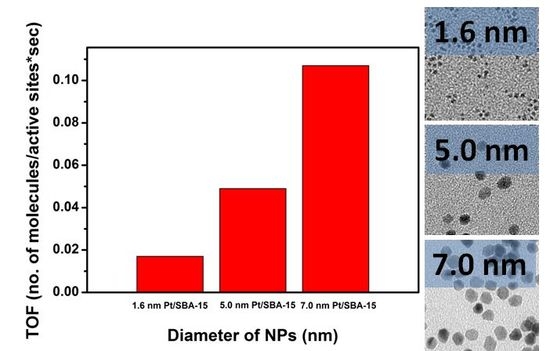 Graphical abstract
This is an open access article distributed under the
Creative Commons Attribution License
which permits unrestricted use, distribution, and reproduction in any medium, provided the original work is properly cited (CC BY 4.0).

Share & Cite This Article
MDPI and ACS Style
G. Dobó, D.; Sipos, D.; Sápi, A.; London, G.; Juhász, K.L.; Kukovecz, Á.; Kónya, Z. Tuning the Activity and Selectivity of Phenylacetylene Hydrosilylation with Triethylsilane in the Liquid Phase over Size Controlled Pt Nanoparticles. Catalysts 2018, 8, 22.
Note that from the first issue of 2016, MDPI journals use article numbers instead of page numbers. See further details here.
Related Articles
Comments
[Return to top]