Immobilized Palladium Nanoparticles on Zirconium Carboxy-Aminophosphonates Nanosheets as an Efficient Recoverable Heterogeneous Catalyst for Suzuki–Miyaura and Heck Coupling
1
CEMIN—Dipartimento di Chimica, Biologia e Biotecnologie University of Perugia, Via Elce di Sotto, 8, 06123 Perugia, Italy
2
Dipartimento di Scienze Farmaceutiche, University of Perugia,Via del Liceo 1, 06123 Perugia, Italy
*
Authors to whom correspondence should be addressed.
Academic Editor: Stuart H. Taylor
Received: 5 May 2017 / Revised: 29 May 2017 / Accepted: 4 June 2017 / Published: 9 June 2017
Abstract
Zirconium phosphate glycine diphosphonate nanosheets (ZPGly) have been used as support for the preparation of solid palladium nanoparticles, namely
[email protected]
Thanks to the presence of carboxy-aminophosponate groups on the layer surface, ZPGly-based materials were able to stabilize a high amount of palladium (up to 22 wt %) also minimizing the amount of metal leached in the final products of representative important cross-coupling processes selected for proving the catalysts' efficiency. The catalytic systems have been fully characterized and used in low amounts (0.1 mol %) in the Suzuki–Miyaura and Heck cross-couplings. Moreover, the protocols were optimized for the use of recoverable azeotropic mixtures (aq. EtOH 96% or aq. CH
3
CN 84%, respectively) and in the flow procedure allowing one to isolate the final pure products, without any purification step, with very low residual palladium content and with a very low waste production.
View Full-Text
►

▼

Figures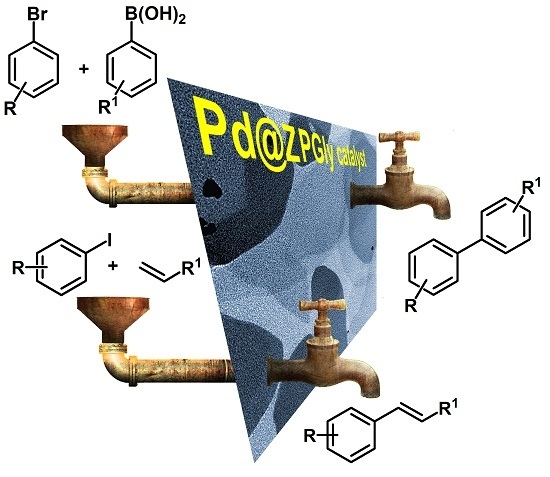 Graphical abstract
This is an open access article distributed under the
Creative Commons Attribution License
which permits unrestricted use, distribution, and reproduction in any medium, provided the original work is properly cited (CC BY 4.0).

Share & Cite This Article
MDPI and ACS Style
Kozell, V.; Giannoni, T.; Nocchetti, M.; Vivani, R.; Piermatti, O.; Vaccaro, L. Immobilized Palladium Nanoparticles on Zirconium Carboxy-Aminophosphonates Nanosheets as an Efficient Recoverable Heterogeneous Catalyst for Suzuki–Miyaura and Heck Coupling. Catalysts 2017, 7, 186.
Note that from the first issue of 2016, MDPI journals use article numbers instead of page numbers. See further details here.
Related Articles
Comments
[Return to top]