Reactive Magnetron Sputter Deposition of Bismuth Tungstate Coatings for Water Treatment Applications under Natural Sunlight
1
Surface Engineering Group, School of Engineering, Manchester Metropolitan University, Manchester M1 5GD, UK
2
Department of Sanitary and Environmental Engineering, Universidade Federal de Minas Gerais, 6627 Av. Antônio Carlos, Bairro Pampulha, Belo Horizonte-MG 31270-901, Brazil
3
Department of Chemistry, Centro Federal de Educação Tecnológica de Minas Gerais, Av. Amazonas 5253, Belo Horizonte 30431-025, Brazil
*
Author to whom correspondence should be addressed.
Received: 8 September 2017 / Revised: 21 September 2017 / Accepted: 21 September 2017 / Published: 23 September 2017
Abstract
Bismuth complex oxides, in particular, bismuth tungstate, have recently attracted attention as promising photocatalytic materials for water treatment processes. In the present work, photocatalytic bismuth tungstate films were prepared by pulsed direct current (DC) reactive magnetron sputtering of Bi and W targets in an Ar/O
2
atmosphere onto spherically-shaped glass beads. The uniform coverage of the substrate was enabled by the use of oscillating bowl placed underneath the magnetrons. The atomic ratio of Bi/W was varied through the variation of the power applied to the magnetrons. The deposited coatings were analyzed by the scanning electron microscopy (SEM), energy dispersive X-ray spectroscopy (EDX), X-ray diffraction (XRD), X-ray photoelectron spectroscopy and atomic force microscopy. The photocatalytic properties of the films were studied via the methylene blue (MB) degradation process under artificial (fluorescent light) and natural (sunlight) irradiation, and compared to the photocatalytic performance of titanium dioxide coatings deposited onto identical substrates. The results showed that the photocatalytic performance of bismuth tungstate and bismuth oxide-coated beads was superior to that exhibited by TiO
2
-coated beads. Overall, reactive magnetron co-sputtering has been shown to be a promising technique for deposition of narrow band gap bismuth-based semiconducting oxides onto irregularly-shaped substrates for potential use in water treatment applications.
View Full-Text
►

▼

Figures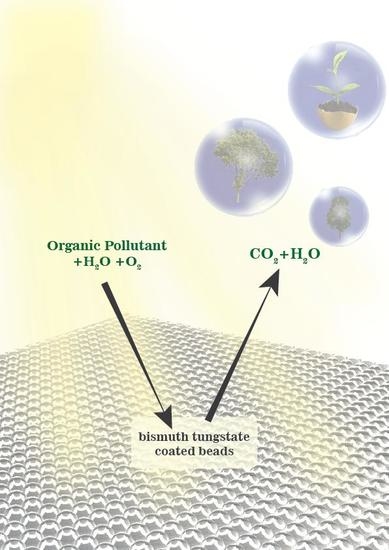 Graphical abstract
This is an open access article distributed under the
Creative Commons Attribution License
which permits unrestricted use, distribution, and reproduction in any medium, provided the original work is properly cited (CC BY 4.0).

Share & Cite This Article
MDPI and ACS Style
Ratova, M.; Marcelino, R.B.P.; De Souza, P.P.; Amorim, C.C.; Kelly, P.J. Reactive Magnetron Sputter Deposition of Bismuth Tungstate Coatings for Water Treatment Applications under Natural Sunlight. Catalysts 2017, 7, 283.
Note that from the first issue of 2016, MDPI journals use article numbers instead of page numbers. See further details here.
Related Articles
Comments
[Return to top]