Novel Antibody-Drug Conjugate with Anti-CD26 Humanized Monoclonal Antibody and Transcription Factor IIH (TFIIH) Inhibitor, Triptolide, Inhibits Tumor Growth via Impairing mRNA Synthesis
1
Department of Pathology, Keio University School of Medicine, 35 Shinanomachi, Shinjuku-ku, Tokyo 160-8582, Japan
2
Department of Pediatrics, Keio University School of Medicine, 35 Shinanomachi, Shinjuku-ku, Tokyo 160-8582, Japan
3
Department of Biochemistry, The Jikei University School of Medicine, 3-25-8 Nishi-Shimbashi, Minato-ku, Tokyo 105-8461, Japan
4
Department of Therapy Development and Innovation for Immune Disorders and Cancers, Juntendo University Graduate School of Medicine, 2-1-1 Hongo, Bunkyo-ku, Tokyo 113-8421, Japan
5
Department of Fundamental Science and Technology, Keio University School of Science and Technology, 3-14-1 Hiyoshi, Kouhoku-ku, Yokohama City 233-8522, Kanagawa, Japan
6
IDAC Theranostics Inc., 1-1-48 Suehirocho, Tsurumi-ku, Yokohama City 230-0045, Kanagawa, Japan
7
Department of Pathology, Saitama Medical University, 38 Morohongo, Moroyama-machi, Saitama 350-0495, Japan
*
Author to whom correspondence should be addressed.
Received: 17 July 2019 / Accepted: 5 August 2019 / Published: 8 August 2019
Abstract
Here, we report a novel antibody drug conjugate (ADC) with the humanized anti-CD26 monoclonal antibody YS110 and triptolide (TR-1). YS110 has an inhibitory activity against the CD26-positive tumor growth via the immunological and direct pathway, such as intra-nuclear transportation of CD26 and YS110, and suppressed transcription of RNA polymerase II (Pol II) subunit POLR2A. The ADC conjugated with YS110 and an antitumor compound triptolide (TR-1), which is an inhibitor for TFIIH, one of the general transcription factors for Pol II was developed. YS110 and triptolide were crosslinked by the heterobifunctional linker succinimidyl 4-(N-maleimidomethyl)cyclohexane-1-carboxylate (SMCC) and designated Y-TR1. Antitumor efficacy of Y-TR1 against malignant mesothelioma and leukemia cell lines were assessed by the in vitro cell viability assay and in vivo assay using xenografted mouse models. Y-TR1 showed significant cytotoxicity against CD26-positive cell lines but not CD26-negative counterparts in a dose-dependent manner via suppression of mRNA synthesis by impairment of the Pol II activity. The tumors in xenografted mice administered Y-TR1 was smaller than that of the unconjugated YS110 treated mice without severe toxicity. In conclusion, the novel compound Y-TR1 showed antitumor properties against CD26-positive cancer cell lines both in vitro and in vivo without toxicity. The Y-TR1 is a unique antitumor ADC and functions against Pol II.
View Full-Text
►

▼

Figures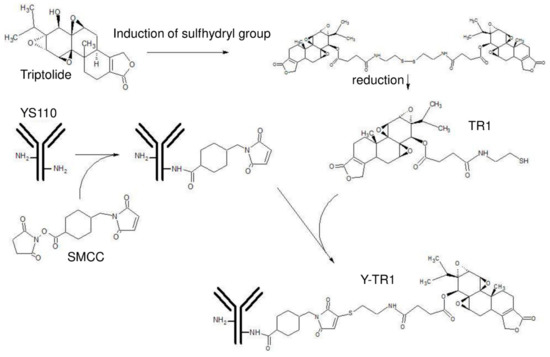 Figure 1
This is an open access article distributed under the
Creative Commons Attribution License
which permits unrestricted use, distribution, and reproduction in any medium, provided the original work is properly cited (CC BY 4.0).

Share & Cite This Article
MDPI and ACS Style
Hayashi, M.; Madokoro, H.; Yamada, K.; Nishida, H.; Morimoto, C.; Sakamoto, M.; Yanagawa, H.; Yamada, T. Novel Antibody-Drug Conjugate with Anti-CD26 Humanized Monoclonal Antibody and Transcription Factor IIH (TFIIH) Inhibitor, Triptolide, Inhibits Tumor Growth via Impairing mRNA Synthesis. Cancers 2019, 11, 1138.
Note that from the first issue of 2016, MDPI journals use article numbers instead of page numbers. See further details here.
Related Articles
Comments
[Return to top]