Synergistic Effects of Melittin and Plasma Treatment: A Promising Approach for Cancer Therapy
1
Research Group PLASMANT, Department of Chemistry, University of Antwerp, BE-2610 Wilrijk-Antwerp, Belgium
2
Laboratory of Protein Science, Proteomics & Epigenetic Signaling, Department of Biomedical Sciences, University of Antwerp, BE-2610 Wilrijk-Antwerp, Belgium
*
Authors to whom correspondence should be addressed.
Received: 18 June 2019 / Revised: 30 July 2019 / Accepted: 1 August 2019 / Published: 3 August 2019
Abstract
Melittin (MEL), a small peptide component of bee venom, has been reported to exhibit anti-cancer effects in vitro and in vivo. However, its clinical applicability is disputed because of its non-specific cytotoxicity and haemolytic activity in high treatment doses. Plasma-treated phosphate buffered saline solution (PT-PBS), a solution rich in reactive oxygen and nitrogen species (RONS) can disrupt the cell membrane integrity and induce cancer cell death through oxidative stress-mediated pathways. Thus, PT-PBS could be used in combination with MEL to facilitate its access into cancer cells and to reduce the required therapeutic dose. The aim of our study is to determine the reduction of the effective dose of MEL required to eliminate cancer cells by its combination with PT-PBS. For this purpose, we have optimised the MEL threshold concentration and tested the combined treatment of MEL and PT-PBS on A375 melanoma and MCF7 breast cancer cells, using in vitro, in ovo and in silico approaches. We investigated the cytotoxic effect of MEL and PT-PBS alone and in combination to reveal their synergistic cytological effects. To support the in vitro and in ovo experiments, we showed by computer simulations that plasma-induced oxidation of the phospholipid bilayer leads to a decrease of the free energy barrier for translocation of MEL in comparison with the non-oxidized bilayer, which also suggests a synergistic effect of MEL with plasma induced oxidation. Overall, our findings suggest that MEL in combination with PT-PBS can be a promising combinational therapy to circumvent the non-specific toxicity of MEL, which may help for clinical applicability in the future.
View Full-Text
►

▼

Figures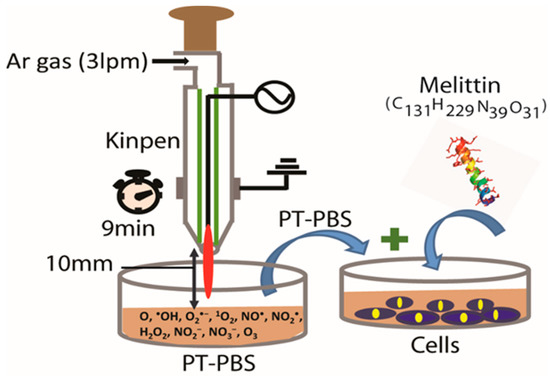 Figure 1
This is an open access article distributed under the
Creative Commons Attribution License
which permits unrestricted use, distribution, and reproduction in any medium, provided the original work is properly cited (CC BY 4.0).

Share & Cite This Article
MDPI and ACS Style
Shaw, P.; Kumar, N.; Hammerschmid, D.; Privat-Maldonado, A.; Dewilde, S.; Bogaerts, A. Synergistic Effects of Melittin and Plasma Treatment: A Promising Approach for Cancer Therapy. Cancers 2019, 11, 1109.
Note that from the first issue of 2016, MDPI journals use article numbers instead of page numbers. See further details here.
Related Articles
Comments
[Return to top]