Comparative Transcriptomic Analysis of Temozolomide Resistant Primary GBM Stem-Like Cells and Recurrent GBM Identifies Up-Regulation of the Carbonic Anhydrase
CA2

Gene as Resistance Factor

1

Department of Neurosurgery, UKGM, Philipps University Marburg, Baldingerstraße, 35033 Marburg, Germany

2

Department of Radiation Cytogenetics, Helmholtz Zentrum München, German Research Center for Environmental Health, Ingolstaedter Landstr. 1, 85764 Neuherberg, Germany

3

Department of Neuropathology, UKGM, Philipps University Marburg, Baldingerstraße, 35033 Marburg, Germany

4

Genomics Core Facility, Philipps University Marburg, Hans-Meerwein-Straße 3, 35043 Marburg, Germany

5

Institute of Molecular Oncology, member of the German Center for Lung Research (DZL), Philipps University Marburg, Hans-Meerwein-Straße 3, 35043 Marburg, Germany

6

Institute for Neuropathology, Justus-Liebig University Gießen, Arndtstr. 16, 35392 Gießen, Germany

*

Author to whom correspondence should be addressed.

Received: 3 June 2019 / Revised: 24 June 2019 / Accepted: 28 June 2019 / Published: 30 June 2019
Abstract
About 95% of patients with Glioblastoma (GBM) show tumor relapse, leaving them with limited therapeutic options as recurrent tumors are most often resistant to the first line chemotherapy standard Temozolomide (TMZ). To identify molecular pathways involved in TMZ resistance, primary GBM Stem-like Cells (GSCs) were isolated, characterized, and selected for TMZ resistance in vitro. Subsequently, RNA sequencing analysis was performed and revealed a total of 49 differentially expressed genes (|log2-fold change| > 0.5 and adjusted
p
-value < 0.1) in TMZ resistant stem-like cells compared to their matched DMSO control cells. Among up-regulated genes, we identified carbonic anhydrase 2 (CA2) as a candidate gene correlated with glioma malignancy and patient survival. Notably, we describe consistent up-regulation of CA2 not only in TMZ resistant GSCs on mRNA and protein level, but also in patient-matched clinical samples of first manifest and recurrent tumors. Co-treatment with the carbonic anhydrase inhibitor Acetazolamid (ACZ) sensitized cells to TMZ induced cell death. Cumulatively, our findings illustrate the potential of CA2 as a chemosensitizing target in recurrent GBM and provide a rationale for a therapy associated inhibition of CA2 to overcome TMZ induced chemoresistance.
View Full-Text
►

▼

Figures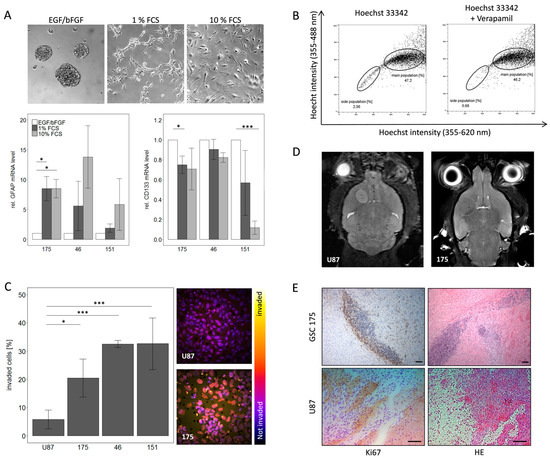 Figure 1
This is an open access article distributed under the
Creative Commons Attribution License
which permits unrestricted use, distribution, and reproduction in any medium, provided the original work is properly cited (CC BY 4.0).

Share & Cite This Article
MDPI and ACS Style
Hannen, R.; Selmansberger, M.; Hauswald, M.; Pagenstecher, A.; Nist, A.; Stiewe, T.; Acker, T.; Carl, B.; Nimsky, C.; Bartsch, J.W. Comparative Transcriptomic Analysis of Temozolomide Resistant Primary GBM Stem-Like Cells and Recurrent GBM Identifies Up-Regulation of the Carbonic Anhydrase CA2 Gene as Resistance Factor. Cancers 2019, 11, 921.
Note that from the first issue of 2016, MDPI journals use article numbers instead of page numbers. See further details here.
Related Articles
Comments
[Return to top]