Recurrent DMD Deletions Highlight Specific Role of Dp71 Isoform in Soft-Tissue Sarcomas
1
Institut national de la santé et de la recherche médicale (INSERM) U1218, Bergonié Cancer Institute, F-33076 Bordeaux, France
2
ED 340 BMIC, Claude Bernard Lyon 1 University, F-69622 Villeurbanne, France
3
Department of Pathology, Bergonié Cancer Institute, F-33076 Bordeaux, France
4
Department of Life and Health Sciences, University of Bordeaux, F-33000 Bordeaux, France
5
Department of Pathology, Léon Bérard Center, F-69003 Lyon, France
*
Author to whom correspondence should be addressed.
†
Current address: INSERM U1037, Cancer Research Center of Toulouse (CRCT) and Department of Pathology, Institut Claudius Regaud, IUCT-Oncopole, 31037 Toulouse, France.
Received: 16 May 2019 / Revised: 27 June 2019 / Accepted: 28 June 2019 / Published: 1 July 2019
Abstract
Soft-tissue sarcomas (STS) are rare tumors whose oncogenesis remains unknown and for which no common therapeutic target has yet been identified. Analysis of 318 STS by CGH array evidenced a frequent deletion affecting the
DMD
gene (encoding dystrophin isoforms) in 16.5% of STS, including sarcomas with complex genomics, gastrointestinal tumors (GIST), and synovial sarcomas (SS). These deletions are significantly associated with metastatic progression, thus suggesting the role of DMD downregulation in the acquisition of aggressive phenotypes. We observed that targeted deletions of DMD were restricted to the 5' region of the gene, which is responsible for the transcription of Dp427. Analysis of STS tumors and cell lines by RNA sequencing revealed that only the Dp71 isoform was widely expressed. Dp427 depletion had no effect on cell growth or migration. However, Dp71 inhibition by shRNA dramatically reduced the cell proliferation and clonogenicity of three STS cell lines, likely by altering the cell cycle progression through the G2/M-phase. Our work demonstrates that DMD deletions are not restricted to myogenic tumors and could be used as a biomarker for metastatic evolution in STS. Dp71 seems to play an essential role in tumor growth, thus providing a potential target for future STS treatments.
View Full-Text
►

▼

Figures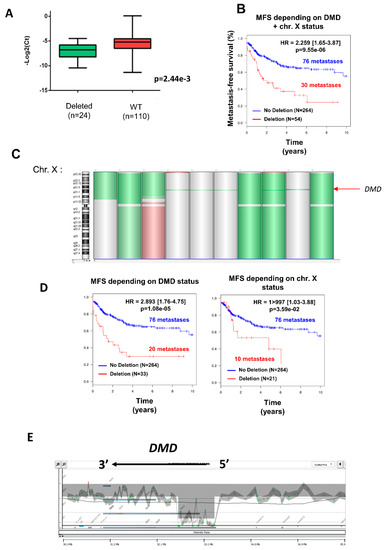 Figure 1
This is an open access article distributed under the
Creative Commons Attribution License
which permits unrestricted use, distribution, and reproduction in any medium, provided the original work is properly cited (CC BY 4.0).

Share & Cite This Article
MDPI and ACS Style
Mauduit, O.; Delcroix, V.; Lesluyes, T.; Pérot, G.; Lagarde, P.; Lartigue, L.; Blay, J.-Y.; Chibon, F. Recurrent DMD Deletions Highlight Specific Role of Dp71 Isoform in Soft-Tissue Sarcomas. Cancers 2019, 11, 922.
Note that from the first issue of 2016, MDPI journals use article numbers instead of page numbers. See further details here.
Related Articles
Comments
[Return to top]