Direct and Indirect Targeting of HOXA9 Transcription Factor in Acute Myeloid Leukemia
1
UMR-S1172 – JPArc – Centre de Recherche Jean-Pierre Aubert Neurosciences and Cancer, INSERM, F-59000 Lille, France
2
Université de Lille, F-59000 Lille, France
3
CHU Lille, F-59000 Lille, France
4
Institut pour la Recherche sur le Cancer de Lille, F-59045 Lille, France
*
Author to whom correspondence should be addressed.
Received: 14 May 2019 / Revised: 10 June 2019 / Accepted: 13 June 2019 / Published: 17 June 2019
Abstract
HOXA9 (Homeobox A9) is a homeotic transcription factor known for more than two decades to be associated with leukemia. The expression of HOXA9 homeoprotein is associated with anterior–posterior patterning during embryonic development, and its expression is then abolished in most adult cells, with the exception of hematopoietic progenitor cells. The oncogenic function of HOXA9 was first assessed in human acute myeloid leukemia (AML), particularly in the mixed-phenotype associated lineage leukemia (MPAL) subtype. HOXA9 expression in AML is associated with aggressiveness and a poor prognosis. Since then, HOXA9 has been involved in other hematopoietic malignancies and an increasing number of solid tumors. Despite this, HOXA9 was for a long time not targeted to treat cancer, mainly since, as a transcription factor, it belongs to a class of protein long considered to be an "undruggable" target; however, things have now evolved. The aim of the present review is to focus on the different aspects of HOXA9 targeting that could be achieved through multiple ways: (1) indirectly, through the inhibition of its expression, a strategy acting principally at the epigenetic level; or (2) directly, through the inhibition of its transcription factor function by acting at either the protein/protein interaction or the protein/DNA interaction interfaces.
View Full-Text
►

▼

Figures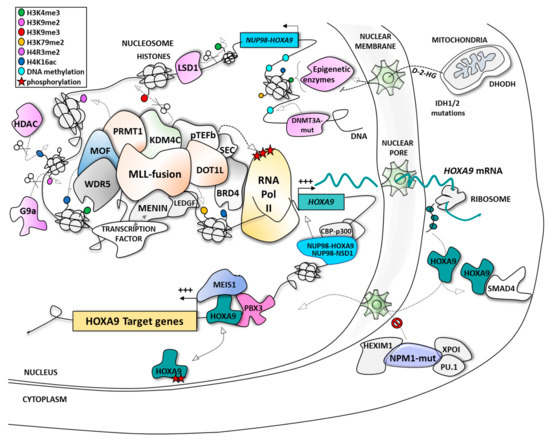 Figure 1
This is an open access article distributed under the
Creative Commons Attribution License
which permits unrestricted use, distribution, and reproduction in any medium, provided the original work is properly cited (CC BY 4.0).

Share & Cite This Article
MDPI and ACS Style
Lambert, M.; Alioui, M.; Jambon, S.; Depauw, S.; Seuningen, I.V.; David-Cordonnier, M.-H. Direct and Indirect Targeting of HOXA9 Transcription Factor in Acute Myeloid Leukemia. Cancers 2019, 11, 837.
Note that from the first issue of 2016, MDPI journals use article numbers instead of page numbers. See further details here.
Related Articles
Comments
[Return to top]