The Novel TORC1/2 Kinase Inhibitor PQR620 Has Anti-Tumor Activity in Lymphomas as a Single Agent and in Combination with Venetoclax
1
Institute of Oncology Research, Università della Svizzera Italiana, 6500 Bellinzona, Switzerland
2
PIQUR Therapeutics AG, 4057 Basel, Switzerland
3
Dipartimento di Scienze Veterinarie, Università degli Studi di Torino, 10095 Grugliasco (TO), Italy
4
Swiss Institute of Bioinformatics (SIB), 1015 Lausanne, Switzerland
5
Department of Biomedicine, University of Basel, 4056 Basel, Switzerland
6
Oncology Institute of Southern Switzerland, 6500 Bellinzona, Switzerland
*
Author to whom correspondence should be addressed.
Received: 10 March 2019 / Revised: 29 May 2019 / Accepted: 1 June 2019 / Published: 4 June 2019
Abstract
The phosphatidylinositol 3-kinase (PI3K)/AKT/mammalian target of rapamycin (mTOR) signaling cascade is an important therapeutic target for lymphomas. Rapamycin-derivates as allosteric mTOR complex 1 (TORC1) inhibitors have shown moderate preclinical and clinical anti-lymphoma activity. Here, we assessed the anti-tumor activity of PQR620, a novel brain penetrant dual TORC1/2 inhibitor, in 56 lymphoma cell lines. We observed anti-tumor activity across 56 lymphoma models with a median IC
50
value of 250 nM after 72 h of exposure. PQR620 was largely cytostatic, but the combination with the BCL2 inhibitor venetoclax led to cytotoxicity. Both the single agent and the combination data were validated in xenograft models. The data support further evaluation of PQR620 as a single agent or in combination with venetoclax.
View Full-Text
►

▼

Figures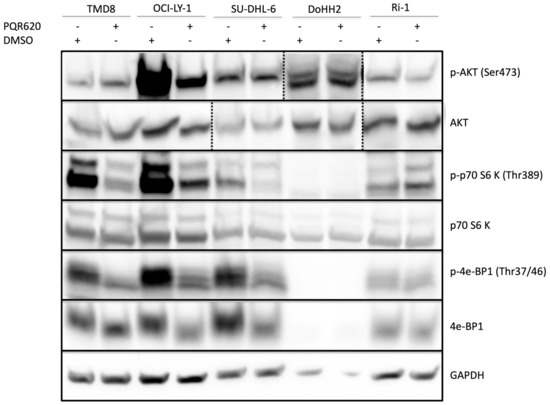 Figure 1
This is an open access article distributed under the
Creative Commons Attribution License
which permits unrestricted use, distribution, and reproduction in any medium, provided the original work is properly cited (CC BY 4.0).

Share & Cite This Article
MDPI and ACS Style
Tarantelli, C.; Gaudio, E.; Hillmann, P.; Spriano, F.; Sartori, G.; Aresu, L.; Cascione, L.; Rageot, D.; Kwee, I.; Beaufils, F.; Zucca, E.; Stathis, A.; Wymann, M.P.; Cmiljanovic, V.; Fabbro, D.; Bertoni, F. The Novel TORC1/2 Kinase Inhibitor PQR620 Has Anti-Tumor Activity in Lymphomas as a Single Agent and in Combination with Venetoclax. Cancers 2019, 11, 775.
Note that from the first issue of 2016, MDPI journals use article numbers instead of page numbers. See further details here.
Related Articles
Comments
[Return to top]