Novel Insights of Lymphomagenesis of
Helicobacter pylori

-Dependent Gastric Mucosa-Associated Lymphoid Tissue Lymphoma

1

Department of Oncology, National Taiwan University Hospital and National Taiwan University College of Medicine, Taipei 100, Taiwan

2

Cancer Research Center, National Taiwan University College of Medicine, Taipei 100, Taiwan

3

Graduate Institute of Oncology, National Taiwan University College of Medicine, Taipei 100, Taiwan

4

National Taiwan University Cancer Center, National Taiwan University College of Medicine, Taipei 106, Taiwan

5

Department of Internal Medicine, National Taiwan University Hospital and National Taiwan University College of Medicine, Taipei 100, Taiwan

6

Department of Pathology, National Taiwan University Hospital and National Taiwan University College of Medicine, Taipei 100, Taiwan

7

National Institute of Cancer Research, National Health Research Institutes, Tainan 704, Taiwan

8

Department of Internal Medicine, Kaohsiung Medical University Hospital, Kaohsiung Medical University, Kaohsiung 807, Taiwan

9

Department of Internal Medicine, National Cheng-Kung University Hospital, Tainan 704, Taiwan

*

Author to whom correspondence should be addressed.

Received: 24 March 2019 / Revised: 9 April 2019 / Accepted: 12 April 2019 / Published: 17 April 2019
Abstract
Gastric mucosa-associated lymphoid tissue (MALT) lymphoma is the most common subtype of gastric lymphoma. Most gastric MALT lymphomas are characterized by their association with the
Helicobacter pylori
(HP) infection and are cured by first-line HP eradication therapy (HPE). Several studies have been conducted to investigate why most gastric MALT lymphomas remain localized, are dependent on HP infection, and show HP-specific intratumoral T-cells (e.g., CD40-mediated signaling, T-helper-2 (Th2)-type cytokines, chemokines, costimulatory molecules, and FOXP3+ regulatory T-cells) and their communication with B-cells. Furthermore, the reason why the antigen stimuli of these intratumoral T-cells with tonic B-cell receptor signaling promote lymphomagenesis of gastric MALT lymphoma has also been investigated. In addition to the aforementioned mechanisms, it has been demonstrated that the translocated HP cytotoxin-associated gene A (CagA) can promote B-cell proliferation through the activation of Src homology-2 domain-containing phosphatase (SHP-2) phosphorylation-dependent signaling, extracellular-signal-regulated kinase (ERK), p38 mitogen-activated protein kinase (MAPK), B-cell lymphoma (Bcl)-2, and Bcl-xL. Furthermore, the expression of CagA and these CagA-signaling molecules is closely associated with the HP-dependence of gastric MALT lymphomas (completely respond to first-line HPE). In this article, we summarize evidence of the classical theory of HP-reactive T-cells and the new paradigm of direct interaction between HP and B-cells that contributes to the HP-dependent lymphomagenesis of gastric MALT lymphomas. Although the role of first-line HPE in the treatment of HP-negative gastric MALT lymphoma remains uncertain, several case series suggest that a proportion of HP-negative gastric MALT lymphomas remains antibiotic-responsive and is cured by HPE. Considering the complicated interaction between microbiomes and the genome/epigenome, further studies on the precise mechanisms of HP- and other bacteria-directed lymphomagenesis in antibiotic-responsive gastric MALT lymphomas are warranted.
View Full-Text
►

▼

Figures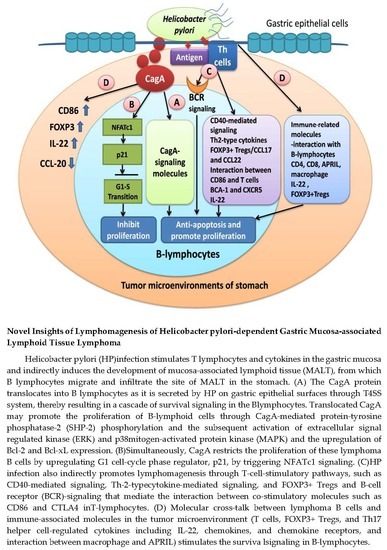 Graphical abstract
This is an open access article distributed under the
Creative Commons Attribution License
which permits unrestricted use, distribution, and reproduction in any medium, provided the original work is properly cited (CC BY 4.0).

Share & Cite This Article
MDPI and ACS Style
Kuo, S.-H.; Wu, M.-S.; Yeh, K.-H.; Lin, C.-W.; Hsu, P.-N.; Chen, L.-T.; Cheng, A.-L. Novel Insights of Lymphomagenesis of Helicobacter pylori-Dependent Gastric Mucosa-Associated Lymphoid Tissue Lymphoma. Cancers 2019, 11, 547.
Note that from the first issue of 2016, MDPI journals use article numbers instead of page numbers. See further details here.
Related Articles
Comments
[Return to top]